Family-Friendly Animal Encounters in Colorado
Take a walk on the wild side with year-round interactive animal experiences that range from a howling good time at a wolf sanctuary to toothy wrestling matches at an alligator park. Afterward, check out the cool attractions, restaurants and overnight lodging nearby.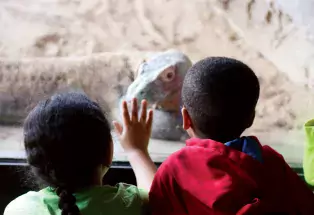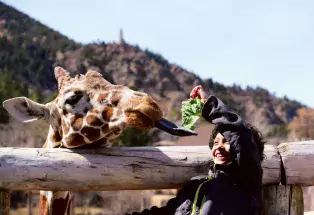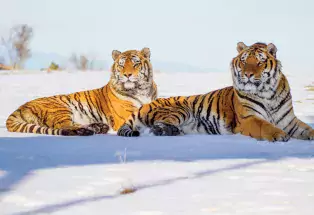 Walk among a bevy of free-flying butterflies, hold Rosie the famous tarantula in your hands (she's adorably crawly, not creepy), discover underwater ecosystems and take off on the nature trails at this invertebrate-loving zoo. Check their calendar for programs ranging from sensory-friendly afternoons and rainforest yoga to educational sessions on butterfly lifespans and photography.
While you're in the area: Taste natural wines at Denver's family-owned Balistreri Vineyards and drive by the striking Westminster Castle, built in the 1890s from Colorado red sandstone.
Places to dine: Share a variety of Asian dishes, such as Singapore noodles, at Woody's Wings N Things. Grab a made-from-scratch breakfast of biscuits and gravy at Goody's Eatery. Or head to The Burns Pub & Restaurant at The Hilltop Inn in Broomfield for authentic British pub fare, including fish and chips.
Stay nearby: After a hearty meal at The Burns, you don't need to go far; just pop upstairs for a restful night at The Hilltop Inn. Or, opt for a secluded cabin at Stone Mountain Lodge in nearby Lyons (a 45-minute drive).
Cheyenne Mountain Zoo & The Broadmoor, Colorado Springs
Go wild at Cheyenne Mountain Zoo, where you'll make a herd of new animal friends as you hand-feed giraffes, elephants, rhinos and more. You can also come nose-to-nose with Amur tigers, spot precariously perched Rocky Mountain goats and have a talk with chatty Australian budgies (parakeets). Nearby, get your "Game of Thrones" on and take part in the "sport of kings" during the falconry program at The Broadmoor resort. Get to know majestic birds of prey — including owls, hawks and falcons — guided by an experienced falconer. Out in the field, observe a soaring flight demonstration and actually hold one of the regal birds.
While you're in the area: Tour towering sandstone cliffs with a jaunt through Garden of the Gods Visitor & Nature Center. Then be inspired by the amazing athletic feats celebrated at the U.S. Olympic & Paralympic Museum and Hall of Fame in Olympic City, USA.
Places to dine: Enjoy Sunday brunch at The Margarita at Pine Creek (don't miss the fresh-baked wheat bread with pimento cheese spread). Order a French specialty like the beef bourguignon at Marigold Cafe & Bakery. Or dig into the huevos rancheros at Garden of the Gods Market and Cafe.
Stay nearby: Tuck in at The Broadmoor (especially if you're doing the falconry program), scenic Cheyenne Mountain Resort or The Mining Exchange, an exquisitely preserved historical hotel.
Denver Zoo & Downtown Aquarium, Denver
Have a roaring good time at the Denver Zoo with talks and demos where you'll get to know penguins, elephants, clouded leopords and sea lions a bit better. Be sure to check out the Stingray Cove, where you can test the waters to touch and feed a splashy array of stingrays and sharks. At the Downtown Aquarium, take the plunge in a shark cage and come face-to-fin with five different shark species, including bigeye sand tiger and blacktip sharks, plus hundreds of other fish. Or, book a spot online to watch mermaids swim and play under the water. 
While you're in the area: Head west on I-70 and detour at exit 254 (Genessee Park) to gaze at bison grazing at the Buffalo Herd Overlook, then go hiking or snowshoeing at Golden Gate Canyon State Park.
Places to dine: Grab a buttermilk fried-chicken biscuit sandwich from the Denver Biscuit Company, try the falafel flatbread at the European market-style Mercantile Dining & Provision or dive into the oyster bar at Jax Fish House.
Stay nearby: Retire for the night at Denver's landmark Oxford Hotel or The Ramble Hotel right in RiNo. In Golden, stay at the Southwestern-style Table Mountain Inn. 
Ever had the crazy notion to tussle with an alligator? Well then, you're in luck. Here you can tackle a gator-wrestling class, beginning with how to catch and handle 2- to 4-foot-long alligators; then you'll work your way up to wrestling with a hulking 8-foot beastie. Be forewarned: The alligators' mouths are not taped shut. If gator wrangling isn't your thing, maybe opt for the reptile-handling class, where you'll get up close and personal with more docile lizards, snakes and tortoises.
While you're in the area: Try sand sledding at Great Sand Dunes National Park & Preserve, be awestruck by the beauty of Zapata Falls, (rushing in summer and frozen in winter) and view exhibits on frontier legend Kit Carson and the Buffalo Soldiers at the Fort Garland Museum & Cultural Center. 
Places to dine: Head to nearby Alamosa for a creamy latte at The Roast, Craft Coffee & Libations and burgers heaped with delicious toppings like green-chili queso at Sun & Moon Cafe. In Fort Garland, try the homemade pizza and fudge at All-Gon Restaurant & Pizzeria.
Stay nearby: Bed down at the secluded Crestone Casitas (in Crestone, a one-hour drive from Mosca), La Veta Inn (at the base of the Spanish Peaks in La Veta, an hour-and-a-half from Mosca) or a rustic cabin at the Riverbend Resort in South Fork (an hour from Mosca, near the Wolf Creek Ski Area).
Join the pack on a one-hour walking tour through this wolf sanctuary and get an up-close view of these beautiful, elusive animals, in addition to coyotes and foxes. Guides educate visitors about the importance of protecting wildlife and every tour ends with a signature group wolf howl. Arrange for a private VIP encounter and interact with wolves inside their den, with photos of your adopted fluffy fam to take home as souvenirs.
While you're in the area: Go hiking, mountain biking, cross-country skiing or snowshoeing along 55 miles of scenic trails at Mueller State Park or explore the magic of nearby Florissant Fossil Beds National Monument.
Places to dine: Pair Irish stew with a pint of McGinty Red beer at McGinty's Wood Oven Pub in Divide. Drive to Manitou Springs for an award-winning meal at The Cliff House Dining Room.
Stay nearby: Get cozy in a mountain cabin at Pikes Peak Ranch in Woodland Park or a luxury room at The Cliff House at Pikes Peak in Manitou Springs.
Corral your kids and learn about sustainable living at this family-run petting zoo and farm. Make some adorable new animal friends, including rabbits, ducks, pigs, mini-donkeys, billy goats and mini-horses. Just don't forget to plan ahead: Activities here are by appointment only during some seasons.
While you're in the area: Hop on an aerial gondola and be whisked across the 1,200-foot-deep Royal Gorge or spend some time learning fascinating history at the Museum of Colorado Prisons.
Places to dine: Snack io salty-soft Bavarian pretzels at World's End Brewing Company or locally sourced patties on the owner's ranch at Bunk House Burgers.
Stay nearby: Overnight at the clifftop Bighorn Mountaintop Lodge in Cañon City, the waterside Lark Landing B&B in Florence or Station on the Riverwalk, housed in a former police station/jail in Pueblo (about a 45-minute drive).
Take a guided trek along the longest elevated walkway in the world and spy rescued animals including lions, tigers and bears (oh my!) living in sprawling, open habitats that allow them ample room to roam. Stick around for Wild Nights and listen for the rousing roars after sunset.
While you're in the area: See restored planes at the Vintage Aero Flying Museum in nearby Fort Lupton (call for tours) and marvel at the miniature railroad at the Colorado Model Railroad Museum in nearby Greeley.
Places to dine: Grab a cheeseburger from the Lion's Den Cafe in Keenesburg, chicken-fried steak at The Pepper Pod in Hudson or blue-corn enchiladas at Santo in Boulder.
Stay nearby: Rest your head at the adobe Platte River Fort in Greeley (about 45 minutes from Keenesburg), or head to Boulder for a sweet suite at A-Lodge or the historic Hotel Boulderado (roughly 1.5 hours away).
Want More? 
Check out these ideas for wintry family vacations
Learn about things to do with your little ones
Make lasting memories with a dude ranch experience
Photo credits: Denver Zoo, Cheyenne Mountain Zoo, Shepperly Farm, The Wild Animal Sanctuary