Colorado Railroad Museums
Colorado's train museums give you the inside track about how the railroads shaped the state. Once you've visited these museums and savored all the historic details contained in their collections, hop on one of 10 scenic and historic Colorado railroads — all of which are treasured family attractions.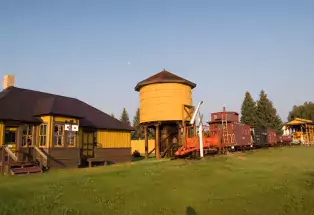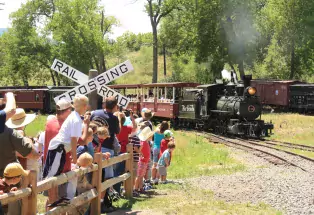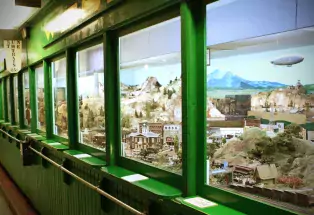 Colorado Railroad Museum
The Colorado Railroad Museum in Golden treats you to the long and often flamboyant history of Colorado's railroads. The grounds of the museum are laden with well-maintained behemoths of steel and engineering. Included in the collection is one of the whimsical Galloping Goose cars, built between 1931 and 1935. This train-truck hybrid is a rare oddity, representing one of only a handful ever constructed. In addition to the goose, the painstakingly rebuilt D&RGW engine number 683 is one of the museum's crowning pieces, as is the more modern-looking D&RGW number 5771.
Forney Museum of Transportation
While the Forney Museum of Transportation in Denver is focused on more than just trains, its exhibit on these iron horses is still extensive. If you're a fan of scale models, make sure to check out the model of Union Pacific number 4005, or "Big Boy," the world's largest steam locomotive — only 75 of these 1:32-scale trains were ever built. In addition to the scale model, the Forney Museum also has the real deal, including the Forney Locomotive — affectionately dubbed the "Little Giant;" it's a precursor to the elevated train of today. These smaller locomotives were heavily relied upon during the late 1800s and early 1900s as conveyances for both passengers and products in and around metropolitan areas.
Gunnison Pioneer & Train Museum
Though the Pioneer & Train Museum in Gunnison has a wider focus than just the romanticized locomotive, their tribute to this piece of Americana is still an evident eye-catcher. The centerpiece of the museum's train collection is the immaculately kept D&RG Narrow Gauge engine number 268. At the Gunnison Pioneer & Train Museum's railyard, you can peruse a variety of artifacts, including a locomotive, a boxcar, gondola, livestock car and everyone's favorite: a bright-red caboose. Each is displayed on museum grounds near an authentic water tower, once used by the same rail company that originally laid the tracks in the area, D&RG Railroad.
Colorado Model Railroad Museum
Railroad buffs will be enthralled at Colorado Model Railroad Museum at Greeley Freight Station, where you can marvel at more than 1,100 railroad artifacts, 20 scale miles of track and hundreds of miniature buildings. Highlights range from a Virginia and Truckee Railroad switch key to a full-sized Colorado and Southern wooden caboose you can explore inside and out to a huge, 5,500-square-foot operating HO guage model miniature railroad with hundreds of buildings and 15 separate wiring systems.
Pueblo Railway Museum
Pueblo's railway museum invites visitors to see, enter and sometimes ride pieces of railroad history. The Pueblo Railway Museum is home to the AT&SF #2912, the largest steam locomotive of its type, as well as three operating GP-7 diesel locomotives and the Pueblo Heritage Museum's railroad artifacts and interpretive displays about how the railroad developed the area. The railyard, just a short distance from the historic 1889 Pueblo Union Depot, is situated beside the main line of the Union Pacific and BNSF tracks. More than 25 trains pass through each day, making for great photo ops.
Ridgway Railroad Museum
Southwest Colorado's town of Ridgway is known as the birthplace of the Rio Grande Southern Railroad. The Ridgway Railroad Museum features four D&RGW narrow-gauge cars, a recreation of a RGS Motor No. 1, exhibits, railroad equipment, artifacts, historical data, photos, events and educational programs to preserve the area's railroad history. Each September, the museum participates in Ouray County Railroad Days, a weekend of tours, lectures and other events celebrating the county's railroad heritage.
Durango & Silverton Narrow Gauge Railroad Museums
Not only can you ride the Durango & Silverton Narrow Gauge Railroad, but you can also explore its two museums. Located in Durango and Silverton, both of the historic railroad's museums offer a peek back in time. In Durango, see an 800-square-foot HO and HOn3 scale model railroad depicting the Denver & Rio Grande Railroad as it operated in the 1950s, a library of historic railroad books, photos, vintage railroad cars, a luggage car built for the movie "Butch Cassidy and the Sundance Kid" and much more. At the Silverton Depot, exhibits focus on the town's mining industry and the Denver & Rio Grande and Otto Mears' railroads, which served the area's mines.
Comanche Crossing Museum
Historic buildings, a Union Pacific Railroad caboose, an operational wigwag RRXING signal, an antique wooden windmill and many others artifacts tell the tale of East meeting West at this free Strasburg's Comanche Crossing Museum. While you're here, tour historic buildings constructed from the 1880 through early 1900s, including a railroad depot, homestead house, school houses, post office, soda fountain and more.
Moffat Road Railroad Museum
Granby's Moffat Road Railroad Museum features a 1,200-square-foot model railroad called the Christmas Train. It has two operating ski lifts, runs five trains and is open Wednesday–Saturday. It's the largest permanent Christmas train in Colorado so you don't want to miss it, as well as the 1913 steam engine, 1923 caboose and 1905 coach.
Want more? 
Check out our complete guide to Colorado train trips >>
Climb aboard and revel in these special train events and excursions >>
Photo: Gunnison Pioneer & Train Museum.