Ticket to Ride: Special Events & Excursions Aboard Colorado's Trains
Hop on the fast-track to fun with these railroad-centric seasonal events and specialty rides.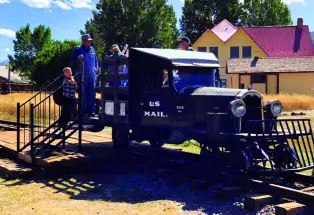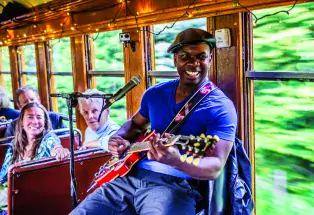 Cañon City
Select dates, September and October
At the junction of craft beer and locomotives is this scenic trip alongside the Arkansas River between the towering granite walls of the Royal Gorge. Toast aboard the Oktoberfest Bier Train's comfy club cars as you sip on a variety of craft beers on tap from your complimentary commemorative pint glass. Riders will enjoy a delicious meal boasting a special Oktoberfest entree along with German melodies played via accordion. Prost!
Durango
Select dates, May and August 
There's something that just jives between a steady blues rhythm and the predictable chugga-chugga of a train in motion — especially a coal-fired, steam-powered train like the Durango & Silverton Narrow Gauge Railroad. Experience the synergy for yourself during their special Blues Train excursions. You'll travel through the spectacular canyons of the San Juan National Forest while six live blues acts perform on board. Each artist or group plays in their own vintage coach, and passengers can dance their way from car to car to hear it all.
Greeley
October
The Colorado Model Railroad Museum holds an astounding collection, with 5,500 square feet of miniature railroad scenes that required 280,000 volunteer hours to assemble. The museum's Harvest Fest Crafts for Kids event is a great time to go, with family craft projects, storytime and the museum's "eye spy" activity, a scavenger hunt that encourages you to spot tiny details among the model trains displays.
Golden
Select dates in September
Does your child's imagination regularly take off to the Island of Sodor with Thomas & Friends? Then you'll want to surprise them with a Day Out With Thomas during the last three weekends in September. Your family will get to see a life-sized Thomas engine in person, ride a train led by Thomas and have your picture snapped with Sir Topham Hatt. Admission also includes access to Colorado Railroad Museum exhibits and model trains, and special activities planned for the event, such as a magic show, singalongs and lawn games. This is another popular event, so secure tickets well in advance. 
Leadville
Select dates, July and August
Sit back and breathe in the fresh mountain air while the Wildflower Train travels through rugged, wildflower-blanketed terrain and a knowledgeable guide illuminates fascinating local lore. Then stop at a high-alpine meadow for a 20-minute wildflower-identification hike fit for all levels. Because the timing of mountain blooms varies from week to week, guests will see a carpet of wildflowers unique to that excursion and learn the Latin names and fun facts about the flora before heading back down to complete the 3.5-hour trip. 
Georgetown
Many dates in November and December
Start a new family tradition as you travel through Santa's Lighted Forest — a holiday-themed train ride between the snow-coated mountains rising from Clear Creek Canyon. Step into a heated warming tent as you wait for the train, decked out in holiday trimmings, then hop aboard to chug past a kid-approved light show synchronized to holiday music. Sip on hot cocoa (or holiday cocktails) and nibble cookies and roasted chestnuts inside your toasty club car. Santa and his helpers stop for a special visit with each family before you return back to the Devil's Gate Depot.
Ridgway
Late September
Ouray Country Railroad Days is weekend-long celebration of the Ridgway area's railroad history is filled with guided hikes along historic rail routes, an open exhibition of a model version of the Denver and Southwestern Railroad and open houses at the Ridgway Railroad Museum. A highlight for train buffs are the half-mile rides on a historic fleet that includes the rare Rio Grande Southern Railroad Galloping Goose trains, said to be named for the way these unique steam engines whistled.
Learn more about Colorado's famous trains