Beaches Are Better With a Mountain View
Who says you have to choose between lush mountains and sandy beaches for your next trip? You can have the best of both worlds right here in Colorado.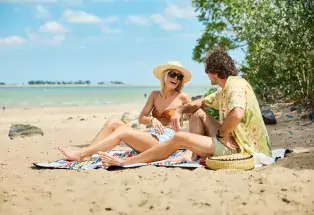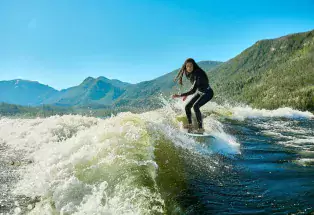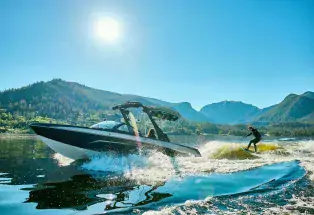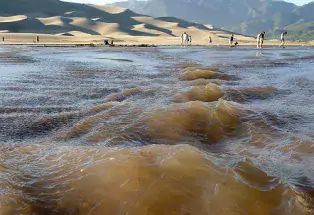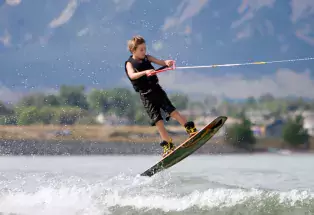 Beaches in Colorado are truly unique, with breathtaking views of the Rocky Mountains that you won't typically find along ocean coastlines. Boogie board through a desert oasis or enjoy lounging with a view on the edge of Rocky Mountain National Park, soak up the sun near the foothills or stargaze in the Eastern Plains. Whether it's sunbathing, camping, swimming or building sandcastles — experience the beach in a new way with a trip to one of these unique destinations.
Medano Creek, Great Sand Dunes National Park and Preserve
Near Alamosa
Medano Creek at Great Sand Dunes National Park and Preserve is Colorado's clandestine swimming beach. Every spring, the wide, shallow and gently flowing Medano Creek emerges from the Sangre de Cristo Mountains behind the sand dunes to form an oasis for those waiting to build sandcastles and relax in the divinely chilly waters. Just as quickly, come late August, the creek dries and disappears for another year.
Popular activities at Medano include swimming, sand sculpting, skimboarding and strolling along the world-famous dunes surrounding the water (médano is Spanish for sand dune). Be sure to check Great Sand Dune National Park and Preserve's website for updated information on the creek's flow.
Chatfield State Park
Littleton
Head on over to Chatfield State Park's reservoir when you're craving a scenic location to bask in Colorado's warm rays. With pristine views of the Rocky Mountain foothills, Chatfield State Park is a beautiful setting for gathering with friends and family.
This state park is one of the most popular destinations in metro Denver, with plenty of activities to suit your needs, from barbecuing and wildlife viewing to hiking and water sports. And if beach camping perks your interest, Chatfield doesn't disappoint – all 197 campsites are within walking distance of the water and come equipped with picnic tables and grills. Find lakes at other Colorado State Parks >>
Grand Lake
Grand Lake
Surrounded by steep, pine tree-covered hills, Grand Lake's sparkling blue water is the perfect beach destination for a day trip or weeklong getaway. Situated on the western edge of Rocky Mountain National Park, Grand Lake is Colorado's largest natural lake — an idyllic spot for scenic lounging near glassy waters and poignant peaks.
When you're not cooling off in the high alpine lake, check out the collection of boats skimming across the water — speedboats, canoes, party and fishing boats are available for rental at the marina. Grand Lake's historic Grand Avenue is also appealing for the beach goer who appreciates a lively boardwalk, with over 60 shops and restaurants to peruse.
Learn more about summer in Grand Lake >>
Boulder Reservoir
Boulder
Unobstructed views of the Boulder foothills dominate Boulder Reservoir, making it difficult to believe that it's only minutes from nearby cities like Boulder and Longmont. A popular day-trip spot for locals, this beachy reservoir is a favorite for runners, bikers, swimmers and beach loungers wanting to relish in the vacation atmosphere.
Boulder Reservoir is a diverse landscape, ranging from areas that feel like deserts to swampy marshes that will make you second guess that you're in Colorado. The 700-acre park provides many things to do and see while you're not relaxing on the warm sands, including friendly encounters with furry and feathery wildlife.
Jackson Lake State Park
Near Orchard
There's no better description for Jackson Lake State Park than an oasis amid Colorado's eastern plains. Its warm, South Platte River-fed water and sandy bottom beaches welcome swimmers and water skiers looking to cool off each summer. Chosen as one of the "Top 15 Park Beaches" by Reserve America, Jackson Lake is a must if you're vacationing in the area or just passing through Colorado's eastern plains. 
Try your luck at treasure hunting the sandy beaches with geocaching, using the official geocaching app to track down hidden containers filled with prizes throughout the park. Jackson Lake was also named an International Dark Sky Park in 2020, so stick around for amazing stargazing after a day of fun in the sun.
South Bay, Horsetooth Reservoir 
Near Fort Collins
Just west of Fort Collins, this sparkling-blue reservoir has a biscotti-tinted, sandy beach meant for your favorite beach towel. Put on your SPF and enjoy the views of rocky peaks and towering evergreens. With 6.5 miles of water, you'll spot canoes and kayaks making their way up and down the reservoir from the shore. If you get bored of laying out, fish, scuba dive, bike, hike, rock climb or water ski the day away. Plan to stay into the evening so you can spot twinkling stars in the pitch-black sky shoreline.