Colorado Lakeside Lodging
There's no summer memory better than those spent "at the lake." Colorado's mountain lake lodging retreats are just waiting for you and your family to create unforgettable memories.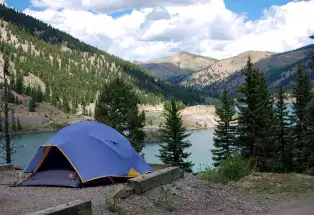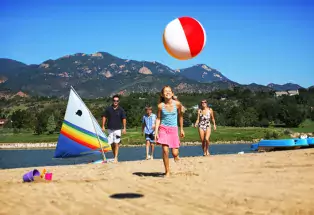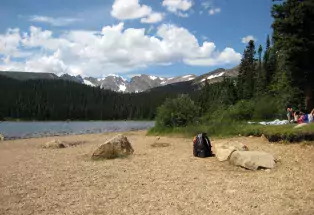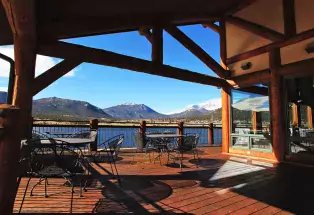 Use the Colorado lakes below — from amenity-packed resorts to cabins to campsites — as a starting point, and our hotels and lodging, cabins and campground listings for even more ideas.
Colorado Cabin & Lodge Livin'
A handful of Steamboat Lake's 10 camper cabins have lake views, but all of them are near still waters. The area north of Steamboat Springs can only be described as tranquil, with excellent trout fishing, boating and jet skiing with lots of fingers and coves to explore, and access to three hiking trails within the park. Get back to nature with just a few handy necessities, including a heater, beds, a small refrigerator and flush toilets.
Right on the shores of Colorado's largest natural lake, Grand Lake, Western Riviera recently gained fame after an appearance on The Travel Channel's "Hotel Impossible." With unfettered lakeside views, as well as vistas of Shadow Mountain and Mount Baldy, a lakefront deck, picnic tables and immediate access to the Grand Lake Marina, this spot is quintessentially Rocky Mountain.
On Vallecito Lake in southwest Colorado near Durango, Elk Point offers one-, two- and three-bedroom cabins with kitchens. Some of the water's-edge cabins have fireplaces, which make cool summer nights cozy. The lodge leads horseback trail rides, fishing and hunting trips, and offers guests the use of canoes, sea kayaks and SUP (stand-up paddle) boards.
This resort outside Trinidad offers a variety of lodging options and activities along the Highway of Legends scenic and historic byway. A recently renovated lodge, adobe cabins (with indoor fireplaces and outdoor fire pits) and campsites give you options for staying near its 100-acre lake. The Store by the Shore is a handy place to get groceries, snacks and fishing equipment without a trip into town, and there's also an on-site restaurant serving local flavors.
Enjoy cabins, RV and tent sites, a swimming pool, marinas, ATV rentals, a playground and many other amenities — all right beside the 96 miles of shoreline along Blue Mesa Reservoir near Gunnison. Blue Mesa is also near Black Canyon of the Gunnison National Park, which you can tour by boat with a park ranger to learn about the area's dramatic geography.
Full-Service Colorado Resorts
This mountain-nestled resort in Colorado Springs will keep you busy from dawn to dusk without ever having to leave its grounds. While away a summer afternoon on the beach beside the private lake, sail across its blue waters or build sandcastles and play beach volleyball. Once you've had your fill of the lake, tennis courts, a huge pool, 18-hole championship golf and three restaurants await.
The only lodging right on Lake Estes, The Estes Park Resort offers lakeside scenery and activities, including a 3-mile hiking/biking trail around the lake and fishing-boat rentals, as well as a spa, indoor pool, horseback riding, the stunning Waterfront Grille and close proximity to downtown Estes Park's shops and restaurants.
BYO Lodging (Also Known as Camping)
South of Steamboat Springs, this 820-acre lake is another peaceful destination popular with boaters, fishers and hikers. Several lakeside campsites will get you on the water first thing in the morning, which are known for hard-fighting cutthroat trout.
Situated on Lake San Cristobal in the San Juan Mountains just a few miles south of Lake City, Wupperman's 31 sites have stunning lake views for RV campers. Plan to take home lots of trout and a camera full of images from the adjacent Alpine Loop scenic byway. (And when riding OHVs through the Alpine Loop, make sure you follow Colorado's off-roading motto of "Stay the Trail.")
An hour west of Boulder, this campground is located on the incredibly popular Brainard Lake. Set in a glacially carved valley, the lake's surrounding jagged peaks make an incredible backdrop for fishers, canoers, hikers and picnickers. Note: Brainard Lake may require timed-entry reservations. Look before you leave: Recreation.gov.
Located on Colorado's northeastern plains near Sterling, the park's Elks Campground has several sites just steps from the lake. Boaters and anglers are drawn to its 3,000 acres of pristine water, and hikers, geocachers and birders find plenty of spots around the water to keep them busy. 
Find other Colorado campgrounds and RV parks and 11 amazing Colorado campgrounds.
Want More?
Explore other Colorado Lakes, Colorado's Best Beaches, Colorado Cabin Vacations and the Sleep Somewhere Cool Blog.
Photos: Courtesy of Mary Carkin, courtesy of Cheyenne Mountain Resort, copyright flickr/Lisa Williams (Brainard Lake), courtesy of The Estes Park Resort.