Alpine Loop
Silverton
63
Ouray
Summer
Mountains & Mesas
7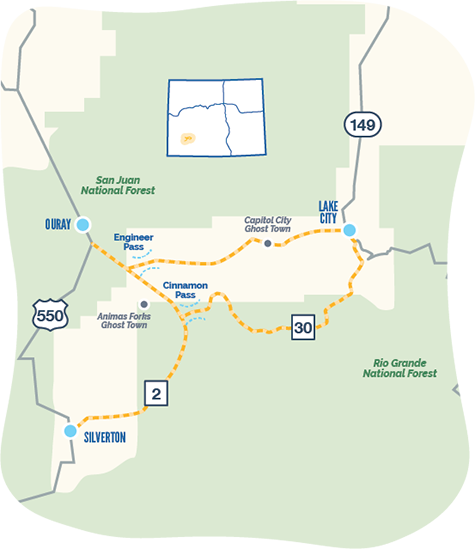 Trip Tips
Fill up your tank before you go — you won't find any gas stations along the strech from Silverton to Lake City or from Lake City to Ouray.
There's a narrow window in which the byway is snow-free (typically June to September); the road is closed in the winter and can be muddy at other times.
All-wheel drive or 4x4 is a must, and a higher-clearance vehicle is recommended for the highest mountain passes. And when riding OHVs through the Alpine Loop, make sure to follow "Stay the Trail" guidance.
See some of this byway's highlights — and read below for many more!
The Alpine Loop travels through a surreal landscape of treeless tundra, wildflower meadows and the San Juan Mountains — passing over mining roads established in the late 1800s near Silverton, Ouray and Lake City.
Begin in Silverton, which is a National Historic Landmark District noted for its quaint Victorian-era Main Street and famous Town Hall. Originally opened in 1883, the Grand Imperial Hotel has been restored to its former glory. Pop into the Chocolate Dog boutique for local wine, chocolate, candy and artisan products, or hop aboard the Durango & Silverton Narrow Gauge Railroad's Silverlight Express for a day trip south to Durango.
As the name suggests, Silverton was once a mining town that drew the interest of fortune seekers. While largely tapped today, you'll find the Old Hundred Mine and Mayflower Mill on the outskirts of town. Above the mine sits the Old Hundred Boarding House, a weathered two-story dormitory that precariously clings to Galena Mountain. Back in town, the San Juan County Historical Museum details the area's mining heritage. The byway also stops at a series of intriguing ghost towns, including Animas Forks and Capitol City, which once aspired to be the state capital. 
Cutting through the San Juan National Forest, the byway provides proximity to outdoor recreation like fishing at Molas Lake near Silverton, camping, wildlife watching and hiking through fields of wildflowers. The Alpine Loop navigates between the summits of the Rockies by way of two mountain passes. Engineer Pass, to the north, boasts an unsurpassed vantage point for photographs of Uncompahgre and Wetterhorn peaks. On the more southern route, Cinnamon Pass supplies views of some of the nation's highest mountains — Handies, Sunshine and Redcloud peaks. Be sure to check road conditions before heading out.   
Depending on the route you take, the byway ends in either Lake City or Ouray — both of which are listed in the National Register of Historic Places. Affectionately known as the "Switzerland of America," the high-altitude town of Ouray has a citizenry that embraces the outdoors as their most prized possession. 
Ice climbing is a popular pursuit, as is hiking to the scenic waterfall in Box Canyon Park. At the end of an active day, soak in one of the town's four hot springs (Ouray Hot Springs Pool, Wiesbaden Hot Springs Spa & Lodging, Box Canyon Lodge & Hot Springs or Twin Peaks Lodge & Hot Springs) — which were also enjoyed by the Ute Indians who originally inhabited the area.
For history as intriguing as the surroundings are majestic, explore Ouray's National Historic District with stops at places like the Beaumont Hotel, Ouray County Historical Museum and the Bachelor-Syracuse Mine (tours offered) that open the door to the past. The picturesque enclave is also a unique place to browse galleries and shops — Mouse's Chocolates is especially favored for its handmade assortment of treats.
The easternmost town along this Colorado byway is Lake City, an official Colorado Main Street community that lays claim to a National Historic District. Visit the Hinsdale County Museum, devoted exclusively to the county's past. Lake City's remote location amid forests and foliage is prime for 4x4 adventures, hiking wilderness trails, fishing or boating on Lake San Cristobal, and in the winter, ice climbing, snowshoeing and more. 
Events on the calendar: Ouray Ice Festival, Lake City Uncorked Wine & Music Festival, Lake City Packer Days, Ouray Mountain Air Music Series, OHV Rally & Festival in Lake City
Side Trips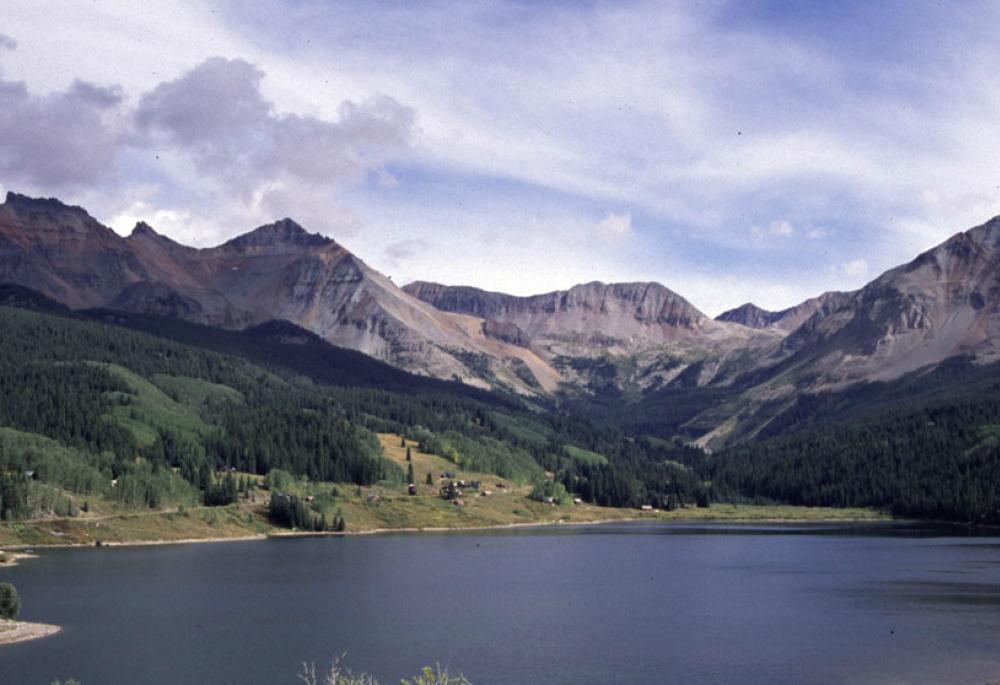 San Juan Skyway
Hop on this adjacent byway to experience a portion called the "Million Dollar Highway," a world-famous, scenic drive.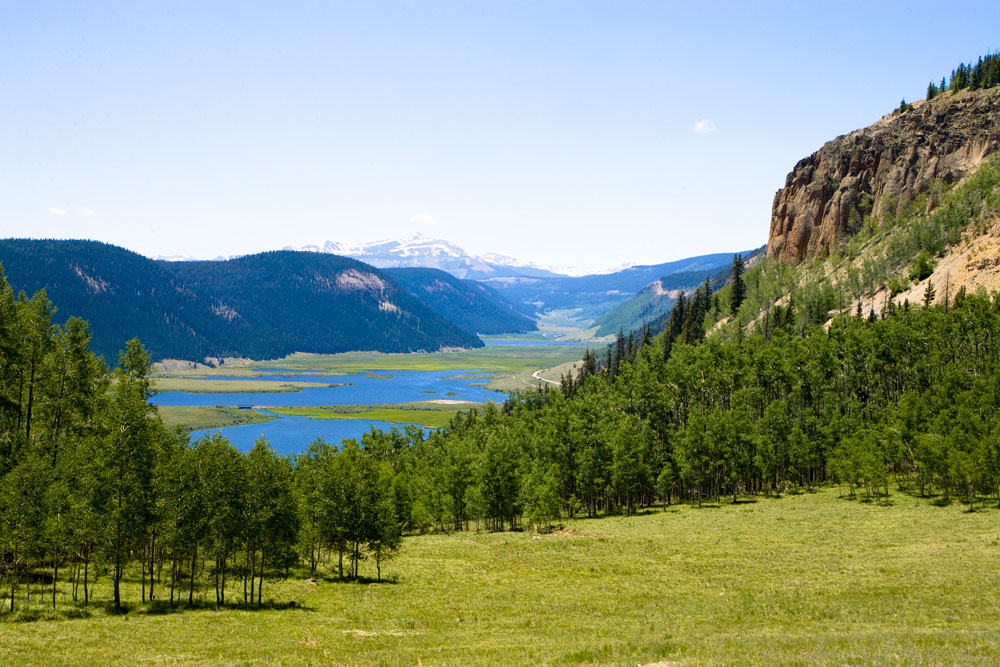 Silver Thread Byway
From Lake City, this route offers rich history, natural beauty and authentic mountain towns.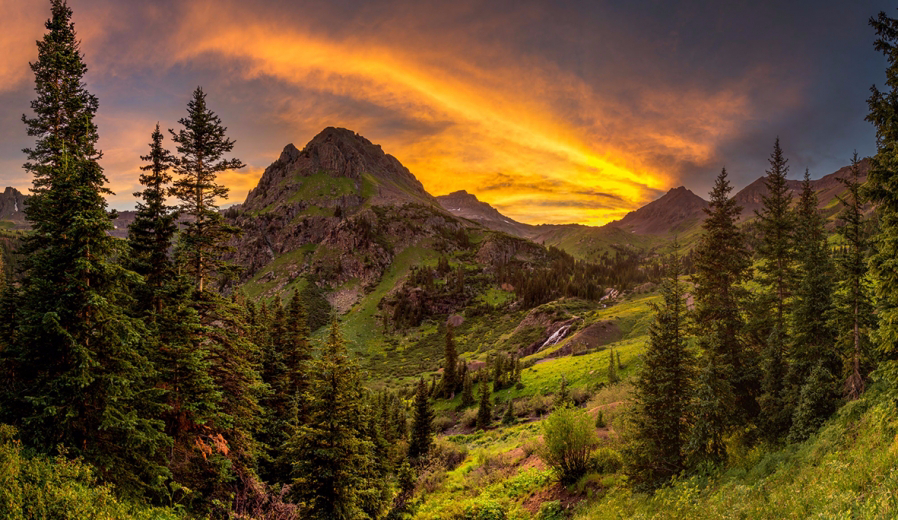 Yankee Boy Basin
West of Ouray, embark on a 4x4 adventure to a green-carpeted valley where wildflowers are abundant from mid-July through early August.
See All Byways