Fresh Air & Fun at Royal Gorge Bridge & Park
With its fresh air, wide-open spaces and notoriously sunny weather, Royal Gorge Bridge & Park is ideal for a getaway in Colorado.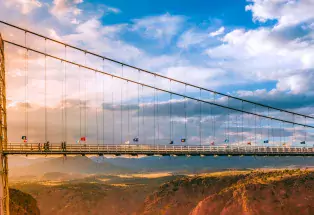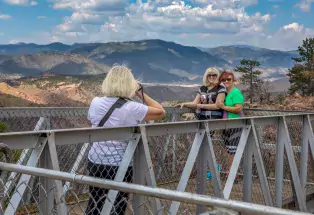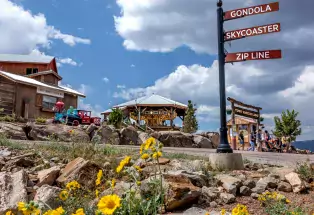 Open 365 days a year, Royal Gorge Bridge & Park excites with thrills and wonder for all ages, whether you're looking to fly on America's highest zipline or test your mettle traversing the famous bridge itself.
Take a look at all the fun that awaits!
Rip-Roaring Rides & Adventures
Kick off your day on the Royal Gorge Bridge itself. At 956 feet, the structure is one of the world's highest suspension bridges. But perhaps more impressive than that fact is the scenery you'll encounter: Brace yourself for jaw-dropping views of Royal Gorge, whose craggy, red-granite walls have been carved by the rushing waters of the Arkansas River for millennia. Crossing the bridge is truly a once-in-a-lifetime experience, so get those cameras ready.
Or, soar over the Arkansas and across the Royal Gorge on the cherry-red Aerial Gondola. As you top out at heights of 1,200 feet, revel in 360-degree prospects of the park along with breathtaking glimpses of mountains gently sloping in the distance. 
For a face-to-face meeting with the rugged cliffs of the gorge, book a via ferrata experience. With the guidance of a trained mountain guide, you'll hike and climb the granite walls for spectacular bird's-eye views you can't get anywhere else in the world. Your gear — harness, helmet, backpack and shoes — is all provided and is sanitized and dried after every use.
Adrenaline fanatics in search of stomach-tumbling glee will find their happy place on the Cloudscraper — America's highest zipline. Every hair in your body will stand at attention as you rip through the sky over the Arkansas River at 1,200 feet, whooping and hollering as you go. The zipline is touted as a Colorado must-do by the Travel Channel.
Slice through the air at up to 50 mph as you reach soaring heights on the Royal Rush Skycoaster. Known as the world's scariest skycoaster, the ride catapults you over the south rim of the gorge on the flight of your life before dangling you over the rapids of the Arkansas, 1,000-plus feet below. You'll feel an electric surge similar to skydiving or hang gliding … but so much better.
Little ones will find ample adventure at Tommy Knocker Playland, where they can clamber and climb on nets, through tunnels and up 20-foot towers. In summer, watch your kiddos pan for gold in Ole Zeb's Sluice Box or join them year-round for a ride on the charming animals of the carousel.
Insider's tip: Summer months bring seasonal events and activities like Nature's Educators Birds of Prey Show, the Splash Pad and daily carousel rides. In addition, some rides and experiences are open year-round but can close when the wind or other weather acts up. Keep an eye on the website for latest park updates and hours so you know what fun lies in store!
Fresh Air & Room to Roam
Thanks to its location in Colorado's banana belt, the Royal Gorge region boasts an average of 320 blue-skied, sunny days a year. It also sees warmer winter temps than much of the state — on average 8 degrees warmer than Denver and 5 degrees warmer than Colorado Springs — meaning you can enjoy the park's expansive outdoor magic year-round.
Royal Gorge Bridge & Park touts acres of open space, much of which welcomes four-legged friends. And though your pups can't join you inside buildings or on rides, well-behaved dogs can take a sightseeing tour on the gondolas if the operator says it's OK. When you need to head indoors or are ready to hop on the Cloudscraper or Royal Rush Skycoaster, the park has five free kennels — each sanitized between uses. All you need to bring is the leash, treats and water bowl!
Strolling the bridge and climbing the via ferrata can work up quite the appetite. When hunger strikes, you'll find menus at four onsite restaurants (some are seasonal) to quiet growling stomachs with everything from Italian sausage and pizza to burgers and barbecued ribs. At Café 1230, one of Colorado's most scenic eateries, you can sip cocktails and savor your meal on the sprawling deck as you watch the sunlight play off the jagged facets of the Royal Gorge.
Want more?
Start planning your Royal Gorge Bridge & Park adventure >>