Colorado Adventure Tours
If you yearn to explore the Colorado outdoors, but are hesitant to wander the wide blue yonder on your own, consider hiring an adventure guide to show you the way.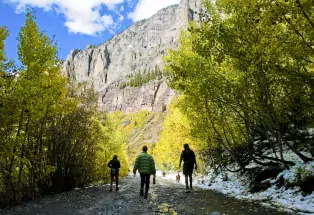 Here we've gathered a list of popular expeditions offered by Colorado adventure guides for beginner to intermediate travelers to get you started on your journey, whether you're looking for family-friendly trips or vigorous exercise and adventure.
Backpacking
There's no better way to explore Colorado's wild backcountry than under the wing of a trained guide who not only knows the ins and outs of trails, but can also give you insight on the area's history — and feed you after a long day of high-altitude mountaineering. Meals and equipment are usually included in the cost of the excursion, and trips can be customized to your ability or to help you reach a personal goal.
Level: Experienced hikers in excellent physical shape (Can you carry a 35-pound pack for up to 7 miles per day?)
Duration: Three to nine days
Included: Guides/trip leaders, all dinner and breakfast meals and group camping and cooking equipment
The Trip: Explore the last 94 miles of the Colorado Trail, which spans 500 miles from Denver to Durango (Segments 24 to 28); the number of trail segments you cover depends on how many days you choose to hike. Highlights include the vast Weminuche Wilderness, the jaw-dropping amphitheater below Blackhawk Pass, the lush and remote Cascade Creek drainage and the rugged La Plata Mountains. Learn more about hiking the Colorado Trail >>
Level: Moderate Plus (Participants must be able to carry backpacks weighing 35 to 40 pounds for 5 to 10 miles daily.)
Duration: Four days
Included: Professional instruction and guiding, all meals as noted in the itinerary, snacks, group cooking gear, group first-aid kit, water filter, transportation from host hotel to store meeting place (upon request), transportation from host hotel to trailheads and campsite and permit fees
The Trip: Start on the western border of Rocky Mountain National Park outside of Grand Lake and hop on the Continental Divide Trail. You'll intersect flower and wildlife-freckled meadows, tumbling waterfalls and clear alpine lakes — all surrounded by a sea of peaks and the comfort of a seasoned guide, who fill you in on little-known secrets about the area.
Multi-Day Rafting Trips in Colorado
If the typical half-day rafting trip doesn't leave you with enough time on the water, spend multiple days riding Colorado's rivers with the pros. From slow floats to Class V white water levels, rafting guides coordinate trips for all types of paddlers and provide perks like freshly prepared meals and campfires. 
Level: Intermediate
Duration: Four days
Included: All boating equipment, life jackets, drinking water, pre- and post-trip arrangements, four to five days of rafting, optional instructional seminar, rain jacket with pants (upon request), waterproof dry bags/containers for personal gear and six-man rain tarps for shelter and kitchen area
The Trip: Dvorak Expeditions hosts a variety of fishing and whitewater rafting excursions. This trip takes crews for 23 to 65 miles among Class II rapids (Class III during high water levels) on the Colorado River. Alpine scenery, historic points and milder whitewaters make the Colorado River — Little Gore Canyon expedition ideal for families.
Level: Varies
Duration: Two to four days
Included: All meals, sleeping bags and pads, camp pillow, double-occupancy tents and full wetsuit package
The Trip: Choose from a variety of trips, from family to adventure-class outings; expeditions are tailored to match groups' needs. After an exciting day on the rapids, you'll enjoy a freshly prepared meal, an evening campfire and riverside sleeping arrangements. 
Level: Moderate
Duration: Four days
Included: Rafting, meals and campsite
The Trip: In addition to rafting among Class III rapids through majestic Dinosaur National Monument, guides take adventurers on multiple hikes and offer insight into the area's rich geologic and native history.
Level: Extreme
Duration: Three days
Included: Rafting, meals and campsite
The Trip: Spend two days challenging Class I, III, IV and V rapids in the Upper Animas River Canyon between Durango and Silverton, and one day fishing, hiking or relaxing in the Weminuche Wilderness. Other highlights include cruising the Million Dollar Highway via shuttle to Silverton, access to an established campsite and hearty meals.
Level: Thrill seekers
Duration: One day
Included: Half-day rafting trip, zipline tour  and lunch at White Water Bar & Grill
The Trip: This one-day activities package will get your adrenaline pumping and introduce you to the breathtaking beauty of the Cañon City area. Conquer rapids on the Arkansas River below the Royal Gorge, the iconic 1,200-foot canyon; and view the landscape from new heights on ziplining excursions.
View complete listings for Colorado rafting guides.
Rock Climbing
Colorado has hundreds of rewarding rock climbs. Multi-day trips offer an introduction to the vertical world for beginners and excursions customized to your skill level (be honest!). Gear is usually included, and guides/instructors help you build a solid foundation of skills to become capable rock climber.
Level: Beginner to Advanced
Duration: Two days
Included: Professional guide/personal instruction, lodging pickup and drop off, climbing gear (harness, helmet, rope and belay device), camping gear, dinner and breakfast
The Trip: Reconnect with family members or friends while you refine or acquire new rock-climbing skills and immerse yourselves in the Vail-area backcountry. Understand how protection systems work, learn the dynamics of rope handling and develop a sense for moving comfortably on the rocks. Top-roped climbing for beginners and lead-climbing instruction is also available. 
Level: Beginner to Advanced
Duration: One day
Included: Equipment and private guide
The Trip: Whether you're a first-timer or an experienced climber, Apex Mountain School has full-day programs for every age, ability and fitness level. Select a climbing area in Vail, Beaver Creek, Breckenridge and Boulder's Flatirons, or select a course that focuses on skills like multi-pitch climbing or rappelling. 
Find more rock climbing guides in Colorado.
Colorado Bike Tours 
If you prefer to embark on two-wheeled adventures, Colorado bike tour guides have invaluable knowledge of trails and their surroundings to provide you with a less stressful and more in-depth riding experience. Additionally, guides are trained to evaluate trail and weather conditions as well as rider ability to ensure riders avoid accidents for the safest ride possible.
St. Elmo Ghost Town to Mount Princeton Hot Springs by Absolute Bikes Adventures
Level: Intermediate
Duration: Four to six hours
Included: Shuttle to site, full-suspension mountain bike, water bottle and guide
The Trip: Bike through Colorado history as you pedal from St. Elmo, one of Colorado best-preserved ghost towns, then meander along beautiful Chalk Creek past a pioneer cemetery and a variety of mining remnants. See roaring Cascade Falls and head down a section of narrow-gauge railway track before finishing at Mount Princeton Hot Springs for a steamy dip.
Level: Easy
Duration: One day
Included: Guide and transportation to Trail Ridge Road
The Trip: You don't have to be an adept biker to have a National Geographic-caliber cycling experience. Try this 19-mile, all-downhill excursion from Trail Ridge Road to Estes Park. After that, you hop back on the shuttle where you're transported to Switzerland Trail, where another 22 miles of descent takes you straight into Boulder. 
View complete listings for mountain biking guides in Colorado.
Options for Families
Adventures don't have to be associated with vigorous physical activity. There are plenty of guided excursions among all the outfitters listed for families who are seeking an out-of-the box getaway or a way to help their kids learn to love the outdoors at an early age. A few to consider:
Take a Colo-Road Trip 
Duration: Two to three days
The Trip: Explore Colorado with these family-friendly road-trip itineraries, which give you the freedom to pick the activities that best suit your brood: 
Level: Beginner to advanced
Duration: Two to five days
Included: Most meals, gear for overnight campouts on Arkansas River, stays in bed and breakfasts when you're not camping and activity fees
The Trip: Dvorak Expeditions will coordinate a Arkansas River Valley activity to please every member of your family. Sign up for activities such as horseback riding, hiking, rafting, fly-fishing, rock climbing or fourteener climbs in the Collegiate Mountain Range. Then, spend the evening reminiscing about your exploits at a riverside campsite or nearby bed and breakfast.
Colorado Fourteeners
Climbing one of Colorado's 58 fourteeners earns you true bragging rights, but the achievement does not come without careful preparation. Take the guesswork out of your journey by following a guide, who will help you predict storms and changing mountain weather. Guides can also chart the best trail up a peak for your abilities and help keep you hydrated and in tune with difficulties that come with high-altitude exertion. 
Level: Experienced Hikers Seeking New Challenges
Duration: Eight to 12 hours
Included: Transportation, lunch, snacks and hiking poles
The Trip: These all-day guided adventures call for an early morning start and involve off-trail hiking in uneven and rocky terrain. Summit the 14,005-foot Mount of the Holy Cross, a peak in Sawatch Range named for the distinctive cross-shaped snowfield on its northeast face. You can also choose a smaller 12,000-foot-plus climb such as Grand Traverse Peak, Homestake Peak or Mount Jackson. 
Multisport Adventures
There are so many ways to explore our great outdoors — why choose just one? Many adventure guides offer packages that include multiple ways to experience Colorado's iconic landscape. Read on for a few suggestions.
Level: You pick
Duration: As long as you choose
The Trip: Work with trusted guides to gain an intimate taste of the central Rocky Mountains by partaking in quintessential Colorado activities, like horseback riding, whitewater rafting and more. The sky's the limit with these adventures. 
Guided Winter Adventures in Colorado
While backcountry slopes can stimulate dreams of pristine, untouched powder and tranquil landscapes, navigating off-the-grid territory can be daunting. During these guided winter excursions, experts provide avalanche gear and training and help you navigate Colorado's best backcountry routes for skiing and snowboarding.
Level: Intermediate
Duration: One to three days
Included: Professional guides, hut fees, trailhead transportation, sleeping bags, sleeping bag liner/pillowcase, all meals, all group gear (including first-aid and repair kits), avalanche package (beacon, shovel and probe), backcountry and ski skills development, pre-trip orientation day at Arrowhead Ski Area, trip preparation packet and U.S. Forest service use fees
The Trip: Paragon Guides utilizes 16 huts in the 10th Mountain Division Hut System and skiing routes between Aspen, Eagle, Vail and Leadville. You can design your getaway around routes thatallow you to stay in a single hut for one to three nights, or ski/snowboard from hut to hut (mileage between huts varies from 3 to 9 miles) for a more extensive trip. 
Level: Intermediate to expert alpine or telemark skiers (backcountry experience not required)
Duration: Two to five days
Included: Trained/certified ski guide, avalanche rescue equipment, hut fees, food, optional pre-trip orientation training day, sleeping bag and transportation to trailhead
The Trip: Set off on a ski tour in the Elk Mountains outside of Aspen with an out-of-the-way hut as your base. Huts are equipped with solar power, wood stoves, grub and sleeping bags, so all you have to do is ski in and enjoy. 
Read more about Colorado hut trips for cross-country skiing & snowshoeing.
Level: Must feel comfortable and competent on black-rated runs at ski resorts
Duration: One day
Included: Certified/trained guide and avalanche equipment (probe, shovel and beacon)
The Trip: Hike up a peak in the San Juan Mountains to experience the reward of an unforgettable 3,000- to 5,000-foot descent down the mountain on your skis. Possible peaks include North Twilight Peak, The Grand Turk, Sultan Mountain, Bear Mountain, Kendall Mountain, North and South Lookout Peaks, The Battleship, Mount Sneffels and Chicago Basin fourteeners. 
Want more?
Check out these summer adventures for gutsy women >>
Polish your skills and level up on the mountain this winter >>