From Green to Black Diamond: Find Ways to Max Your Snow Skills
Improve your on-mountain skills or learn a new one with Colorado classes, clinics and guided adventures spanning skiing and snowboarding, backcountry trips, ice climbing and mountaineering for every skill level.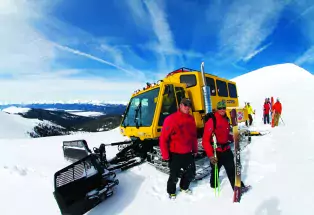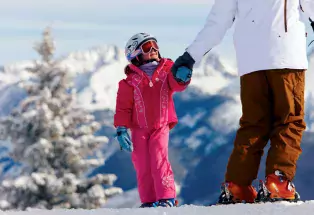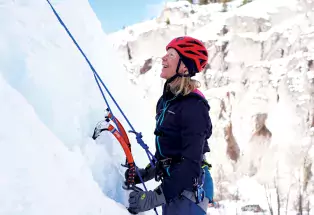 SKIING & SNOWBOARDING
Most Colorado resorts offer ski-and-ride programs, but it's all about finding the right one to push your skills to brag-worthy heights. Whether you're a newbie tackling your first bunny hill or a seasoned ripper who loves double blacks, there's a lesson tailored just for you and your tykes. Here's a program sampling:
Revered for its posh offerings and mix of terrain, Aspen-Snowmass' four ski mountains are a learner's paradise. Practice with a vetted pro, then put your new skills to use on challenging chutes or rolling blues. Adaptive ski and snowboard info
First-timers can learn the ropes with this free (kiddo-approved) learn-to-ski-or-ride program right on the Grand Mesa. Participants must be at least 8 years old and will receive a free lift ticket and rental equipment to use during the lesson. Adaptive ski and snowboard info
Improve your technique during adult intermediate and advanced lessons for savvy skiers and snowboarders. The affordable, small-group classes include a full-day lift ticket and equipment rental so you can make turns on your own when it's over.
Vail Ski & Snowboard School is another solid skill-building program for youth and adult intermediate and advanced skiers. Afterward, you'll be ready to whoosh through the pow pow with newfound confidence. Adaptive ski and snowboard info
Are you competitive at heart? Racing clinics  are set on an actual racecourse. You'll work on fast starts, quick edge changes and strong finishes in a driven but friendly environment. These go-fast clinics are open to both skiers and snowboarders.
You'll be rail-jamming in no time after taking an action-sports clinic. Open to skiers and snowboarders of all experience levels, Woodword's pros can help you achieve your terrain-park goals with both indoor and outdoor training that includes an Olympic-grade trampoline. Adaptive ski and snowboard info
Hint: Parking at popular Colorado ski resorts can fill up quickly in the morning, especially when it snows. Before you go, research the driving situation and seek out guidance on where to park, shuttles, free busses and more.
BACKCOUNTRY
Going with a guide doesn't have to be just for beginners — especially when it comes to venturing out into Colorado's unmatched backcountry. Consider joining up with a local group or outfitter.
Just remember: Recreation in the backcountry can be risky, especially if you don't have the right equipment and proper avalanche training. Be responsible — go with an experienced guide and have all the tools you need for optimum safety out there. Find tips for navigating winter travel conditions and safer backcountry exploration
Learn where professional avalanche workers train with a multi-day backcountry-foundations course. Designed for those new to backcountry skiing or splitboarding (a snowboard that splits into two ski-like parts), you'll learn the basics, including proper gear, uphill and downhill techniques and avalanche safety.
Let your guide lead the way on an unforgettable winter excursion through the pristine Colorado Rockies. Choose from backcountry splitboarding and Nordic skiing to snowshoeing and rigorous peak ascents.
Curious about heading into the backcountry? Don't do it without training. Take a skiing, splitboarding, ice-climbing or avalanche course led by American Mountain Guides Association-certified instructors. Classes for every ability level are held in beautiful alpine venues like Rocky Mountain National Park. 
Sign up for The American Institute for Avalanche Research and Education's Level 1 Avalanche Course. You'll learn some basic skills to manage winter backcountry risks.
Cat skiing offers freedom to explore Colorado's unspoiled, wild terrain under the guidance of experienced mountaineers. All-day tours climb up the Continental Divide before unleashing expert-level skiers and guides on more than 2,600 acres of open bowls and shady glades. Call ahead to confirm the winter snowcat tour schedule.
Meet at the Nordic Center for the Intro to Backcountry A/T Skiing clinic, where you'll learn how to use modern alpine-touring equipment and the basics of avalanche safety. Most of the class is spent skiing and skinning through the snow.
ICE CLIMBING
Feeling gutsy? Layer on the gear and level up with an ascent on a frozen waterfall. Not for the faint of heart, this activity does require some training and brawn. To build your skills, sign up with a local expert.
Perfect for those new to the sport, you'll learn the basics of ice climbing in laid-back Lake City with the help of a certified guide. Lake City Ice Park tends to be less crowded than other climbing spots. And if you do have some ice-climbing experience, it's a great place to tune up your skills. Other Lotus guided trips include locations like Ouray and Silverton.
If you're a beginner or looking to up the ante, you should make your way to Ouray, Colorado's ice-climbing capital. In addition to ice-climbing sessions at Ouray Ice Park, Peak Mountain Guides offers dozens of guided backcountry ascents through the scenic San Juan mountains.
Scaling glittering frozen ice tucked into the Colorado Rockies is a one-of-a-kind experience. Front Range Climbing Co. offers guided experiences in Colorado Springs and the Pikes Peak area. Go ice climbing at the private Camp Alexander or head to Clear Creek Canyon, where the frozen flows range in difficulty and length.
Denver Mountain Guiding is dedicated to providing climbers with fun, affordable and memorable adventures. Book a half- or full-day privately guided ice climb, where experienced instructors will teach you the proper techniques for crushing your way up a frozen waterfall in Clear Creek Canyon.
Highly trained instructors and experienced professional guides lead a variety of frozen offerings — from introductory ice-climbing courses to advanced climbing seminars. Private classes at Ouray Ice Park will challenge experienced climbers to build new skills on world-class routes.
MOUNTAINEERING
You think climbing a mountain in summer is challenging? Sprinkle some snow on that. Join a group or take a class to master winter mountaineering (the art of navigating rock, snow and ice).
The AMGA in Boulder represents the country's best mountain and ski guides. Hire one of these certified guides or tour companies and you can trust you'll be led by an accomplished professional with firsthand knowledge of the area.
To test your mountain skills, join a winter climb geared to the serious mountaineer. Field-based instruction includes route finding, camping and survival skills, and the proper use of ropes and crampons on steep terrain.
Take part in a winter mountaineering ascent and ski some of the famous Sawatch Range fourteeners. No matter your skill level (beginner to expert), guides who are experienced in technical snow skills and route finding will be with you every step of the way.
WANT MORE WINTER ADVENTURE IDEAS?
Find places to snowmobile
Learn about dozens of snow-tubing adventures
Discover more winter thrills
Find more ski-school resources
Learn how to steer clear of winter backcountry danger
Check out a complete list of ski resorts around Colorado
Photo credits: Casey Day, Chris McLennen/Vail Resorts, Denver Mountain Guiding, Woodward Copper