Colorado Ski School: Learn to Ski & Snowboard in Colorado
Colorado ski areas offer acclaimed ski-school learning programs that are the perfect springboard to a lifelong love affair with the slopes. Whether you've tried skiing or snowboarding a few times or you want to make that inaugural Colorado mountain trip, taking a professional lesson will help you get the basics down and improve your technique more quickly.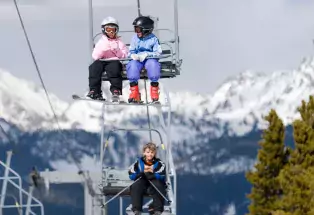 Designed for kids and adults of every age and learning stage, nearly every Colorado ski resort has a family-friendly learning program to get you started. Below are a few examples of the unique programs offered. Also, mark your calendars: January is Learn to Ski & Snowboard Month, when many resorts offer great deals on lessons for beginners!
Have a skier with disabilities? Several resorts have adaptive program offerings that range from adaptive ski equipment to guides for people with visual impairments, experiences for people on the autistic spectrum and more.
Insider tip: Parking at popular ski resorts can fill up fast, especially on a powder day. Before you go, research the parking situation and seek out guidance on the best vehicle lots, shuttles, free busses and more.
ARAPAHOE BASIN
Front Range favorite Arapahoe Basin, also known as A-Basin, offers half-day private and group lessons that can accommodate up to four skiers or snowboarders at a time, as well as group lessons. While it's known for expert terrain, the ski area has two mellow learning areas and scenic beginner terrain — so the whole family can enjoy the gorgeous views from the slopes.
ASPEN, SNOWMASS, ASPEN HIGHLANDS & BUTTERMILK
The mountains of Aspen Snowmass have a variety of specialized ski-school programs, with lessons spanning Green Zone (beginners), Blue Zone (intermediate) and Black Zone (expert). Try a specialty camp for everything from learning to ride bumps to women's-only ski adventures. Find Aspen Snowmass adaptive ski and snowboard info.
BEAVER CREEK RESORT
For those looking for something a little different, Beaver Creek Resort's Nordic lessons take students into McCoy Park to learn snowshoeing, cross-country or telemark skiing. Find Beaver Creek adaptive ski and snowboard info.
BRECKENRIDGE SKI RESORT
Breckenridge Ski Resort offers a mix of group and private courses, for adults and children no matter their ability level, giving its participants plenty of one-on-one time with the instructor. Find Breckenridge adaptive ski and snowboard info.
COPPER MOUNTAIN
Woodward at Copper Mountain offers a year-round indoor ski and snowboard camp with foam pits, trampolines, simulated snow and more to allow riders to test their skills before launching outdoors. Find Copper Mountain adaptive ski and snowboard info.
CRESTED BUTTE MOUNTAIN RESORT
At Crested Butte Mountain Resort, CB Steep Guides' knowledgeable pros lead confident skiers and snowboarders — who want to take their skills to the extreme — down Crested Butte's well-known untamed terrain. Find Crested Butte adaptive ski and snowboard info.
KEYSTONE RESORT
Camp Keystone at Keystone Resort provides kids an interactive and fun environment in which to learn the basics of skiing, snowboarding and being snow-activity enthusiasts. Parents beware — while you're having fun on the slopes, your little ones are learning the best ski and snowboard tactics to leave you in the dust. Find Keystone adaptive ski and snowboard info.
LOVELAND SKI AREA
Loveland Explorers is a six-week program at Loveland Ski Area held in conjunction with the Loveland Ski Club, where coaches work with intermediate and advanced skiers and snowboarders ages 7 to 14 to develop skills throughout the season.
MONARCH MOUNTAIN
On a handful of Wednesday afternoons, Monarch Mountain offers ski and snowboard clinics just for women that take skills to the next level in a fun, non-competitive environment.
POWDERHORN
Powderhorn offers lessons for skiers and snowboarders of any skill level to enhance confidence and efficiency on the slopes. Powderhorn's Bob Beverly Free Learn to Ski or Ride lessons provide foundational lessons to first-time snowboarders and skiers above the age of 8 years old. Find Powderhorn adaptive ski and snowboard info.
PURGATORY
Beyond the typical first-timer lessons, Purgatory also offers multi-week clinics, for skiers and riders, as well as those specific to women and men. Find Purgatory adaptive ski and snowboard info.
SKI COOPER
For those who might not have hit the slopes in a while, Ski Cooper's technique-improvement program gives skiers the choice of what they want to improve on and helps take you to the next level with with today's techniques.
SKI GRANBY RANCH
Instructors at Ski Granby Ranch's ski and ride school help familiarize students with certain body movements and ski patterns to get new skiers familiar with the fundamentals while on the slopes.
STEAMBOAT
Steamboat's lessons include private and group lessons for kids, teens and adults skiing and riding. Find Steamboat adaptive ski and snowboard info.
SUNLIGHT MOUNTAIN
Sunlight Mountain's Sunny Kids Ski & Ride School packs big fun with big value for 3- to 6-year-olds. Full- and half-day lessons include a lift ticket, rentals and helmet for hitting that fluffy Western Slope powder once the kiddos have mastered their pizza and french fries.  
TELLURIDE SKI RESORT
Telluride Ski Resort has a backcountry program, which takes adventurers and private instructors to the resort's hike-to terrain in search of pristine powder and untouched chutes. Find Telluride adaptive ski and snowboard info.
VAIL
In addition to Vail's dozens of options for skiers and/or riders based on age, experience, group size, time available and mountain location, you can also book private lessons with an instructor who can really show you the mountain's ins and outs. Find Vail adaptive ski and snowboard info.
WINTER PARK RESORT
Winter Park Resort has embraced the ski-bike phenomenon; take an exhilarating ride down the mountain with a guide who knows the most thrilling paths. Find Winter Park adaptive ski and snowboard info.
WANT MORE?
Learn more about Colorado's 28 ski resorts, find the best ski resorts for families in the state, discover off-slope winter activities for kids or night activities at Colorado ski resorts.