Awesome Adaptive Winter Sports in Colorado
Winter is one of Colorado's most amazing seasons. There's nothing better than playing in that fresh powder in the crisp mountain air. And we've got plenty of snowy adaptive adventures waiting to thrill and delight visitors of all abilities.
Good times on the slopes with Challenge Aspen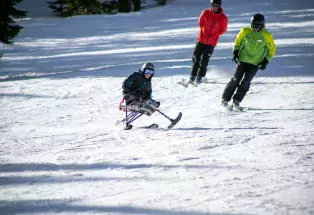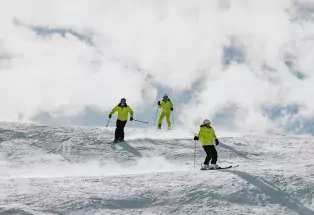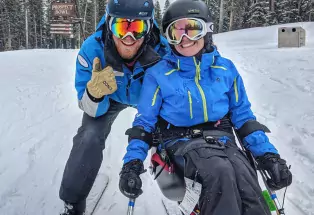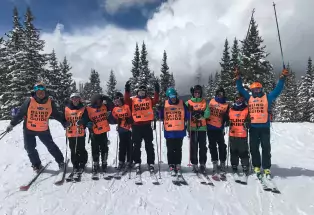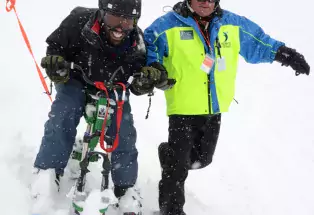 Tip: Make sure to check out the individual sites for each program to find the outdoor excitement that best suits you. Program offerings range from adaptive ski equipment, guides for people with visual impairments, experiences for people on the autistic spectrum and more!
This ski resort is synonymous with wintry fun. Swish down their four famous mountains with Ascendigo — who teach adults and children on the autistic spectrum how to ski and snowboard while maximizing skiers' independence and facilitating social communication.
Snow lovers of all experience levels can make powder fly with skiing and snowboarding lessons tailored for people with physical and/or cognitive disabilities. Book a private lesson with a professionally certified instructor (and the adaptive equipment you'll need) or pair up with a trained buddy for a day on the slopes. Customizable adventures let your family or group explore the Roaring Fork Valley on and beyond the slopes, while CAMO — Challenge Aspen Military Opportunities — offers fun retreats for active-duty military and veterans with service-related disabilities. Explore Challenge Aspen's full list of winter offerings
Whether you want private lessons or a group session, you'll have a tough time choosing from the many different adaptive pursuits at NSCD. Take your pick of making the powder fly with snowboarding, ski biking, snowshoeing and alpine and cross-country skiing (with both sit- and stand-ski options).
Think "Colorado skiing" and it's not uncommon for Vail to come to mind. Earn your turns as Vail Adaptive Lessons takes you out for an exciting and custom-tailored ski or snowboard lesson in some of the state's finest terrain. You're practically guaranteed to leave these scenic slopes smiling with glee.
The many varied runs at Beaver Creek have are especially known for two things: their impressive length and their fun factor. And the Beaver Creek Adaptive Program is known for making sure you have the customized equipment and instruction needed to enjoy every last inch of those runs. One-on-one lessons take your shredding to a new level.
TASP has so many adaptive winter activities, you'll likely be tempted to stay the entire season. Drop out of a helicopter (You read that right!) to whoosh through pristine backcountry blanketed in white on a heliskiing excursion. Or climb glacial-blue frozen waterfalls as you tackle some of Telluride's most exquisite ice. Take a tour of the vast backcountry via snowmobile, snowboard or ski. And if you prefer to stick to the more mainstream snow sports, sign up for lessons in skiing (alpine and Nordic), snowboarding, snowshoeing and fat biking.
Set in charming Nederland and at the base of locally loved Eldora Mountain, volunteer-powered Ignite Adaptive Sports has you covered when it comes to having fun in the winter sun. Glide over miles of corduroy tracks on a cross-country ski adventure or pick up the speed with downhill skiing. And if you're not into skiing, Ignite offers snowshoe, snowboard and ski bike lessons. Take your pick!
BOEC partners with three of Colorado's most popular ski destinations near Denver — Keystone, Breckenridge and Copper Mountain. In addition to group lessons, BOEC offers one-on-one instruction to give you a personalized experience to make the most of your winter vacay. Soak up the tranquility of the mountains as you take on downhill or Nordic skiing, snowboarding, snowshoeing and ski biking.
In summer, Crested Butte is known for wildflowers … but come winter, it's known for wild hours in the glittering, snow-covered outdoors. Pick from family or group programs that are tailored for your whole brood to provide therapeutic benefits along with good times. Sail down the slopes on a snowboard, adaptive skis and ski bikes or keep the pace leisurely with Nordic skiing and snowshoeing. They also offer veterans and first responders discounted experiences via Operation Rise and Conquer.
Durango is known for a true Western vibe and you can ride the slopes of Purgatory Resort like a bronco-busting champ with Adaptive Sports Association. Choose from full- or half-day one-on-one lessons on state-of-the-art adaptive ski equipment in a warm and welcoming environment in the snowy outdoors. You'll be cruising those runs in no time.
If you're a Level 4 skier — able to put together a series of turns and stop on your own — or above with visual impairments (including legal blindness) let Foresight be your on-slope guide. Foresight's goal is to give you an amazing on-mountain experience. They'll match you with a guide and shadow, help coordinate transportation and even lend a hand with discounted lodging. And that's all before you start skiing or snowboarding!
Not a Level 4 yet? Not a problem. Foresight recommends booking sessions with Vail Adaptive Lessons to learn the snowy ropes.
Steamboat's fluffy snow is so famous it's trademarked as Champagne Powder® — so called because of a light texture that tickles your nose like Champagne bubbles. Enjoy those giggle-inducing flakes to the fullest with STARS multi-day camps (including those for veterans with disabilities and visual impairments), private lessons and guides as you ski, snowboard, ski bike and more.
Want More?
Explore some of Colorado's coolest après-ski spots
Warm up with summer adaptive sports in Colorado