Winter Park
With a name like Winter Park, there isn't much doubt about this central Rockies town's purpose. It's one of the state's favorite mountain playgrounds. If it's a snow activity, you can do it here — but that doesn't mean the town's other Rocky Mountain seasons aren't just as delightful, with summer festivals and beautiful fall colors filling out the year's itineraries.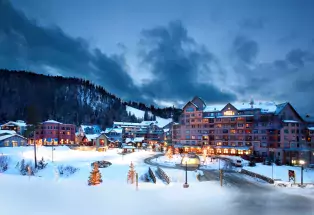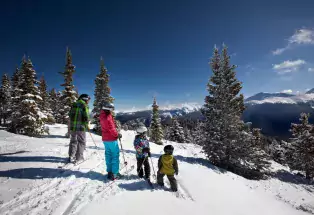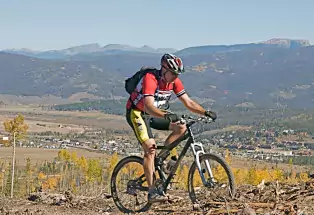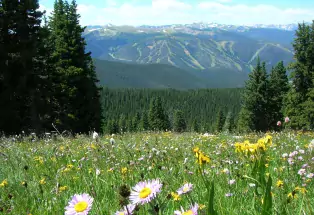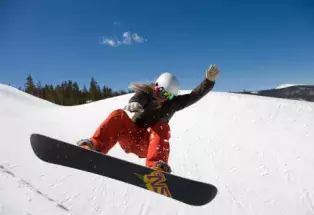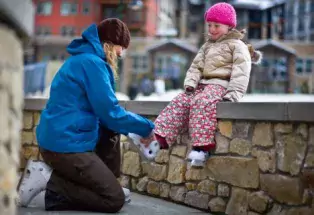 Winter Park & Fraser Chamber
PO Box 3236, Winter Park, CO 80482
Grand County Colorado Tourism Board
PO Box 131, Granby, CO 80446
The skiing and boarding on Winter Park Resort's 3,000 acres is diverse enough to please everyone from beginners to experts, and Ski Granby Ranch offers a more intimate ski experience great for families and beloved for its Friday and Saturday night-skiing program. Snow Mountain Ranch Nordic Center and Devil's Thumb Ranch offer plenty of trails and amenities for cross-country skiers and snowshoers. Sleigh, hayrides, snow-tubing and dogsledding are also part of the local winter scene, making it ideal for a cold-weather getaway. And Winter Park is also home to the world-renowned National Sports Center for the Disabled.
In 2016, the wildly popular "ski train" returned to ferry skiers
and boarders from Denver's Union Station right to the base area of Winter Park Resort on winter weekends. The Winter Park Express, as it's formally known, zips winter lovers straight to the slopes in just two hours (Saturdays, Sundays and first Fridays, January 5–March 25, 2018).
Restaurants cater to cold-weather activities with hearty German, spicy Cajun or Mexican food, and shops sell just about anything you forgot to pack and a few extra souvenirs you might not know you need until you see them.
Winter Park is also a spectacular summer vacation destination. You can ride a ski lift up a mountain and hike down a wildflower-strewn trail, and mountain bikers find plenty of places to ride here, where 600 miles of marked and mapped trails and the Trestle Bike Park make it one of the state's top biking destinations. An alpine slide, a summer tubing hill at Snow Mountain Ranch and less than an hour's drive to Rocky Mountain National Park keep families busy. And summer events like the Winter Park Jazz Festival, Winter Park Music Festival, Winter Park Beer Festival and many more ensure the air is always festive. 
Visit the Cozens Ranch Museum just north of town, the site of a stage stop and post office from the 1870s. Be sure to check out the room commemorating Doc Suzie, the first female doctor in the area.
Read Why Winter Park is a Favorite Year-Round Playground >>
Read 2 Days in Grand County >>
Check out our Field Guide itinerary: Family & Mountain Fun in Winter Park & Fraser >>