Parachute
Situated 45 minutes from both Grand Junction and Glenwood Springs, Parachute is an easy place to pull off during any trip along Colorado's scenic I-70 corridor.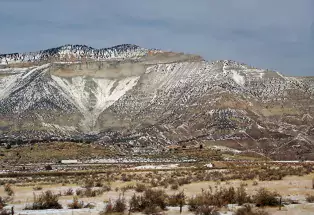 Parachute/Battlement Mesa Area Chamber of Commerce
222 Grand Valley Way, Parachute, CO 81635
The town is headquartered at the confluence of the Colorado River and Parachute Creek, both of which are popular waterways for fishing. Amenities are somewhat limited in the town of Parachute, but there's a nice range of food stops and sit-down restaurants to choose from.
The town of Parachute was first established when oil was discovered in a nearby mountain. The oil rush has passed and today an upscale residential community named Battlement Mesa and its attached golf course has marked a new era in the Parachute area. Development beyond this planned community, however, is limited, and much of the land surrounding Parachute remains cattle ranching country. Among these vast and arid hills are some guest ranches that invite visitors to spend a week in the Old West.
The countryside near Parachute and the neighboring town of Rifle is also a hunter's paradise. Horseback riding, rafting and ice climbing in winter are also popular pursuits in the area. Cultural activities and attractions such as the world-famous hot springs and Colorado National Monument are located in Glenwood Springs and Grand Junction, respectively.