Silt
Situated between Glenwood Springs and Rifle in the mountains along I-70, Silt offers the traveler all the basic amenities, plus a few extras.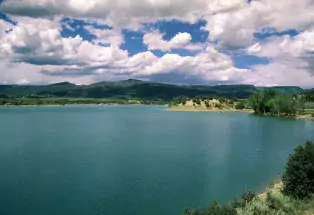 The Silt Historical Park, which may be of interest to history buffs, is just a few blocks from downtown. Here guests can walk through seven buildings that have been relocated and restored to reflect what life was like in Silt around the turn of the century. In the summer months, tour guides lead visitors through log cabins, a cow camp, country store, tool shop and old school house.
Exploring the Colorado River is another way to discover Silt. Those on float trips can stop for a rest at a small riverside pull-off park. Or birdwatchers can follow the signs to the Heron's Nest RV Park, which is the access point to an interesting heron rockery right on the river.
Harvey Gap State Park is Silt's backyard playground. Stocked with rainbow trout, crappie, catfish and small-mouth bass, the lake is especially popular for fishing. The 160-acre lake is also ideal for windsurfing. Adjacent park property, covered in cedar and sagebrush, also offers places to hike, picnic, snowmobile and cross-country ski.
Bordered by thousands of acres of BLM land and just minutes from the White River National Forest, Silt is also an easy place to spot wildlife such as elk, mule deer, mountain lions, black bears, coyotes, foxes, wild turkeys and pheasants.