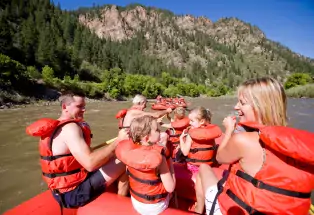 By the time the population grew to 2,000, the town housed a local cannery, brickyard, brewery, 15 saloons, five restaurants, three livery stables and several hotels. As the coal mining days came to an end, the community, like many towns in Colorado, turned to ranching and agriculture such as fruit farming.
Today New Castle remains a rural communit; however, recently annexed land and new home developments have also made it one of the fastest growing communities on the Western Slope. In town are three parks that include access to fishing spots and boat ramps on the Colorado River. The New Castle Museum and a handful of places to grab a bite are all also within town limits.
Cultural activities, lodging facilities and a variety of restaurants abound in neighboring Glenwood Springs, which is also home to world-famous hot springs pools.
Recreation takes places in many forms along the Colorado River and in the nearby White River National Forest's 225 million acres. Favorite area pursuits include downhill and cross-country skiing, camping, hunting and four-wheeling. Sunlight Mountain, Aspen Mountain, Beaver Creek Resort and Vail Mountain ski and snowboard resorts are all within a short drive from New Castle.
Read 2 Days in the Roaring Fork Valley for an itinerary of things to do in the area.