Hot Sulphur Springs
The hot springs in Hot Sulphur Springs are the small town's primary attraction and a favorite place for skiers and boarders from nearby Winter Park Resort and Ski Granby Ranch in Grand County to come relax their sore muscles after a hard day on the slopes. The quiet town is a great place to stay and soak up the water, as well as the history and beauty of this Rocky Mountain town.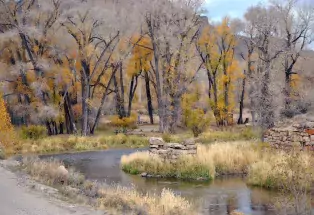 Hot Sulphur Springs Chamber of Commerce
110 Byers Ave., Hot Sulphur Springs, CO 80451
Grand County Colorado Tourism Board
P.O. Box 131, Granby, CO 80446
The mineral springs were once used by the Ute Indians, who believed in their healing powers. Today, at the Hot Sulphur Springs Resort & Spa, visitors can find relief in 23 different pools of varying heat or with a massage or other treatment in the spa.
While you're here, visit the Pioneer Village Museum in the Hot Sulphur Springs schoolhouse or Arapaho National Forest for hiking, snowshoeing, snowmobiling and other activities. Fish its Gold Medal Colorado River waters, hike and camp on untouched terrain.