Buford
Nestled on the banks of the White River, Buford is the perfect stop before entering the Flat Tops Wilderness Area, a pristine 235,000-acre hiking and fishing paradise.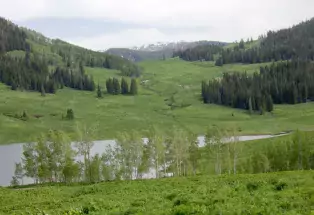 Buford is a small town along the historic Flat Tops Scenic Byway, an 82-mile historic trail from Meeker to Yampa. Scenery includes dramatic geologic formations, cliffs and plateaus formed by basalt lava flows. Above the plateau are beautiful sub-alpine meadows and alpine tundra.
Buford, near famous Trapper's Lake, offers access to superb fishing as well as hunting and mountain biking. Tour several of the caves honey-combing the Flat Tops' underground limestone formations, or enjoy the solitude of the Flat Tops Trail System. The trails here are un-crowded and the scenery is stunning. Sleepy Cat/Buford and Lost Creek Guest Ranch Trailheads in the White River National Forest provide excellent jumping off points for backpacking and photographing Colorado's largest elk herd.