Winter Rides: Dog Sleds, Sleighs, Snowmobiles & More
It wouldn't be a Colorado winter without finding yourself laughing in the cool air on one of the following joyrides, some of the best things to do in winter.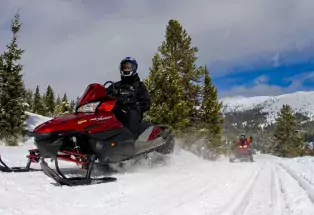 Dog Sledding & Skijoring
Take turns mushing a team of eager Siberian and Alaskan huskies over snow-packed trails on a morning or afternoon trip. Bundle up and sit back to take in the amazing mountain views in a sled for two (or two adults and a small child). Colorado dog-sledding trips often include breaks for hot cocoa and baked goods. Featured on The Learning Channel and the "Today" show, Mountain Musher in Wolcott prides itself on offering dog-sledding rides through private trails free from snowmobiles in the picturesque Vail Valley. Near Salida, Monarch Dog Sled Rides takes you on a ride that twists and turns through pristine backcountry with eight to 14 Alaskan huskies leading the way. Durango Dog Ranch is another option with gorgeous mountain backdrops.
For a canine ride of a different kind, try "skijoring" — an up-and-coming U.S. winter sport enjoyed in central Asia for thousands of years, during which a team of dogs or horses (see sidebar) tow you along on your skis. The name skijoring originates from the Norwegian term "ski driving," but you'll just call it crazy fun. You and your pup can learn the ropes, so to speak, with lessons through High Country Dogs at Frisco Nordic Center and Devil's Thumb Ranch in Tabernash. Learn more about dog sledding in Colorado.
Horse-Drawn Sleigh
Snuggling up in blankets next to your loved ones in a horse-drawn sleigh is something everyone should experience at least once. Feel like mountain royalty and take in spectacular scenery as you glide past moonlit peaks under a pure winter sky. Sleigh rides are a great romantic date or unforgettable family adventure. 4 Eagle Ranch in Wolcott offers a popular Sleigh Ride Lunch, with chili, mac and cheese, salad, cookies and more after dashing through the snow. Learn more about sleigh rides in Colorado.
Chairlift
Colorado's 28 ski areas offer safe, swift lifts to 40,000 acres of skiable terrain, including beginner runs, challenging bowls, exciting moguls and much more. From Breckenridge Ski Resort's Imperial Express SuperChair, topping out at 12,840 feet as the highest chairlift in North America, to the fastest triple chair lift in the state at Aspen Highlands, which carries skiers and boarders up 1,700 feet in just seven minutes, there's a Colorado lift to match your skill level. Learn more about Colorado ski resorts.
For a whole new dining experience, take the enclosed gondola to Alpenglow Stube at Keystone Resort or to Telluride's Alpino Vino and enjoy a gourmet mountaintop meal. More about mountaintop dining
Snowmobiling
Safety-certified guides at Lake City Auto & Sports Center lead snowmobile tours on a variety of trails past exquisite scenery, where you can choose to meander through the forest or zip across plateaus with stunning views of the San Juan Mountains. Some tours cover as many as 60 miles a day with a stop at Arrowhead Mountain Lodge for a hot lunch to warm you up. Best-selling snowmobile tours at Saddleback Ranch in Steamboat Springs are the only ones that take you onto private land to sites you can't reach otherwise. You'll zoom through open meadows on some 8,000 acres offering gorgeous panoramas of the Flat Tops Wilderness, Mount Werner, Sleeping Giant (aka Elk Mountain) and Mount Zirkel. Your reward at the end? Piping hot chocolate and a freshly baked cookie back at basecamp. And Grand Adventures in Winter Park and High Country Tours in Dillon, among many others, offer personalized tours. 
Those who already know how to ride can rent a single or double trail machine from Twin Pine Motor Sports in South Fork. The area has more than 250 miles of groomed trails, innumerable off-trail opportunities, wide-open ridges and steep climbs to choose from. Learn more about Colorado snowmobiling.
Giant Rubber Inner Tubes
Colorado resorts pride themselves on their squeal-worthy, specially designed tubing hills. Aiming to provide guests with a bigger, faster, more thrilling experience, many tubing hills around the state now offer side-by-side lanes for racing and rolling features with mini-kickers for that extra oomph through the air. Some hills are served by easy-access surface lifts and allow parents to ride down with the littlest tubers. The Monarch Tubing Park welcomes riders in need of a rollicking ski break at Monarch Mountain near Salida, while Coca-Cola Tubing Hill at Winter Park Resort features four lanes with banked curves for plenty of heart-pounding races. Even better, a conveyor belt whisks you up the hill and a warming area with hot cocoa and cookies ups the comfort factor. For more fun, Copper Mountain is also known for its tubing. Learn more about snow tubing.
Fat Biking & Ski/Snow Biking
Fairly new to the snow sports scene, snow biking is an exhilarating mode of slopeside transit. Special snowcycles — basically a bicycle on skis instead of tires — let you steer and ski down the mountain. Instructors are on-hand to teach you how to maneuver snowcycles at Winter Park and Purgatory. The resorts offer snowcycle lessons and tours around the mountain. Learn more about fat biking.
Ski bikes are specially designed to feature front and rear skis (instead of wheels) and are ridden while standing up on pegs, similar to a dirt bike. Sporting downhill mountain-bike suspensions and multiple ski types, these bikes are capable of slicing through everything from powder and moguls to steep-and-deep terrain and more. Most Colorado resorts allow them, with lessons and rentals at many, including Adventure Point at Keystone Resort and Telluride Ski Resort. You'll learn something new in no time — and discover a whole new way to enjoy the mountain!
Winter Jeep Tours
In the central part of the state, Colorado Jeep Tours offers half-day, full-day, sunset, dinner and custom off-road tours in and around Cañon City. Traverse the rim of the Royal Gorge, drive through the bright red monoliths at Red Canyon Park or discover old mining towns from the 1800s. Wild Side 4x4 Tours offers top-rated mild-to-wild photo tours through Estes Park. Custom rides also include a barbecue feast or hot-dog roast in Rocky Mountain National Park or Roosevelt National Forest. 
Alpine Coasters
You can ride a roller coaster at theme parks across the country, but few places in the U.S. offer the outdoor racing thrill of a classic alpine coaster zipping down the mountain even during winter. Colorado boasts several, including one of the newest and most intimidating — the Inferno Mountain Coaster at Purgatory Resort in Durango. With its nearly mile-long track featuring nine switchbacks, a 300-foot drop and a 360-degree loop, your only choices here will be to take in the breathtaking scenery or scream on the way down. At speeds approaching 30 mph, the Breathtaker Alpine Coaster at Snowmass Mountain is aptly named. You'll gasp as you wind your way through an elevated track stretching over a mile long. Spanning 5,800 feet, the Rocky Mountain Coaster at Copper Mountain is one of the longest in North America, descending 430 feet through the forest at an average grade of almost 11 percent. Better hang on!
Snowcat Adventures
If snowmobiling seems like "roughing it," hop in a heated snowcat to be whisked up and down the mountain in an all-glass cabin, enjoying panoramic views in complete comfort. On a tour with Nordic Snowcat Adventures at Breckenridge Nordic Center, you'll even stop at a hut along the way for s'mores and hot chocolate. Estes Park Outfitters offers the area's only snowcat tours, climbing several thousand feet to incredible mountain vistas and glimpses of Denver and the Estes Park valley. Tours end at a luxurious mountain lodge where you can sit by the fire while enjoying great food and drink.
Want More? 
Discover 16 of the best things to do in Colorado year-round
Learn how to steer clear of winter backcountry danger
Find ways to play off the slope