Adventurous & Adaptive Summer Sports in Colorado
Whether you want to shred down a wildflower-lined path on a mountain bike or paddle the rushing waters of one of our many rivers, there's a good chance you'll find an adaptive option in Colorado.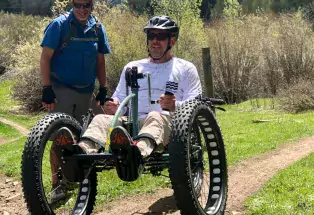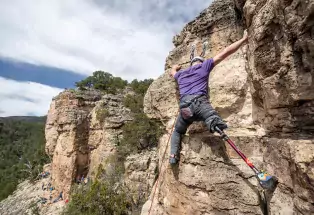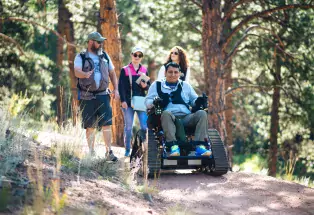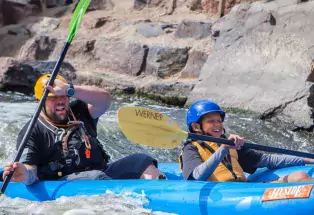 Take a look at just a handful of the adventures waiting for you with these outfitters, many of whom offer special activities or packages for veterans and first responders.
NSCD offers so many awesome programs that we can't list 'em all here. Athletes with any diagnosis can have a blast along the Front Range and in the mountains by taking part in an array of adventures — these rotate seasonally, so keep an eye on their page to make sure you don't miss out! Explore the National Sports Center for the Disabled's full list of summer programs >>
Set in the technicolor wildflower capital of the state, Adaptive Sports Center has the hookup when it comes to getting down in Colorado's outdoors. Swing through trees and fly through the air on the Ropes and Challenge Course where a combination of low and high elements add layers of excitement to the excursion.
Or, skip the uphill grind and jump straight to the fun of mountain biking with one of the world's only downhill-mountain-biking programs for people with disabilities. Cross-country biking is another way to take in all that sweet alpine air, with outings for all skill levels and a choice of arm- or leg-powered adaptive bikes. Explore Adaptive Sports Center's full list of summer programs >>
Telluride is a charming former mining town with a laid-back vibe and love for anything outside. Let the folks at TASP be your guides as you cast for trout at nearby Ridgway State Park, where vistas of the snow-rimmed San Juans may prove slightly distracting. Guided trips to Telluride Bike Park — an accessible-chairlift-served riding experience — will delight novices and experts alike with flow trails and technical terrain in a mountain playground.
For a quintessentially Coloradan experience Try TASP's Hometown Adventures — custom-tailored expeditions that include tours of historical railroads, ghost-town explorations, flatwater activities and more. Explore Telluride Adaptive Sports Program's full list of summer offerings >>
Enjoy everything a Colorado summer has to offer with Custom Adaptive Adventures courtesy of Challenge Aspen. Past adventures have included gondola rides above emerald-green, fir-covered peaks and valleys, horseback riding (including therapeutic options), adaptive biking, whitewater rafting, outings to Glenwood Adventure Park and soaks at Glenwood Hot Springs. CAMO — Challenge Aspen Military Opportunities — offers fun retreats for active-duty military and veterans with service-related disabilities, like cycling Independence pass and bow-shooting instruction. Explore Challenge Aspen's full list of summer offerings >> 
In Durango, you'll find an authentic Western spirit, stunning views of the jaw-dropping San Juan Mountains and easy access to Colorado's great outdoors. With the Adaptive Sports Association, let the current of the Animas River — one of the last free-flowing rivers in the country — whisk you away on a rafting trip. If you like your water a little calmer, opt for flatwater canoeing or kayaking on one of the area's many picturesque lakes.
Or, rent an adaptive bike from ASA and set off on your own cruise along the 7-mile paved Animas River Trail, listening to the rushing water and watching for gray plumes of smoke from the Durango & Silverton Narrow Gauge Railroad as you go. Explore the Adaptive Sports Association's full list of summer programs >>
Steamboat Springs is nestled in the heart of The Great West, so it makes perfect sense that adaptive horseback riding is just one of the many activities you'll find at STARS. Whether you're already an avid rider or have never seen a horse in real life before, there's a riding session waiting for you.
Or, saddle up a mechanical steed — that's a mountain bike for those not fluent in Wild West — and traverse some of Colorado's most amazing cycling country. Multi-day clinics include skill sessions for two-wheel or hand bikes, as well as bike-care courses and lodging at the STARS ranch. Explore Steamboat Adaptive Recreational Sports' full list of summer programs >>
Other accessible & adaptive adventures
Want More?
Check out adaptive winter sports in Colorado >>
Explore accessible campsites, hiking trails and more at Colorado's national parks >>