Summer Adventures for Gutsy Women
Leave your comfort zone at home on one of these 10 gal-centered trips offered around the state.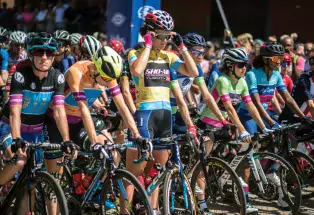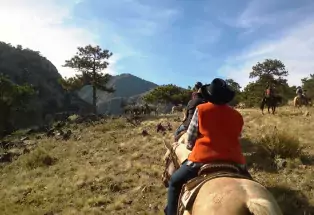 We're celebrating the many opportunities Colorado offers for strengthening our sisterhood in the great outdoors — let's ice climb or trail run or maybe even fly-fish. Not only will you come home with memories and a sense of empowerment, you'll make lifelong girlfriends.
Bold Betties, Rocky Mountain National Park & elsewhere
What began as a Colorado Meetup group is now 54,000 strong and crosses state lines. The goal of this female-owned company is to help women meet other women wanting to explore the outdoors together without that intimidation factor — we aren't all elite athletes living in an REI commercial.
Head out on the Guided Beginner Fly Fishing Weekends in Rocky Mountain National Park. The jaunts have a guide-to-student ratio of 1:3, so you get tons of hands-on experience that's guaranteed to expand your confidence in the fly-fishing world. Plus, Rocky Mountain National Park is a gorgeous setting for your first foray in waders — spot elk, snap photos of the snow-capped mountains and enjoy the silence of nature.
IRIS Alpine, Ouray
IRIS Alpine is founded on the mission of empowering women, nonbinary and trans outdoors enthusiasts to help them gain confidence and competence. Formerly Chicks Climbing and Skiing, IRIS now the longest-standing climbing program of its kind in the history of such programs. Whether you want to ascend to the top of a winter-wonderland ice structure or test your abilities on an intro to backcountry skiing course — these folks are ready to help you become confident and self-sufficient.
Taught by highly credentialed guides, every experience level is welcome. IRIS provides the equipment, so no need to worry about having the right ice ax or set of skis. And after you join the more than 1,000 people who have graduated from their programs, you'll be introduced to the supportive network of alumnae who discuss the best harnesses, crampons and techniques via social media.
Colorado Classic, Multiple locations
This isn't your average bike race. It's the only women's standalone pro road competition in the Western Hemisphere. How 'bout them apples? Nearly 100 of the world's best racers from 16 teams compete in a four-stage course over Colorado's mountainous terrain and into Denver.
The classic isn't just about speeding around tight corners; it's about empowering all ages and abilities to transform their lives and the world through sports. Not to mention it has the prestigious 2.1 classification by the Union Cycliste Internationale. The event takes place annually in August. If participating in a cycling race isn't in your wheelhouse, the Colorado Classic offers plenty of fan zones and streaming options so you can cheer these powerful ladies on to victory.
Cowgirl Roundup Sylvan Dale Ranch, Loveland
Don your cowgirl hat and mosey to the Sylvan Dale Ranch for this horse-focused retreat. Ranked as a top-10 vacation option for solo travelers by Equitrekking, the roundup keeps each session to 20 aspiring-Dale Evanses so that you won't get lost in the mix.
Take advantage of the ability-level riding instruction from their wranglers and then use those skills on adventure rides, team penning, a high-stakes-poker ride and an overnight pack trip. Don't worry if you're not an experienced horsewoman, they'll partner you with just the right mount. And when you fall in love with riding, you can catch, groom and tack up, unsaddle and turn out your horse. Not many places are this open with their teams. After a day of riding, soothe tired muscles with a deep-tissue massage and on-site yoga classes. Or, linger at the dinner table for homemade desserts (Anyone for pie?).
Leave the Boys Behind, Aspen
For women experienced in trail running (you must be comfortable running 4 to 6 miles at high altitude), Mindful in the Mountains is a backcountry-hut-based retreat at Margy's Hut near Aspen. Wake up at 11,300 feet to views of the Elk Mountain Range before lacing up your Hokas and hitting the beaten paths. Spend three days and two nights immersed in the rarely seen Colorado backcountry and relax during the daily guided meditations. Enjoy refueling with seasonal, professionally prepared meals and learn about mindfulness techniques that can support your trail running. The hut sleeps eight to 10, so bring your best girlfriends for a weekend of getting back to your elemental roots.
These Boots Are Made for Wading, Colorado Springs
Held at one of Colorado's oldest and grandest resorts, The Broadmoor, this is an interactive immersion into the sport of fly-fishing at every level. From learning what type of pole to use to discovering advanced angling techniques, there is opportunity for everyone. 
Learn the art of fly-casting along the resort's 5 miles of private water on the verdant Tarryall River. Aside from looking stylish in a bucket hat, you'll have a chance to take a class in fly-tying or hike the winding trails of the Lost Creek Wilderness. Gooey fireside s'mores await each evening. 
Timber to Table Guide Service, Hotchkiss
T-to-T is all about wanting to put yourself out there and get after it. They want as many first-time hunters to dive into the wild as possible to educate, support and ultimately empower them. Hunts take place on public lands to create a lifelong relationship with the areas that sustain the state's wildlife populations.
By the time the journey is up, you'll have a year's worth of meat in your freezer and field skills like tracking, identifying scat, interpreting animal behavior and how to field dress, quarter and process your meat. These are all the skills you'd need to be the head honcho of your village 12,000 years ago (or just a badass today).
Women's Wilderness, Boulder
Throw your self-help into the campfire and go on one of these journeys centered around self-confidence and empowerment among girls, women and LGBTQ+ folks. Women's Wilderness's mission is to cultivate courage, connection and environmental stewardship. The courses are taught by skilled women outdoor instructors who also serve as role models.
Each course varies in terms of focus — learn wilderness survival basics, rock-climbing skills, how to backpack through Colorado's dense forests and more. No matter which you choose, you'll end up feeling ready to conquer the outdoors anywhere. If you have a little lass in your life, send her to their girls' camps for fun, adventure and strong female leadership (several age ranges available). She'll walk away feeling inspired and resilient to peer pressure.
Life's 2 Short Fitness, Across the state
This woman-owned business sports a vibrant community of lady bosses taking on outdoor activities of all types (and levels) year-round. Learn to mountain bike. Hike your first fourteener. Make tracks in snowshoes. Run stunning trails along the Front Range. And do it all as part of a friend family that supports, encourages and empowers you.
In addition to regular meetups and classes, Life's 2 Short also offers several adventure weekends each year, where you'll have a blast while strengthening your skills and friendships.
Want more?
Find winter outdoor programs for women >>
Explore adaptive summer sports in Colorado >>