Transform Mind, Body & Spirit in Colorado
As one of the most active and outdoorsy states in the nation, Colorado promotes personal wellness through outdoor adventures, relaxation, healing arts and more. Below is a sampling of health and wellness destinations, experiences and events throughout the state to get you feeling your very best.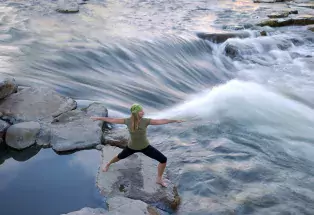 Active Clinics
IRIS Alpine in Ouray
IRIS (an acronym for Inclusive Rock Ice Ski) empowers women, nonbinary and trans outdoors enthusiasts through mountain sports and offers a variety of clinics and programs. Their ice climbing programs utilize the world-class Ouray Ice Park to teach all skill levels how to ice climb efficiently and manage climbing systems. IRIS also offers rock-climbing clinics at coveted pitches around the state, and a variety of backcountry skiing and splitboarding courses, including intros and avalanche safety clinics.
Carmichael Training Systems in Colorado Springs
Colorado Springs boasts some of the best endurance training environments in the world. At 6,200 feet above sea level, it is high enough to benefit from altitude training but low enough that sea-level athletes can train effectively from day one. For a weekend or a week, participants get the opportunity to eat, sleep and train like a full-time athlete, combining great bike rides with one-on-one instruction from professional coaches.
Woodward Camp in Copper Mountain 
A year-round action-sport training camp invites guests of all ages to engage in summer camps, winter camps, drop-in sessions, private lessons and more. During the summer, campers can choose dates that offer exclusive camps dedicated to snowboarding, skiing, skateboarding and more. In the winter, all camp dates are focused on two-day freestyle camps where campers will spend half their days in the Barn, an indoor facility equipped with Olympic trampolines, pump tracks, ramps and foam pits. The second part of campers' days will be spent at Woodward's award-winning outdoor terrain parks.  
Revitalizing Spa Retreats
Exhale in Beaver Creek
The hydrotherapy techniques at Exhale alternate hot and cold temperatures to restore the body and promote wellness. Modeled after ancient Roman baths and the origins of spa, the healing waters are complimentary when done before any service such as a hot stone massage, reflexology session, facial and more. The fitness center encourages wellness through exercise with classes including kinesis, yoga, Pilates, outdoor programs and group fitness workouts.
Dryland Fitness & Spa in Vail
The Dryland Fitness & Spa at Gravity Haus Vail is one component dedicated to recharging and replenishing guest's vital energy for overall health and well-being. Relaxing massages, anti-aging facials, signature spa scrubs, wraps and a Magnesium Wellness treatment for sore, stressed muscles helps guests feel their best. A fitness center, yoga studio, plus medical and holistic services are also available for a wholesome experience.
Read about more Colorado spa experiences.
Healing Hot Springs
Spa of the Rockies in Glenwood Springs
The Spa of the Rockies at Glenwood Hot Springs, home to the world's largest hot springs pool, offers a 90-minute Ultimate Zen package that aims to heal every part of the body with therapeutic minerals, shea butter and soothing oils. Aromatherapy, a therapeutic soak in the thermal hot springs, an exfoliating body scrub, Swedish massage and more are sure to ease the tightest of tensions.
Strawberry Park Hot Springs in Steamboat Springs
The wilderness setting of Strawberry Park Hot Springs highlights the rustic beauty of the Yampa Valley. Here, several hot pools of varying temperatures are fed by the natural spring water and the rushing Hot Spring Creek. Guests can enjoy a massage in private massage huts or a watsu therapy in the hot spring's private pool. Several miles of trails surrounding the hot springs invite guests to snowshoe through National Forest lands.
Valley View Hot Springs in Villa Grove
With natural rock ponds, a chlorine-free swimming pool and a hydroelectric sauna, the Valley View Hot Springs offer a variety of soaking options in a diverse ecosystem rich with wildlife, birds, bats and plant life. Guests can choose to camp on site or choose from historic lodging options. For those looking to enhance their stay, massage therapists are located on site.
Read about all 29 Colorado Hot Springs.
Self-Awareness Through Yoga
Infinite Alignment Retreats in Evergreen
For those searching for their spiritual path, a cozy mountain getaway at Infinite Alignment allows for relaxing, reflection and renewal through a variety of retreat options that focus on integrating yoga, meditation and breathing work to stimulate the energy flow in the body. Guests have their choice of lodging both on and off site. Detox and cleanse food options can be added, and spa treatments along with healing therapies make for an all-around holistic stay. 
Shoshoni Yoga Retreat in Rollinsville
Located at 8,500 feet in the mountains above Boulder, Shoshoni Yoga Retreat invites guests to participate in their yoga and meditation retreats. Guests can stay for one night, a weekend or more. Each day, two yoga and two meditation classes are offered and vegetarian meals are sourced from the organic gardens on the grounds. On their free time, visitors can relax in the sauna or hot tub and explore hiking trails and meditation shrines. To personalize the retreat, one-on-one classes may be scheduled.
True Nature Healing Arts Center in Carbondale
A healing sanctuary in the Roaring Fork Valley at the base of Mount Sopris, True Nature is a two-story building surrounded by a tranquil Peace Garden, with a reflexology path, labyrinth, fire circle with natural earthen couches and outdoor yoga spiral and spaces. Inside the center, visitors will find yoga classes and a kitchen that serves dairy-free, gluten-free, non-GMO meals that are always organic and designed to nourish deeply.
Health- & Wellness-Inspired Events
WholeExpo in Durango
Bringing together individual businesses and services in September, the Four Corners two-day showcase promotes holistic and ecological products, services and seminars that support health, harmony and spiritual awareness. Exhibitors include eco-friendly products, ayurvedic health, native spiritual counseling, spas and retreats, homeopathy, essential oils and much more.
Yoga on the Rocks in Morrison
Where the Great Plains meet the Rocky Mountains, Red Rocks Amphitheatre is a geological phenomenon known for hosting incredible concerts. For a summer Saturdays, guests are invited to bring their yoga mats to workout with hundreds of other yogis in the early morning. Beginning at 7am, yoga instructors will lead the one-hour sessions. After the guided workout, guests can explore more of Red Rocks by hiking the surrounding trails or running the steps of the amphitheater. 
Want More?
Read about Colorado's spiritual attractions, like the Stations of the Cross, Garden of the Gods, Crestone and more.
Find elevated wellness getaways.
Check out our Colo-Road Trip: Creative Wellness Inside & Out: Carbondale, Marble & Redstone.