Colorado Wine Trails & Tasting Rooms
Colorado's wine industry, more than 110 producers strong, offers settings and wine-tasting rooms like no other wine region in the world.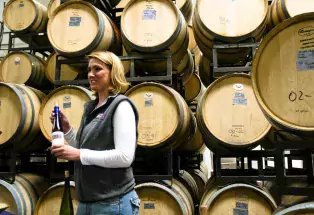 Colorado's unparalleled natural beauty is luring up-and-coming wineries, and for those looking for the next big thing in wine, that's a perfect pairing. Peach or viognier, raspberry-honey blend or cabernet franc — Colorado has countless interesting wines that are drawing recognition throughout the U.S. and beyond as being not only legitimate, but in some cases, world renowned. And this is something locals have known for quite some time.
Colorado's Unique Wineries
What makes the Colorado wineries unique is there is no tradition holding it back or rules by which to play. A vintner in Palisade can choose to blend apples and chardonnay. An urban winery can embark upon making top-flight vino out of a Quonset hut in downtown Denver. A winemaker in Hotchkiss is free to pioneer in the field of biodynamic farming — becoming one of 22 such wineries in the world.
Colorado has left pretension at the door and coupled wine tasting with intimate, friendly locations. Stellar classics, such as chardonnay and cabernet sauvignon, are found in Colorado tasting tasting rooms, but it's the oft-forgotten and interesting grapes that really make Colorado's wine scene shine. Great whites include viognier, riesling and gewürztraminer. Reds such as cabernet franc, petit verdot and malbec offer characteristics distinct to the state.
Don't forget about Colorado's fruit wines. With bountiful peach, apricot and cherry harvests, Colorado is producing world-class fruit wines that scream summertime enjoyment. The same can be said for delicious honey wines, many blended with local fruit.
Finding Colorado Wineries & Tasting Rooms
Grand Junction Area
There are wineries all over Colorado, but a prime spot to enjoy their tasting rooms is the heart of Colorado's wine country. Nestled throughout the desert mountains of northwest Colorado near Grand Junction and Palisade, there are a handful of wine trails to help guide an unforgettable adventure in tasting. A variety of grapes are grown here, thanks to the dry climate and high elevation of the area, which runs along the Colorado River. 
Front Range/Northwest Colorado
Along the I-25 corridor, Colorado's main north-south thoroughfare, from Castle Rock north to Denver, Boulder, Longmont, Fort Collins and Estes Park, wineries offer tasting rooms from urban settings to majestic mountain backdrops. Head west on I-70 toward Colorado's ski towns, and you'll find even more wineries in towns like Georgetown, Dillon, Aspen, Steamboat Springs, Minturn and more.
South-Central Colorado
The Pikes Peak area, near Colorado Springs and Manitou Springs, are peppered with a growing number of tasting rooms. Farther south along the Arkansas River in towns like Salida and Cañon City, you can find some of the state's oldest wineries and tasting rooms.
Southwest Colorado & Four Corners Region
The Four Corners Wine Trail starts in Durango and heads west to Cortez and the Four Corners region near Mesa Verde National Park. Along the Gunnison River in a high-mountain valley, Delta, Hotchkiss and Paonia produce wines at the foot of the West Elk Mountains. 
Want more? 
For more information on wine trails, specific wineries and events
See our Colorado wineries listings