Wine Your Way Around: Explore Colorado Wineries
Cool nights and low humidity create a climate that makes the Centennial State ideal for winemaking. Taste for yourself as you sip your way through the state on this tour of award-winning Colorado wineries.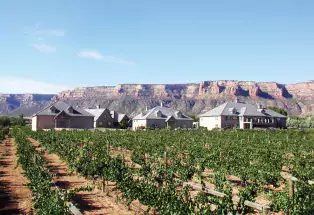 Two miles from Paonia's main drag, cross the centuries-old namesake bridge to visit Black Bridge Winery. Though they pride themselves on their award-winning pinot noir grapes, Black Bridge also produces chardonnay, riesling and rosé. Visit the unique 85-foot-long wine cave built with recycled steel trusses for a look into their past and at what's to come. 
In the charming downtown, wander the many artist galleries, where you'll find everything from pottery to plant-dyed clothing. Recharge at Rio Bravo with cheesy chili rellenos, carne asada-stuffed burritos or the locally loved nachos, coupled with refreshing happy-hour margaritas or horchata. 
Stay at Bross Hotel for scratch breakfast made by the host with locally sourced ingredients.
Famous for boasting a high concentration of Colorado wineries — there are about 30 total — Palisade's cup runneth over. Tour Colterris Winery and taste one of their varietals or visit Colterris at the Overlook to pair a berry-driven white cabernet sauvignon with stunning Colorado River views, all accented by aromas from the lavender and rose gardens. 
BookCliff Vineyards has it all — from fruity cabernet sauvignon to golden chardonnay. Check out their vineyard tour that showcases where the vino is made and about their various varietals. Talon Winery is also home to the Colorado Fudge Factory — a must-stop if you have frequent hankerings for sweet treats. Plan your visit around Colorado Mountain Winefest, held annually in autumn, to fully experience the area's flavors.
Take your adventure to the next level by hiking the 3.8-mile Mount Garfield Trail — it's steep but rewarding with panoramic vistas of the valley. Celebrate your summit with tacos at Fidel's, which stars ingredients like chili-aioli chimichurri, elk chorizo, jalapeño citrus slaw and red-chili cauliflower. 
Stay at Wine Country Inn, where daily afternoon wine tastings are a staple.
Continental Divide Winery, the world's highest altitude winery, stomps their grapes at an impressive 10,361 feet. Sample elevated zinfandels, pinot noirs and dessert wines at one of two tasting rooms in Fairplay or Breckenridge. 
For dinner in Fairplay, sip prickly pear margaritas while nibbling on cactus fries at the Southwestern-inspired Salado restaurant. Or, mosey into the Blue River Bistro in Breckenridge for eclectic American dishes like buffalo short ribs and salmon BLTs.
While in town, admire snow-capped Rocky Mountain peaks from horseback on a guided trail ride with Breckenridge Stables. If you're visiting Fairplay, step back in time at the South Park City Museum to explore a restored boomtown. 
Stay at Fairplay's Riverside Inn for a comfortable and convenient home base. Over in Breck, choose from dorm-style hostel digs or bed-and-breakfast suites at The Fireside Inn.
Cozy up in Creekside Cellars' tasting room and forget about the world. The Colorado winery's must-try cab franc pairs delightfully with antipasto, panini worth writing home about and live music. Amble down the shop-lined boardwalk of the historic downtown until you reach the Wildflower Cafe. Here the ColoRADo Burrito and Bronco Burger are known crowd pleasers. Then walk to nearby Evergreen Lake and enjoy the serene fir-trimmed waters via canoe, kayak or paddleboard. 
Stay at family-friendly Colorado Bear Creek Cabins, which offers a bevy of eco-friendly cabins with water rushing nearby.
Schedule a tasting at intimate Mummy Hill Winery, which spotlights medium-bodied marquettes and fruity Osceola muscats, with flavors amplified by notes of live music and on-site festivals. Worked up an appetite? At 4th & Main Downtown Grille, you can quiet tummy rumbles with Kobe-beef hot dogs smothered in green chili or peach caprese salads. 
While in town, wander through history at the Wray Museum, discovering artifacts like ancient stone tools and a partial mammoth jaw from thousands of years ago. 
Stay at Cobblestone Inn & Suites for sweet dreams and comfortable digs.
Family-operated Balistreri Vineyards bottles their thousands of cases of handcrafted, award-winning tempranillos, petit sirahs, sauvignon blancs and more one barrel at a time. Wine enthusiasts looking for customizable experiences in the Mile High can book private tastings at Kingman Fine Colorado Wines to sip earthy merlots and their Nefarious Red blend.  
Afterward, browse for souvenirs and books for the trip home at Shop at MATTER. Or enjoy a night out on the town at Dazzle jazz bar, sipping specialty cocktails and noshing on citrus-marinated olives as you take in the sounds of eras passed. For dinner with creative flair, check out duo Restaurant, where the menu features dishes like bison bone marrow and cauliflower steaks. 
Stay at The Crawford Hotel, an architecturally stunning spot above Denver's Union Station.
When you sample the six varieties of wine — including woodsy cabernet sauvignons and the rosé-styled Tulip — at Two Rivers Winery & Chateau, you'll likely be welcomed by the owners themselves. Just 15 miles southwest, adventure calls at Colorado National Monument. Explore the park by car, foot or mountain bike, marveling at magnificent rock formations, cottonwood stands and claret cup hedgehog cacti. 
Bin 707 Foodbar plates up seasonal Colorado fare — local trout, rabbit and elk have all been on the menu. While you wait for a table, stroll Downtown Grand Junction Creative District's collection of art galleries and studios.
Stay at Tru by Hilton Grand Junction Downtown to be steps from the heart of Main Street. 
Nestled against a backdrop of the Wet Mountains, The Winery at Holy Cross Abbey is rooted in history and boasts an award-winning lineup of reds and whites, from plummy cabernet francs to chardonnay with notes of pear and oak. The last weekend of September, the Colorado winery hosts its annual harvest festival celebrating the year's grape haul with music, food and art.
Visit the city's most popular attraction, Royal Gorge Bridge & Park, and test your courage as you walk above the rushing Arkansas River on one of the highest suspension bridges in the world. Not a fan of heights? Observe the grandeur from the Royal Gorge Route Railroad where in October and September you can climb aboard the Oktoberfest Bier Train to cheers the season to the sounds of a lively accordion. Before leaving, duck into World's End Brewing Company to savor fruit beers and ales made locally.
Stay at The Royal Gorge Cabins for a high-end approach to the great outdoors. 
Not into wine?
There's a wealth of Colorado Liquid ArtsTM for you to sample, from crisp craft beers and tangy ciders to family-recipe spirits made from ponderosa pine and local blue corn. 
Want more?
Explore Colorado's best wine-tasting rooms >>