Union Station: Things to See & Do
Set in the heart of downtown Denver, the beautifully restored Union Station isn't just a place you go to get somewhere — it's a destination in and of itself. In fact, it has become a must-see destination when visiting Denver.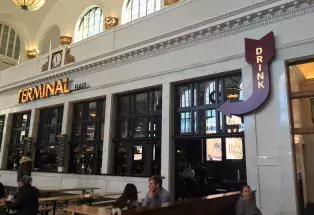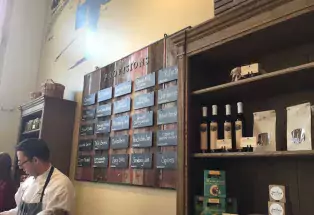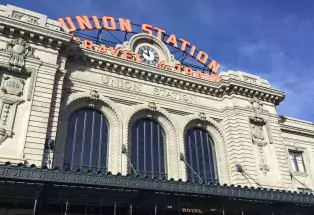 History of Union Station Denver
Built more than 150 years ago, the old Union Station helped put Denver on the map, bringing booming opportunity for the city during train travel's glory days in the 1920s. Following airline and automobile travel's growing popularity, the old train station was on the verge of being torn down.
It wasn't until 2012 that a collaborative development alliance finally sealed the deal on a multimillion-dollar renovation plan. The visionary behind the revitalization, Dana Crawford, is an urban preservationist who kept a keen eye on moving forward while preserving the landmark's past.
The result, unveiled in July 2014, is a vibrant gathering place bursting with history as well as promise. An opportunity seized. In what amounts to a love letter to Colorado, Union Station brings together so much of what the state is known and adored for.
Shops, Restaurants & Bars
At Union Station's center is the Great Hall, a sweeping room full of elegance and nostalgia. Glistening chandeliers and ornate, white molding emphasize the soaring, 65-foot ceilings, and enormous, arched windows flood the room with sunlight. Photo opportunities are everywhere; by far the most popular is in front of Terminal Bar, the fabulously restored old ticket station that is now devoted to dispensing distilled-in-Colorado spirits and also offers 30 rotating regional draft beers.
Visitors can discover a microcosm of the best local chefs and culinary minds; eclectic boutiques with artsy gifts and local crafts like Bloom and 5 Green Boxes; and a miniature version of Denver's most beloved bookstore, The Tattered Cover.
Kick off your day with a fresh cherry scone and hand-brewed, locally roasted coffee at Pigtrain Coffee; or arrive early to beat the crowd to Snooze, a morning eatery known across the Front Range for its Benedicts and pineapple upside down pancakes.
For lunch and dinner, Mercantile churns out exquisitely crafted sandwiches with ingredients like chili-glazed pork belly and hand-pickled vegetables, while Acme has down-to-earth cuisine like juicy reubens, breakfast sandwiches and fresh salads. Meanwhile, Stoic & Genuine has fresh oysters, classic lobster rolls and crispy whole haddock; and Ultreia — a concept of James Beard-award-winning chef Jennifer Jasinski that pays homage to Spain, Portugal and the Iberian Peninsula with dishes such as Moorish-spiced ribs, patatas bravas and a stunning gin selection.
Don't miss indulging your sweet tooth with a hand-dipped cone or booze-spiked milkshake from the charming Milkbox Ice Creamery, offering more than a 16 rotating flavors of locally made ice cream, including vegan options. Those to people-watch while unwinding with a drink can take a seat at Terminal Bar or the cozy Cooper Lounge.
The Crawford Hotel
Stay the night at the dazzling Crawford Hotel, whose luxurious rooms give a nod to Pullman-era train travel. Be sure to take advantage of the hotel's complimentary Tesla service, which will take you anywhere within a two-mile radius, making it easy to catch a Broncos game at Mile High Stadium or explore the popular Highlands neighborhood just outside of downtown.
Union Station Train Travel
If travel is on your agenda, there are plenty of options. People come from all over the world to take the train from Union Station. Traveling to San Francisco via Amtrak's California Zephyr from Chicago will take you through two mountain ranges; along the way, you can relax and watch bald eagles soar over snowcapped peaks. Explore Union Station transportation methods and schedules >>
But like many others, you'll have a hard time wanting to leave Union Station once you arrive. While most travel hubs buzz with commotion as commuters rush to get somewhere, no one at Union Station is in a rush to do anything except enjoy the moment. If the train is late, it's actually a good thing.
Even the hallways and staircases, lined with vintage artwork and mementos that evoke the romance of train travel, encourage you to slow down. If you have time, wander outside and find a spot in the sun. Reminiscent of Italy's sprawling piazzas, the courtyard is a place where you can relax, take in the surroundings and watch the kids play in the fountain.
What Union Station has managed to capture is a relaxed, timeless feeling that is perfectly Colorado — a place where time seems content to whisper rather than shout. And when the conductor calls "All aboard," it doesn't matter where you're going. You're already enjoying the ride.
Want more?
View full listings for Colorado History & Heritage Sites >>
Check out 8 More Ways to Experience Colorado History >>
Read Colorado History: Colorado State Capitol in Denver >>