Red Rocks Amphitheatre: 6 Things to See & Do
From fossil hunting to yoga at 6,450 feet, concerts are only the beginning of the fun at the iconic amphitheater and park.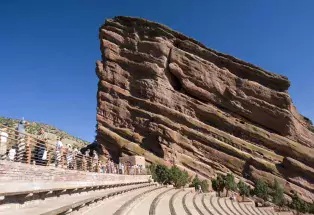 Red Rocks Amphitheatre's pair of geologically formed sandstone monoliths promote seamless acoustics for only-in-Colorado concert experiences. The open-air theater in Morrison (just 15 miles west of Denver) has charmed musicians from nearly every genre, from legends like The Beatles, The Grateful Dead and Jimi Hendrix to electronic artists, opera singers and classical instrumentalists, including the Colorado Symphony. In 2015, Red Rocks Park and the adjacent Mount Morrison Civilian Conservation Corps Camp, which housed men who came to the area during the Depression era to build the amphitheater, were designated by the National Park Service as Colorado's 25th national historic landmark.
It's also on our list of 5 Things to See Before Summer's Over.
There's no doubt that a concert outlined by ever-changing Rocky Mountain skies at the venue is a must, but the grounds of Red Rocks Amphitheatre supply plenty more to do. Test your endurance on the amphitheater's steps, watch classic films under the stars or trace the footsteps of prehistoric creatures — it's all part of the enchantment of Red Rocks.
Red Rocks Park has 868 acres of pine tree-speckled geological marvels, meadows, wildlife habitats and dinosaur fossils to investigate. The park's grounds, situated at 6,450 feet, represent the intersection between the Great Plains and the Rocky Mountains. As a result, there is a great mix of plant and animal life from both environments in the area.
Red Rocks has two hiking trails that provide access to area's best natural landscape and panoramic views of Denver and beyond. The Trading Post Trail is a 1.4-mile loop that takes visitors around the park's trademark rock formations, while the Red Rocks Trail connects with Matthew Winters Park to the north for a dramatic 6-mile hike. The Red Rocks Trail can also connect with the Dakota Ridge Trail to the east. While you're on the trails, keep your eyes peeled for sightings of prairie dogs, rabbits, red foxes, Mule deer and other wild friends.
Find more hiking trails in Colorado.
Red Rocks Amphitheatre's 300-foot walls unintentionally document the 16-million-year history of the region. Don't miss the fossil fragments of a 40-foot sea serpent, a marine reptile and flying reptiles. Dinosaur tracks from the Jurassic period can also be found in the park surrounding the theater.
Of course, the Red Rocks' stone formations are standalone attractions. While some formations tilt backward, others slope as much as 90 degrees. The amphitheater's two main stone slabs, dubbed "Ship Rock" and "Creation Rock," are taller than Niagara Falls. Read about more places to see dinosaur fossils in Colorado.
This star-studded event (literally) at Red Rocks Amphitheatre takes place nine times during the summer and has been a favorite of locals since its first show nearly 20 years ago. Each Film on the Rocks event features a crowd-pleasing film preceded by a live concert and a comedian. Movies start at dusk to take advantage of prime natural lighting. Look for cult-class films such as "The Big Lebowski," "Ferris Bueller's Day Off," "Grease" and new-age hits like "Deadpool" and "Star Wars: The Force Awakens."
Red Rocks inspires those seeking serenity and good health as well as a musical experience. Join up to 2,000 yogis from 7-8am for eight select Saturdays during the summer for a unique yoga workout inside the spiritual walls of Red Rocks Amphitheatre.
Not even the most newfangled exercise machine can simulate the experience of climbing Red Rocks Amphitheatre's steep steps, which were functionally designed to enhance and preserve the site's natural beauty. Runners and exercise groups descend on the venue's seats and steps when events are not taking place. Be sure to check the park's hours for information.
Red Rocks Visitors Center spotlights the geologic and musical history of the amphitheater and park, which opened in 1941, through interactive educational exhibits and a Performers Hall of Fame display. Private group tours are available for groups of 10 or more and include a free screening of a documentary about the park and concert footage. For more information, call 303-697-6910.
For the ultimate Red Rocks dining experience, The Ship Rock Grille in the Red Rocks Visitors Center offers dining on a deck framed by gorgeous panoramas. The restaurant, which serves locally inspired American favorites like Ridgline Sirloin, Buffalo Chili and Western Slope Apple Pie, was built around two very large boulders to support an ambiance stimulated by the area's uniquely beautiful surroundings.
Want more?
Get back to the basics with these Colorado experience based on the four elements
Check out other scenic music venues in the state