Get Back to the Basics With Elemental Experiences in Colorado
Four elements — earth, air, water and fire — are said to be the essential building blocks of life. If you're looking to get back to basics, a Colorado vacation provides plenty of options for you.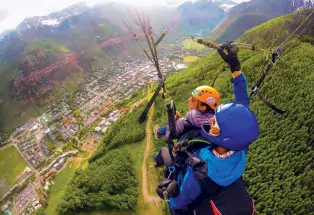 Earth
Journey to the center of Colorado's earth on a lantern-lit tour of Cave of the Winds in Manitou Springs.
Ride the shuttle to the top of the Grand Mesa and shred 6,000 feet down the Palisade Plunge, one of the longest singletrack, downhill mountain-bike trails in the U.S. (The plunge is for advanced riders. Read up on it so you know before you go.)
Stretch out on the famous sandstone slabs of Morrison's Red Rocks Amphitheater at Yoga on the Rocks. (Then, treat yourself to post-pose lavender lattes and Taste of Denmark pastries at nearby Morrison Joe.)
Wander the extraordinary ghost town of Marble Mill Site Park, where structures were hewn from the same creamy Yule marble used to make the Lincoln Memorial.
Inhale the scent of sweet high-desert soil as you stroll through Technicolor waves of succulents, daffodils and hydrangeas at Western Colorado Botanical Gardens in Grand Junction.
Air
Get once-in-a-lifetime views of the snow-capped San Juan Mountains on a parachute trip for two — you and your instructor — with Telluride Paragliding.
Go fly a kite! Kids and adults alike will enjoy watching their colorful airborne squares dipping and bobbing on the Rockies' alpine winds at Longmont's expansive Sandstone Ranch Park.
At Tonic Alchemy Lounge in Boulder, unwind with oxygen cocktails rimmed with tangerine, cardamom, lemongrass and fir.
Start the day carefree with No Worries!! Ballooning (Windsor) as you admire the shocking pinks, oranges and purples of a Colorado sunrise from the basket of a hot-air balloon.
Live out your fantasies of being a peregrine falcon (with a parachute) as you dive 12,000 feet over wind-rippled prairie with Out of the Blue Skydiving in Limon.
Head to Top of the Rockies Zip Line in Leadville (North America's highest incorporated city) where you'll soar over train tracks, gold mines, alpine meadows and vast canyons.
Fire
Hike the short trail to the rim of Dotsero Crater, Colorado's youngest volcano, where the stunning views will blow your top.
At Breckenridge Distillery, sip smoldering spirits like the Barrel-Smoked Strawberry Horchata or Goblet of Fire with an applewood smoke bubble. Accio another round!
Natural mineral-water hot springs flow throughout the Rockies. Drive the Colorado Historic Hot Springs Loop to dip a toe (or your whole body) in some of our most famous waters.
Gather 'round the sleek fire pits at Denver's aptly named FIRE restaurant and spice the night up with seasonal menus featuring treats like crispy sriracha wings.
Cheyenne Mountain Resort in Colorado Springs adds a twist to fireside s'mores with a gourmet bar featuring toppings like caramel, bacon and sumptuous mountain views.
Melt your mind as you watch artists create magic from molten glass or schedule a class for yourself at The Furnace: a glassworks in Lakewood.
Water
Shoot the Arkansas River rapids in Browns Canyon National Monument near strikingly scenic Buena Vista.
Grab your gal pals for a ladies-only fly-fishing trip in Winter Park, led by Damsels on the Fly.
Strap on your summer skis and carve up some glassy lake gnar. Lake Pueblo State Park (Pueblo), Navajo State Park (Arboles) and Lake Granby (Granby) are just a few water-skiing hot spots.
Surf's up! Ride river waves via paddleboard on the Colorado River's elusive Big Sur (Glenwood Springs) or hang loose at Montrose Water Sports Park (Montrose). Don't forget to wear your PFD!
Bounce on the inflatable floating playground or rip on a wakeboard at Imondi Wake Zone — a water park in the middle of Fruita's high desert. (Colorado is full of surprises!)
Explore our local watering holes and wet your whistle courtesy of the Colorado Liquid Arts™ scene. Whether your cravings lean toward craft beers, ciders, wines or spirits, we've got 600-plus makers ready to sate your thirst.
Want more?
Plan a Colorado vacation based on your zodiac sign >>