Plan a Colorado Experience Based on Your Zodiac Sign
Take a spin around the zodiac to determine which Colorado adventure is destined to resonate with your astrological leanings.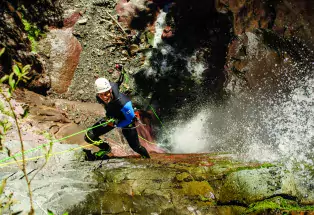 Aries
Bold Challenge-Taker
Rappel down a rushing, 55-foot waterfall between the limestone walls of Portland Creek Canyon on a canyoning tour with Canyoning Colorado in Ouray.
Taurus
Hedonistic & Pleasure Focused
Spend a day indulging at the Outlets at Castle Rock (The North Face, Restoration Hardware, Michael Kors and more) followed by a warm-spiced mud wrap and massage at the Woodhouse Day Spa in Castle Pines.
Gemini
Curious & Communicative
Easily bored Gemini will love the variety of brewery hopping in Fort Collins, which has more than 20 craft breweries, and chatting with brew masters along the way.
Cancer
Water-Loving Homebody
Escape to the rustic (and clothing-optional) Valley View Hot Springs, near Moffat, where you can soak all day and settle into a cozy cabin right on site at day's end.
Leo
Drama Lover
See Broadway-born plays (and locally conceived productions) at the Denver Center for the Performing Arts. Past lineups have included "My Fair Lady," "Mean Girls," "Les Miserables," "STOMP" and more.
Virgo
Deep Rooted & Down to Earth
Aim to let go of all the details you've been keeping track of and ground down with individualized yoga therapy, nutrition therapy and Sadhana guidance at Root Center for Yoga & Sacred Studies near Colorado Springs.
Libra
Outdoorsy & Companion Seeking
Go out on a limb and try group forest bathing with the Evergreen Audubon Society. This Japanese practice of simply soaking up the smells, sights and sounds of the outdoors will feed your need for nature while building comradery with fellow souls.
Scorpio
Secret Seeker
Vogel Canyon, in southeast Colorado, is the little-known gem you'll love to uncover. The placid Purgatoire River meanders through, and you'll be afforded glimpses of petroglyphs and the remains of an 1870s stagecoach stop.
Sagittarius
Adventurous & Freedom Seeking
Feel the freedom of the open road on a drive on the Flat Tops Trail scenic byway, near Yampa, through expansive, wildflower-studded wilderness.
Capricorn
Ambitious & Challenge Relishing
Spend half the day rafting the sapphire waters of the Animas River and the other half flying through above lush forests on 12 fast and furiously fun ziplines with Durango's Mild to Wild Rafting & Jeep Tours.
Aquarius
Humanitarian & Charity Minded
Visit the Boulder Dushanbe Teahouse to sip tea from a menu of some 80 varieties and learn about how the hand-carved and elaborately painted structure was gifted to the city as a symbol of friendship between cultures.
Pisces
Lover of Arts & Music
Head to Red Rocks Amphitheatre in Morrison for a once-in-a-lifetime concert experience inside a geologic wonder. As locals are fond of saying, it doesn't really matter who you see perform here — every show is amazing.
UNDER COLORADO'S DARK SKIES, DISCOVER MORE NOVEL OPTIONS FOR APPRECIATING THE COSMOS.
Attend a star party in Westcliffe, Colorado's first International Dark Sky Community at the town's Smokey Jack Observatory, where past celebrations have centered around observing the galaxy Andromeda and watching planet Mercury cross the sun. Book a stay at Dark Skies Vacations, which offers four vacation rental homes (including one that has its own private observatory) to truly unplug and enjoy the unspoiled nights skies.
Sight up for night programs at Great Sand Dunes National Park and Preserve for tips and instructions on understanding the night sky and nocturnal ecology during the summer months.
Join the Black Canyon of the Gunnison National Park's annual Astronomy Festival. Each September, participate in solar viewing, self-guided planet walks, night-sky discovery tables and night-sky viewing through telescopes.
Want more?
Check out 15 Places to Stargaze in Colorado >>
Find four Colorado stargazing trips >>