4 Breathtaking Colorado Stargazing Trips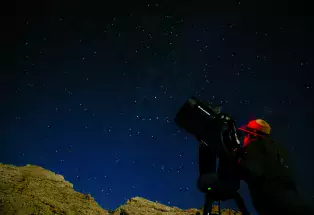 This is one of the purest night skies left in the U.S., so take advantage of that as you learn about the cosmos during ranger-led programs showcasing the Milky Way — you might even spot the International Space Station! Learn how to use a telescope or go on a nighttime hike with the stars and moon as your guiding lights.
Daytime Activities
In Rangely, observe the countless, intact Native American rock-art pieces that dot Hwy. 139 along the Canyon Pintado National Historic District. Or see a show at The TANK Center for Sonic Arts. A steel water tank has been transformed into, potentially, the world's most unique performance venue. Head to Meeker and get your fishing license to hook largemouth bass at Rio Blanco Lake State Wildlife Area before housing a smothered burrito platter at Tu Impossible Mi Casa Tu Casa back in Dinosaur. Before the sun sinks behind the area's layers of cream-colored rock, hit the Harpers Corner Trail, which winds through a juniper forest to staggering views of the Green and Yampa rivers.
Lodging
Gates of Lodore Campground (Dinosaur National Monument), Blue Mountain Inn and Suites (Rangely), Terrace Motel (Dinosaur), Moosehead Lodge (Rangely)
In August, the hamlet hosts an educational street festival, where you'll learn about everything from light pollution to how to protect the night. To feel as if you're among stars a la Princess Leia, check out Baca National Wildlife Refuge. Or, a half-mile east of town on Galena Avenue, drive from pullout to pullout for constellation panoramas with wow-factor — is that the little dipper?
Daytime Activities
Sandboard down the ever-shifting hills of Great Sand Dunes National Park and Preserve to feel like you're in another world. For a less adrenaline-filled dune day, chill in the beach-like atmosphere created each May when Medano Creek springs up from the surrounding mountains' snowmelt. Or discover the 20-plus spiritual hubs and sacred landmarks within Crestone's city limits. Get educated on their practices by visiting Varja Vidya Retreat Center, Haidakhandi Universal Ashram and Yeshe Khorlo Retreat Center. When hunger hits, pop into Our Food Is Art Restaurant for jackfruit Thai tacos. Then snap up stone jewelry, glass mosaics and wood vases at Crestone Artisans Gallery. End the afternoon in nearby Moffat, where you can stretch your arms across the edge of Joyful Journey Hot Springs Spa's soaking pools and prune as you gawk at the majesty of the Sangre de Cristo range.
Lodging
The Spacious Dome at Crestone Bliss (Crestone), Coll House Bed and Breakfast (Crestone), Crestone Casitas (Crestone), The High Desert Ranch campground (Moffat)
Perched on Colorado's plains, this park — only 75 miles east of Denver — is an incredible spot for gazing at the galaxy or marveling at twinkling stars reflected off the glistening oasis. If you've got a specific celestial body you're looking for, make for the Celestron telescope during a ranger-led summer astronomy program. It has a keypad for easy findings.
Daytime Activities
Swim, boat, water ski or fish in the waters of Jackson Lake, where you'll also find a regulation volleyball court (volleyballs not included). At the Fort Morgan Museum, see how sugar beets become granulated sugar. Over in Greeley, the 1870s Meeker Home Museum has an excellent antique furniture collection, or you can opt to sample a New-England-style IPA at WeldWerks Brewing Co. For hands-on fun, book a class — like chalk-sign design — at Blush Boutique. Meander to Wiggins for dinner at Just One More. Their Big Jake pizza comes heaped to the moon with plenty of primo meats and veggies.
Lodging
Pelican Campground (Jackson Lake State Park), Lakeside Campground (Jackson Lake State Park), Terrace Park Inn (Fort Morgan), Rainbow Motel (Greeley)
The first designated stargazing community on the Western Slope, Norwood is set atop a mesa at 7,000 feet. Pretty much anywhere in town is ideal for seeing diamonds in the sky, but check the community calendar for star parties every summer. Miramonte Reservoir and Nucla's Ledges Rockhouse Campground are extra special stargazing spots outside of downtown — bring your binoculars or a portable telescope to get even better perspectives.
Daytime Activities
Adventure runs rampant on this side of the Centennial State. Start your morning in Norwood astride a gentle giant with Telluride Horseback Adventures. The expert guides will lead you across hay fields to vistas of the Uncompahgre Plateau. Or thunder down nearby singletrack trails on a Colorado-crafted bike rental from High Country Bicycles. Ask the knowledgeable staff where to find off-the-beaten-path rides — they'll hook you up. Back in Norwood, pick up The Divide Restaurant's shrimp po'boy, doused in house-made remoulade, before hiking Angell Lode Natural Area Trail in nearby Placerville. The half-mile walk passes an old vanadium (a silvery-gray metal used in alloys) mining cave. Book a RZR tour with Telluride Outfitters to zip around the backcountry, flanked by the magnificent bulk of 14,023-foot Wilson Peak. The last stop is a sunset ride on Telluride's free gondola to Mountain Village.
Lodging
CampV (Naturita), River Club (Telluride), Norwood Inn (Norwood), BackCountry Inn (Norwood)
Want more information?
Find more stargazing destinations to explore >>
Visit Colorado in the summer >>
Photo credits: Lunarsol Pictures, Instagram/Pamleblancadventures, CampV