5 Things to Do in Colorado Before Summer's Over
When summer winds down in Colorado and you're looking for things to do, check out these five locales that really shine in warm weather. Catch them while they're hot to ensure you're making the most of living in our gorgeous state.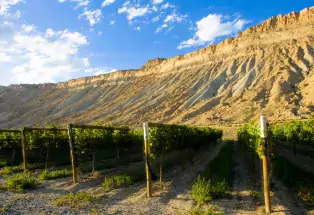 1. Colorado Fruit & Wine Country
On Colorado's Western Slope, primarily around Palisade, Grand Junction, Paonia, Hotchkiss and Cedaredge, the mountains and plains conspire to create a perfect climate for some of the country's most innovative and charming wineries. Amid orchards of peach, cherry and apple trees, acre upon acre of neat green rows of grapevines stand in stark contrast to the red sandstone mesas and deep azure sky. Stop in some of the intimate wineries for stellar classics like chardonnay and cabernet sauvignon and interesting Rieslings, gewürztraminers, petit verdots and malbecs.
Read more: Beyond Wine in Colorado's Wine Country, From Fine Wine to Fossils, Wine Your Way Around Colorado
2. Shrine Pass
One of the most spectacular places to dive into Colorado wildflowers is Shrine Pass, near Vail. In summer, the Shrine Ridge Trail dips into meadow after meadow blanketed with yellow daisies, coral-colored Indian paintbrush, spikes of purple lupine and fuchsia fireweed, all spread out in a kaleidoscope of nature's brightest pigments. From the trail's ridge, your 360-degree view includes Mount of the Holy Cross in the Sawatch Range, part of the Gore Range, Uneva Peak, Copper Mountain and the Flat Top Mountains.
Read more: Colorado Wildflower Hikes, More Wildflower Hikes
3. Ute Mountain Tribal Park
Ute Mountain Tribal Park near Cortez is only open to the public through a unique program in which Ute guides navigate visitors into the wilderness that abuts Mesa Verde National Park's southern boundary. This land was home to Ancestral Puebloans 1,000 years ago, who built cliff dwellings and irrigated and farmed the land. Tucked away in Colorado's Southwest corner, Ute Mountain is undeveloped and quiet compared to many other parks. Hike narrow trails and climb steep ladders onto high ledges — and feel like you have the place to yourself.
Read more: Colorado Scenic Byways: Trail of the Ancients, Gaming in Colorado's Four Corners Region
4. Zapata Falls
As hikers approach the falls along a winding, half-mile trail at the base of the Sangre de Cristo Mountains on the way to Great Sand Dunes National Park and Preserve and Alamosa, it feels a bit like they're chasing it — they can hear the roar of the 40-foot-tall Zapata Falls and feel its cooling effect long before they can actually see it. The view from the trailhead encompasses the expansive San Luis Valley and the entire field of the distant dunes. Other wilderness hiking and biking trails can be accessed in the same area.
Read more: A 2-Day San Luis Valley Itinerary, Los Caminos Antiguos Scenic Byway, Other Colorado Waterfalls
5. Concert at Red Rocks Amphitheatre or a Colorado Rockies Night Game
Choosing just one essential Denver summer experience is difficult — squeezing both into one weekend will have you in Colorado bliss.
Every Coloradan's — and perhaps even the nation's — favorite outdoor concert venue, Red Rocks' massive, slanting red-rock outcroppings rise from the earth to create an acoustically ideal natural amphitheater. But the experience goes beyond the music itself. The iconic rocks provide a powerful mystique. Early evening concerts are especially enchanting, as the waning rays of a Colorado sunset frame the stage and paint the setting with pastel colors. If you've never been, it's time to redeem yourself as a respectable Coloradan. And if you've been before, it's time to go again before you've let another summer concert season slip by.
Fans of Colorado's boys of summer are the luckiest we know. Coors Field is one of the Major League Baseball's most scenic, friendly and reasonably priced venues — and the breeze of a summer evening feels quintessentially perfect-Colorado no matter where your seat is (though we're particularly fond of the rooftop bar).
Want more?
Find eight ways to love summer in Colorado >>