Beyond Wine in Colorado's Wine Country
Colorado's Grand Valley has the largest concentration of vineyards and wineries in the state, but there's so much more to taste than wine. Spend a summer day in the family farms and orchards near Palisade and Grand Junction to savor the other flavors of wine country.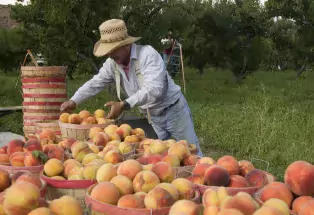 Morning
The Grand Junction area's warm days and cool nights create the ideal conditions for growing sweet fruit. Start the day in Palisade at Clark Family Orchards to get a taste of the famous and juicy Palisade peach right near its source. On Saturdays, catch the horse-drawn wagon ride through the orchards, where branches are heavy with colorful plums, pears and cherries. Bring a bag to fill up on just-picked goodies from the Clarks' fruit stand.
Another factor that makes the area such a rich growing location is its proximity to the mighty Colorado River. Take Palisade River Trips' two-hour raft or kayak float through this calm, rapid-free segment of the river to see colorful orchards and vineyards situated atop the surrounding cliffs.
Afternoon
Tour Grand Junction's walkable downtown streets, lined with galleries, outdoor sculptures and gift shops, as well as a Thursday farmers' market and other fun events. See if the Grand Junction Jackalopes have a home game. The MLB partner league team play at the city's Suplizio Field.
Or stop into one of downtown's cafes or bakeries. Fidel's Cocina & Bar's poblano fries, posole and citrus-jalapeno slaw will make it on your list of heavenly things tasted this trip. For a digestif, there's Peach Street Distillers. The tasting room offers up peach, pear and plum brandies, sweet-corn vodka and bourbon, and juniper-berry gin — all made with local ingredients.
Evening
A final Palisade must-see is Alida's Fruits, a marketplace of all the delicious fruit you've seen on your journey. You can also load your basket with chocolate-dipped cherries and apples, real-fruit jellybeans, dried apricots and peaches, applesauce and cider, jams and jellies, syrups, Olathe sweet corn, peach salsa and much more.
Hopefully all the day's snacking hasn't spoiled your appetite. Several fine restaurants in Grand Junction cater to those looking to sample regional ingredients and support local farmers. One of the best is 626 on Rood. Look for dishes that feature fresh baby beets, white radishes, heirloom tomatoes and house specialties like roasted rack of Colorado lamb, sweet yellow melon and tomatillo or peach-mole sauces, red bell pepper polenta and goat-cheese strudel.
Cap off your day with a night at one of Grand Junction's coziest accommodations. At streamside Castle Creek Manor, you'll wake up to fabulous breakfasts, friendly hosts and a lovely patio for soaking up the area's atmosphere.
While wine wasn't the focus of this journey, you may want to consider it for the next one. Many premium varietals grow well in the Grand Junction area, including merlot, chardonnay, cabernet sauvignon, shiraz and several German-inspired wines. Vintners in this region also make a cornucopia of delicious fruit wines as well as several kinds of mead from the local fruit you've tasted. The area's welcoming and down-to-earth demeanor make sampling these wines one of the state's most relaxing and delightful activities.
Want More?
Check out summer food and wine festivals
Dive deeper into Colorado wine country