Find the Colorado College or University for You: Tips on Touring & Visits
Colorado's colleges and universities are set amid stunning mountain scenery, world-class skiing, hiking, mountain biking and more. Combine that with friendly people, a diverse population, lots of sunshine and unparalleled quality of life, and it's hard to imagine a more well-rounded college experience.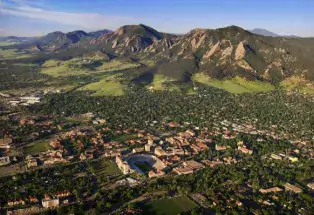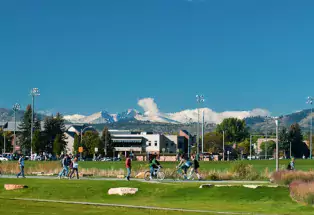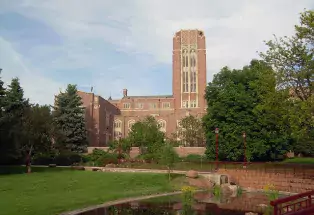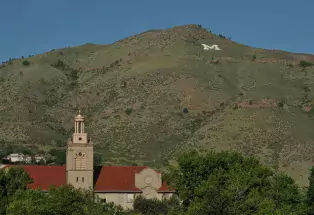 Thinking about going to college in Colorado? Learn about some of our schools and college towns as you explore the state:
Alamosa
Adams State in Alamosa offers 16 undergraduate majors, 28 minors and eight master's degree programs, all on a tree-lined San Luis Valley campus. Snuggled between two mountain ranges, Alamosa is loved for its expansive outdoor offerings, not to mention national-park land and deep ties to agriculture. Get a tour >>
Things to Do: Great Sand Dunes National Park and Preserve and Zapata Falls in Mosca, Cumbres & Toltec Scenic Railroad in Antonito, stargazing in Westcliffe
Places to Stay: Secluded cabin near Great Sand Dunes, Joyful Journey Hot Springs in Moffat, Best Western Movie Manor in nearby Monte Vista
Boulder
The University of Colorado's flagship Boulder campus is the only U.S. public institution in the prestigious Association of American Universities in the Rocky Mountain region. Framed by stunning mountain panoramas on an equally spectacular campus, the public research university offers strong programs in the sciences, engineering, business, law, the arts and more. Get a tour >>
Things to Do: Pearl Street for dining and shopping, Boulder Dushanbe Teahouse, Flatirons for hiking, Eldora Mountain Resort in nearby Nederland
Places to Stay: Basecamp Hotel, Niwot Inn & Spa, Hotel Boulderado
Colorado Springs
"CC," as the locals call this Colorado Springs private school, offers an average class size of 16 and a focus on independent study. It also boasts a beautiful location within Colorado's second-largest city and proximity to the area's most scenic attractions — from jutting red-rock towers to the celebrated Pikes Peak and even The Broadmoor. Get a tour >>
The University of Colorado campus in Colorado Springs offers unique and high-need programs, including 50 bachelor's degrees, 24 master's and five doctoral degrees. It's one of the fastest growing universities in the state and nation. Get a tour >>
Things to Do: The Broadmoor, Manitou and Pikes Peak Cog Railway, Garden of the Gods Visitor and Nature Center, U.S. Olympic & Paralympic Museum, Manitou Springs
Places to Stay: Soul Community Planet Hotel, The Cliff House at Pikes Peak, Garden of the Gods Resort & Club
Denver
Going to college in Colorado's bustling capital city means quick access to the mountains, five professional sports team, diverse and quirky neighborhoods, plus countless fun things to do.
A comprehensive university offering bachelor's and master's degrees in downtown Denver, MSU Denver provides a wide selection of majors, minors and certificate programs. Get a tour >>
Mile High City's Regis University is a Jesuit institution comprised of three schools: The traditional liberal arts Regis College, the Rueckert-Hartman College for Health Professions and the Anderson College of Business and Computing. Get a tour >>
One of the nation's top public urban research universities, CU – Denver offers more than 150 programs in seven schools and colleges, including research and advanced healthcare programs at the Anschutz Medical Campus. Get a tour >>
The private University of Denver is just a few miles south of downtown Denver. It's home to around 12,000 students from all over the world who come for more than 100 undergraduate degrees and 120-plus graduate and professional programs. Get a tour >>
Things to Do: Denver Broncos football games, Cherry Creek shopping, plus eclectic city neighborhoods like River North Art District (RiNo) and Lower Downtown (LoDo)
Places to Stay: The Maven at Dairy Block, Gaylord Rockies Resort & Convention Center, Catbird
Durango
This selective public liberal arts college features nationally recognized academic programs and a physically active campus that takes full advantage of its beautiful southwestern mountain setting. Durango was named among the top 40 best college towns by Outside Magazine and it's visited year-round for its vast outdoor playground — from whitewater rafting and mountain biking to cross-county, snowboarding and skiing. Get a tour >>
Things to Do: Downtown Durango, Mesa Verde National Park, Purgatory Resort, Durango & Silverton Narrow Gauge Railway
Places to Stay: The Rochester Hotel, Adventure Inn Durango, Strater Hotel
Fort Collins
Colorado State is among the nation's leading research universities with research programs in infectious disease, atmospheric science, clean-energy technologies and more. Fort Collins is also one of the state's most beloved college towns, favored for its access to outdoor activities, renowned craft-beer scene and vibrant downtown. Get a tour >>
Things to Do: Fort Collins Creative District, New Belgium Brewing Company, Rocky Mountain National Park, Horsetooth Reservoir
Places to Stay: The Elizabeth Hotel, The Armstrong Hotel, Edwards House
Golden
This public engineering and applied sciences university in scenic Golden, just a short drive from Denver, is one of a very few institutions in the world with broad expertise in resource exploration, extraction, production and utilization. Students love Golden's cozy, mountain-town feel, plus quick access to hiking and mountain biking in places like nearby Table Mountain. Get a tour >>
Things to Do: Buffalo Bill Museum and Grave, Coors Brewery, Golden Gate Canyon State Park, Red Rocks Park & Amphitheatre in nearby Morrison
Places to Stay: The Eddy Taproom & Hotel, Origin Hotel Red Rocks, The Golden Hotel
Grand Junction
Western Colorado's Mesa University, in Grand Junction, offers liberal arts, professional and technical programs at the master's, bachelor's, associate and certificate levels. Students will come for school and stay for the friendly city steeped in Western vibes, not to mention the area's lakes, forests, red-rock canyons and the largest flat-top mountain in the world. Get a tour >>
Things to Do: Colorado National Monument, downtown Grand Junction, Palisade wine country, Fruita mountain biking
Places to Stay: Hotel Maverick, Camp Eddy, Spoke & Vine Motel in Palisade
Greeley
Located in the friendly northern Colorado city of Greeley, UNC offers more than 100 undergraduate and graduate programs along with a nationally recognized business school. Loved for its close proximity to Denver and agricultural roots, Greeley boasts its own burgeoning downtown scene with a growing number of restaurants, breweries and coffee shops. Get a tour >>
Things to Do: Greeley Stampede, Pawnee National Grassland in nearby Ault, WeldWerks Brewing, Pawnee Pioneer Trails scenic byway
Places to Stay: Rainbow Motel, Doubletree by Hilton Greeley at Lincoln Park, Comfort Inn – Greeley
Gunnison
Situated in the mountain town of Gunnison, Western Colorado is touted for its quality education in the classroom enriched by hands-on learning experiences. Students also choose it for its proximity to nearby skiing in Crested Butte and vast acreage of public lands. Get a tour >>
Things to Do: Crested Butte Mountain Resort, Monarch Mountain, Black Canyon of the Gunnison National Park, Gunnison's and Crested Butte's historical downtowns
Places to Stay: The Wanderlust Hostel, Historic Crested Butte Mule Barn, The Inn at Tomichi Village
Pueblo
Nestled in the historically and culturally rich community of Pueblo near the foothills of the Rocky Mountains, CSU – Pueblo educates its students in professional focuses like business and technology, education, health and science and public service. First an 1800s trading-post hub, then Steel City, modern-day Pueblo is celebrated for its historic neighborhoods, creative offerings and, of course, its famed green chiles. Get a tour >>
Things to Do: Pueblo Riverwalk, Chile & Frijoles Festival, Lake Pueblo State Park, Colorado State Fair
Places to Stay: Station on the Riverwalk, Wingate by Wyndham Pueblo, The Abriendo Inn
Find a full list of Colorado colleges and universities >>
Photos: Courtesy of the University of Colorado – Boulder/Glenn J. Asakawa; courtesy of Colorado State University; University of Denver, copyright flickr/greatdegree; courtesy of Colorado School of Mines.