Visit Glenwood Springs: Green, Sustainable & Filled with Natural Wonders
Set at the confluence of the Colorado and Roaring Fork rivers and surrounded by the White River National Forest, Glenwood Springs is a city that's truly immersed in nature. And as it's home to raw, earthy marvels like vapor caves, hot springs and colorful sandstone canyons, Glenwood Springs takes its stewardship role seriously.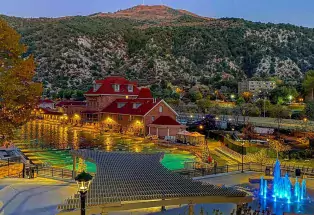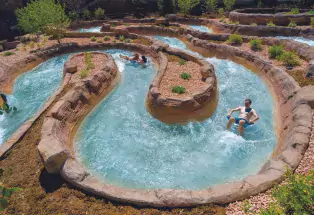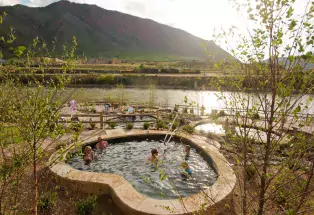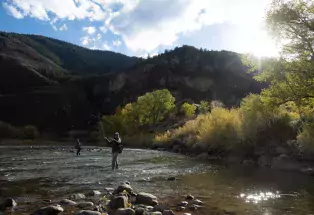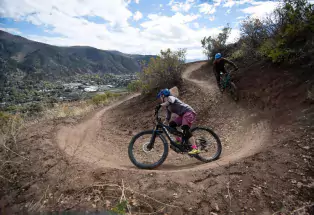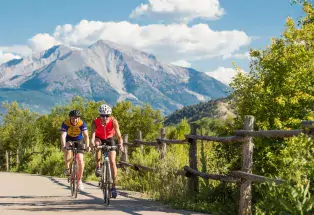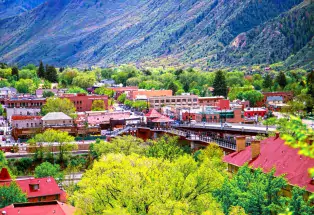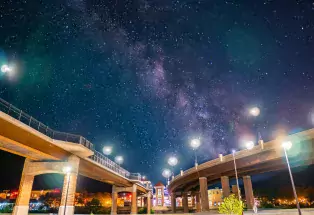 Learn about this amazingly green town, as well as all the natural adventures you can explore while you're there.
Sustainability Efforts
Glenwood Springs is at the forefront of eco-planning, acting on innovative ideas that focus on conserving natural resources. In June 2019, Glenwood Springs became the seventh city in the nation, and the second in Colorado, to transition to using 100 percent renewable electricity. All the city's energy is generated from wind, hydroelectric and solar power.
Even Glenwood Caverns Adventure Park uses 100 percent renewable electricity and is one of the first amusement parks in the nation to do so. Visitors can enjoy thrill rides and cave tours while knowing they're keeping a carbon-neutral footprint.
Glenwood Springs is also recognized as a Tree City USA, due to its commitment to planting a healthy, high-density number of trees throughout the town. Thanks to its efforts, Glenwood Springs has become a truly environmentally friendly and sustainable visitor destination.
Natural Wonders
Glenwood Springs is renowned for its chemical-free, natural mineral-water hot springs that harness geothermal power to drastically reduce their energy consumption. Terraced on a hillside overlooking the Colorado River, Iron Mountain Hot Springs offers 16 unique soaking pools. Guests can sit back and relax in the restoring waters, with the breathtaking Rocky Mountains as a picture-perfect backdrop.
Glenwood Hot Springs Resort is home to the world's largest hot-springs pool and the famous Spa of the Rockies. Since 1888, visitors have sought out its soothing waters and an overnight stay in the recently updated, all-inclusive lodge. At its Sopris Splash Zone, find thrilling water features that are fun for the whole family. Whoosh down the whitewater Shoshone Chutes tube ride and play on the splash pad of the Grand Fountain, which is beautifully lit at night. All the new attractions use city water that's geothermally heated by the main Yampah Spring.
Unwind at Yampah Spa, where you can luxuriate in one of the few known natural vapor caves in North America. Their underground caverns are heated by hot mineral waters that create geothermal steam baths. Relax on slab marble benches in the rocky, softly lit chambers and inhale the therapeutic vapor that seemingly melts stress away.
The winding Colorado and Roaring Fork rivers are the scenic centerpiece of Glenwood Springs, providing amazing outdoor adventures. Take a guided rafting trip on the Colorado that navigates past cliffs and down river tumbles through spectacular Glenwood Canyon. Try fly-fishing in the Gold Medal waters of the Roaring Fork Valley, teeming with rainbow trout and brookies. Take off on a hiking trail, with options that range from leisurely riverside strolls to steep mountain treks.
Or, go biking along corridors of paved trails that skirt the Colorado and Roaring Fork rivers and off-road rides high above Glenwood Springs. The Roaring Fork Valley has been designated an IMBA Gold-Level Ride Center™ by the International Mountain Bicycling Association, and is home to more than 300 miles of singletrack. Glenwood Springs has also been named a Silver Level Bicycle Friendly Community the by the League of American Bicyclists.
The Glenwood Gondola dramatically whisks riders from the valley floor to Glenwood Caverns Adventure Park, nestled atop Iron Mountain. Take a guided tour of the most-decorated cave room in the state, filled with stunning underground wonders. LED lights in the cave reduce electricity consumption and help protect the humidity levels that are crucial to the preservation of the cavern's ancient formations and tiny dwellers. The theme park also runs a food recycling program as part of its eco-friendly operation.
More Glenwood Springs trip ideas >>