Your Itinerary for a Fun-Filled Durango Winter Weekend
When winter comes to Durango, mountains and evergreens are blanketed with snow, setting the stage for a magical Colorado vacation.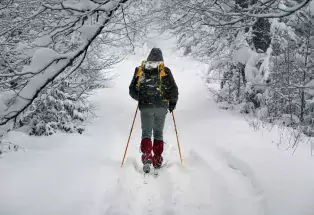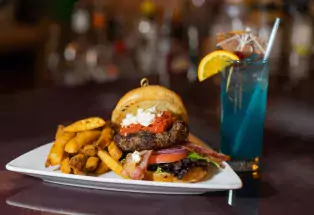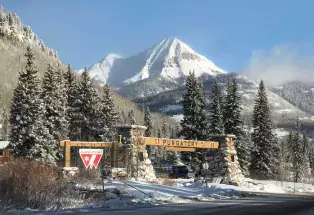 The air of excitement that accompanies fresh snowfall makes it no surprise that folks everywhere will find any excuse to squeeze in at least one winter weekend here. With only 48 hours to experience all the season has to offer, it's hard to decide where to start. Use this itinerary as inspiration for an amazing weekend getaway.
Friday Night
Dig In at Pop Sushi or Seasons: Get to town before nightfall to make sure you don't miss out on a rosy mountain sunset and dinner reservations at either Seasons or Pop Sushi. Both restaurants offer a great introduction to Durango's culinary scene and are sure to get your trip started off on a delicious note.
Saturday Morning
Get an Early Start: Colorado sunrises are definitely something to write home about. Rise and shine to watch the sky fill with rich purples and oranges while downtown Durango sleepily comes to life. Wake up and warm up by slipping into one of the city's many cozy coffee shops or joining locals for some hot vinyasa at the The Sweaty Buddha.
Have A Quick Breakfast: Treat yourself to a freshly baked Durango Bagel before heading to Purgatory Resort for a full day of carving up the slopes. Or swing by Durango Doughworks for one — or several! — grab-and-go breakfast burritos that you can nosh on the way.
Saturday Afternoon
Ski at Purgatory Resort: Rip down one of the 100 trails that wind through more than 1,500 skiable acres and five different terrain parks. Stop for a mid-run bite at Dante's, where you can savor not only the food but stunning views of the San Juan Mountains. When you've shredded enough gnar for the day, get your après-ski on with a beer or a Bloody Mary from the Bear Bar & Grille at Purgy's Patio.
Take a Cross-Country Skiing Trek: The Durango Nordic Center boasts more than 12 miles of groomed trails tucked into a secluded segment of the San Juan National Forest. Enjoy the relaxed pace of cross-country skiing and soak in the quiet of the softly snow-blanketed Colorado wilderness.
Settle in for a Sleigh Ride: Sit back and snuggle up for a sleigh ride, a classic winter activity that everyone should experience at least once. There's nothing quite like sipping hot drinks as you cruise through a snowy landscape to the sound of gently clopping hooves and jingling bells. Make sure you book a reservation for this treat while you're in town.
Saturday Night
Hit Up a Hidden Happy Hour: When the lifts stop running, follow the crowds to The Olde Schoolhouse Café & Saloon to join the locals for some Durango-made craft beers. Located a few miles south of Purgatory, this watering hole is often nestled in snow. Keep an eye out so you don't miss it.
Have Dinner at Himalayan Kitchen: If you didn't fill up on pizza at The Olde Schoolhouse, warm yourself inside and out with a tasty meal at Himalayan Kitchen. After a day of playing hard in the powder, you deserve the comfort of this delectable Nepalese soul food.
Sunday Morning
Grab Breakfast at Durango Diner: The city is a foodie's paradise with a Sunday brunch scene that's not to be missed. Start your day off right at the Durango Diner where you can dig into "The Cure" or try their huevos rancheros. (Tip: Ask for them Christmas style for the extra flavor of both red and green chiles.)
Climb Aboard the Historic Train: Riding the Durango train to Cascade Canyon is an absolute must no matter the season, but it's especially delightful in winter. Bring your camera along — you'll be titillated by breathtaking views you can't find anywhere else as the train snakes through mountains and canyons.
Sunday Afternoon
Explore the Vallecito Reservoir: Take a short drive to nearby Vallecito Lake where you can spend the afternoon reveling in the Colorado outdoors. From cross-country skiing and dog sledding to ice fishing and snowbiking, there are plenty of winter vacation memories waiting to be made.
Lunch Like a Local: Vallecito Lake Country Market is where area residents go when they want great food in a downhome setting. What the market lacks in frills, it makes up in menu options. You'll find them dishing out everything from fudge and ice cream to chicken-fried steak, chile rellenos and fried cheeseburgers.
Sunday Night
Enjoy a Farewell Feast: Make your last night count with a meal at Chimayo Stone Fired Kitchen, located right on the main shopping strip. The warm, cozy atmosphere accentuates the menu, which features meals ranging from carne asada and gourmet pizza to cedar plank salmon and cauliflower "steak." And the restaurant's proximity to bars and nighttime hotspots is a welcome bonus if you're looking to prolong your Sunday Funday.
Stroll Through Downtown: Bundle up and unwind as you explore downtown Durango on foot. Walk along Main Avenue, breathing in the crisp winter air and listening to the whinnies of carriage horses as they trot through town. As you go, admire the many historic buildings and, if you like, experience Durango nightlife by popping into a bar or saloon for a nightcap or two.
Want more?
Find Durango articles and videos
Discover 12 hidden gems in Durango
Book tours and guides
Request a free travel planner
A version of this content was originally published on Durango.org.