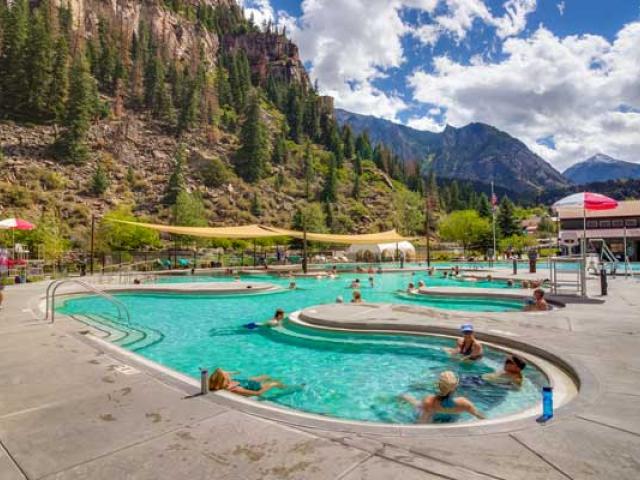 Adventure & History: Million Dollar Highway
The canyon-clinging stretch of spectacular roadway between Silverton, Durango and Ouray is called "The Million Dollar Highway" either because it cost so much to build, the amount of gold ore that remained in the roadway's fill or the figurative price for those amazing San Juan Mountain views.
Sustainability Activity
Travel Like a Local
There are special places and unique vistas around nearly every Colorado corner. You can help ensure these places exist for generations to come by staying on roads and trails, keeping speeds in check, leaving campsites and picnic spots just as you found them, and following instructional signs while you're out and about in our state.
Breakfast
Artisan Bakery & Cafe
Come enjoy breakfast, lunch, or just a pastry and coffee, in a cozy little restaurant on main street, Ouray CO. Located at the south side of town,…
Activity
Drive the Alpine Loop 4x4 Scenic Byway to Lake City
The Alpine Loop Backcountry Byway, a network of four wheel drive roads that connect Lake City, Ouray, and Silverton, traverses passes up to 12,800 feet while showcasing old mines, ghost towns, natural wonders, beautiful wildflowers, and abundant wildlife.
Insider's Tip
Stay the Trail
When riding OHVs through the Alpine Loop, make sure you follow Colorado's off-roading motto of "Stay the Trail."
Insider's Tip
Head to Silverton
Take the highway from Durango on to the alpine mining town of Silverton, where you'll stay the night.
Lodging
Inn of the Rockies at the Historic Alma House
We are a traditional and historic Bed and Breakfast located in Silverton, Colorado.
Breakfast
Kendall Mountain Cafe
A hidden treasure off the beaten path. Good homestyle food!
Activity
Durango & Silverton Narrow Gauge Railroad and Museum
Experience the adventure of traveling by a historic steam-powered or diesel locomotive on the same tracks miners, cowboys and settlers of the Old…
Lunch
High Noon Hamburgers
Friendely staff, large portions, simple burgers done right.