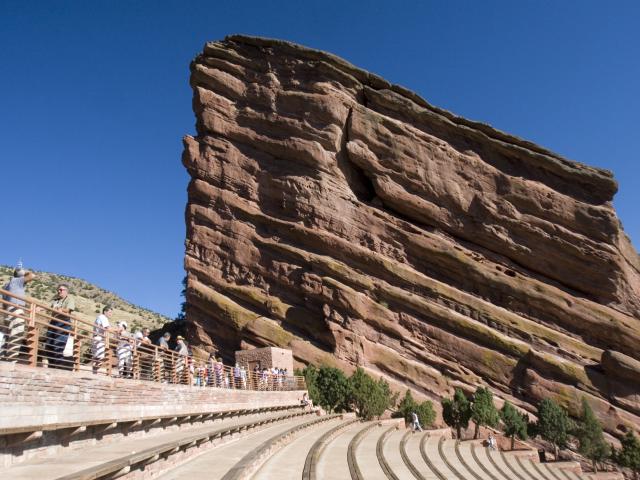 Fitness & Fun in Denver & Cities of the Rockies
For those who love fitness and fun in Colorado's beautiful outdoors, this itinerary is for you. Work up a sweat in the morning at some unique Colorado locations and then unwind in the afternoons and evenings in Brighton, Greeley, Fort Collins, Estes Park, Loveland, Boulder, Golden and Denver.
Sustainability Activity
5 Steps to Care for Coloradans
As Colorado continues to take steady and thoughtful steps to reopening, the health and safety of visitors remains our highest priority. Here are some ways to be conscientious and caring on your adventures, while ensuring you make the most out of every second of your vacation. Learn More >>
Activity
Barr Lake State Park
Barr Lake State Park has been known as a premier bird-watching area. A trail circles the lake, offering prime wildlife viewing and lots of fishing…
Lunch
La Estrellita - Brighton
It has been nearly three decades since opening in Brighton, and La Estrellita has won multiple awards ranging from our friendly service, to our…
Activity
Hike the Poudre River Trail
Traverse this 21-mile paved pathway for scenic recreation opportunities like walking, running, cycling and more. Stop at informational signs marking historical sites and educational opportunities along the way.
Insider's Tip
Drive to Greeley
Hop on the road and drive a little under an hour to downtown Greeley.
Dinner
WeldWerks Brewing Company
WeldWerks Brewing Company is an award-winning, locally owned and operated craft brewery in historic downtown Greeley. We execute our unique and…
Activity
Head to Fort Collins
Drive from Greeley to downtown Fort Collins and then take a little walking tour of the neighborhoods to stretch your legs.
Lodging
The Elizabeth Hotel
The Elizabeth Hotel is where Fort Collins comes together. Situated in the center of Old Town, the cornerstone of Firehouse Alley, our Fort Collins…
Breakfast
Cheese Importers
Cheese Importers is a Colorado family-owned business founded in 1976. We offer natural, organic and imported cheeses, cured meats, specialty oils,…
Activity
Hike Roosevelt National Forest
Explore miles upon miles of scenic trails through pristine wilderness with rugged mountain and Cache La Poudre River views.
Insider's Tip
Bucket-List-Worthy Fun
Experience the adrenaline-pumping action of jumping out of a plane and viewing the Rocky Mountains from above as you free fall from 17,500 feet in the air.
Lunch
ND Street Bar
ND Street Bar is a casual, informal restaurant that could become part of people's everyday lives. A place where they can grab a beer at the bar, stop…
Activity
Shopping on Estes Park's Main Street
Shopping in Estes Park takes on a festival feeling as you stroll up and down the street, peeking into small shops where each one offers something different. Browse an amazing variety of goods from handcrafted Southwestern arts to unique giftware and fine apparel.
Insider's Tip
Get in Your Car
Drive to Estes Park, where you'll spend the rest of the day.
Dinner
Bird & Jim
At Bird and Jim, we are defining Colorado cuisine with our ever-evolving seasonal and ingredient-driven menus sourced from the Front Range of…
Activity
Historic Stanley Hotel Night Tour
Immerse yourself in the same rich story of the historic Stanley Hotel... After dark! This 75 minute walking tour will introduce you to Mr. F.O. Stanley, his wife Flora, Stephen King, and other noteworthy visitors of last 110 years.
Lodging
The Stanley Hotel
The Stanley Hotel, listed on the National Register of Historic Places, offers old-world charm matched with modern day amenities in a spectacular…
Breakfast
Notchtop Bakery & Cafe
Our natural, made from scratch recipes, using organic ingredients when possible, takes a while to prepare. So enjoy the view, read a book, talk to a…
Activity
Peak To Peak Scenic and Historic Byway
Views of the Continental Divide and its timbered approaches.
Insider's Tip
Turn Off
Don't forget to turn off in Nederland so you end your journey in Boulder for lunch.
Breakfast
Snooze an A.M. Eatery Boulder
A breakfast and lunch restaurant and eatery focused on energetic atmosphere, engaging service and above all innovative.
Activity
Hike Flagstaff Mountain
Summit Flagstaff on a 5.4-mile trail via Gregory Canyon so you can see downtown Boulder and colorful wildflowers if they're blooming.
Lunch
Chautauqua Dining Hall
The dining hall offers American cuisine from morning until night as well as a full bar inside Chautauqua Park.
Insider's Tip
Little Drive
Get on the road and speed down to Golden.
Breakfast
Sassafras American Eatery, Downtown Golden
Satisfying and delicious breakfast and lunch. Stop by for our down home menu and enjoy our farm-to-table concept and fresh cocktails.
Activity
Hike around Red Rocks
Run up and down the bright red rocks or take off on one of the many trails that surround the amphitheater.
Insider's Tip
Take off for Downtown
From Red Rocks, drive to downtown Denver for even more fun.