Peak to Peak
Black Hawk/Central City
55
Estes Park
Fall
Winter
Denver & Cities of the Rockies
Allow 2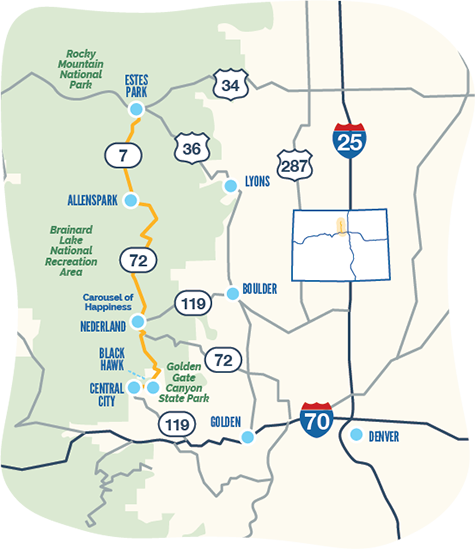 Trip Tips
Though the byway can be driven year-round, it's especially beautiful when the golden brilliance of fall foliage lights up the route.
See some of this byway's highlights — and read below for many more!
On one end, Central City and Black Hawk are a pair of former mining towns situated in the middle of what was once called "the richest square mile on earth," thanks to the gold that was first discovered in 1859. Today, they offer bright lights and winning sounds of bells and laughter in the numerous bustling casinos while still retaining Old West charm.
In particular, Central City — an official Colorado Main Street community — hearkens back to the Victorian era and a prime example is the decadent Central City Opera House (built in 1878), which remains a big draw for performing-arts lovers in the summer. Also part of the National Historic Landmark District is the Belvidere Theatre, which once served as the town's entertainment hub and is now undergoing a restoration.
A quick detour by mountain bike up gravelly County Road 1-S reveals what's left of Nevadaville ghost town: a few gravesites and several buildings, including the Nevada Lodge No. 4. Farther off the beaten path, Apex townsite has transformed from 1,000 residents in its heyday to a handful of scattered buildings.
The byway heads north, passing Golden Gate Canyon State Park — a treasure trove of hiking trails — and taking in views of the Indian Peaks Wilderness Area as it approaches Nederland.
The town began its history as the mill site for silver ore from the rich mines at Caribou — now a ghost town 5 miles away. Today, it's better known as a base camp for outdoor recreation. Backcountry snowshoeing and cross-country skiing are outstanding during the winter on the hiking trails found in the neighboring Indian Peaks Wilderness Area.
Nearby Eldora Mountain Resort is great for family skiing and snowboarding, and there are a number of Nordic trails strewn throughout the area. In town, soak up Ned's quirky charm and don't miss the whimsical Carousel of Happiness, a restored 1910 ride featuring 56 hand-carved animals.
Continuing on, the Peak to Peak byway approaches Longs Peak and Rocky Mountain National Park before descending into Estes Park. Here, the scenic riverwalk and charming downtown entice visitors and also provide a launching point for adventures like hiking, biking and snowshoeing in the adjacent national park.
The soaring crags that surround the town are on the A-list for rock and ice climbers. Lake Estes offers tranquil boating, and mountain biking and horseback trails forge into the adjacent forests and meadows. Overlooking the lake is the Stanley Hotel, a landmark that first opened in 1909 and was the inspiration behind Stephen King's novel The Shining.
Events on the calendar: Hot Rod Hill Climb in Central City, Frozen Dead Guy Days in Nederland, Longs Peak Scottish-Irish Highland Festival in Estes Park, Estes Park Elk Fest
Side Trips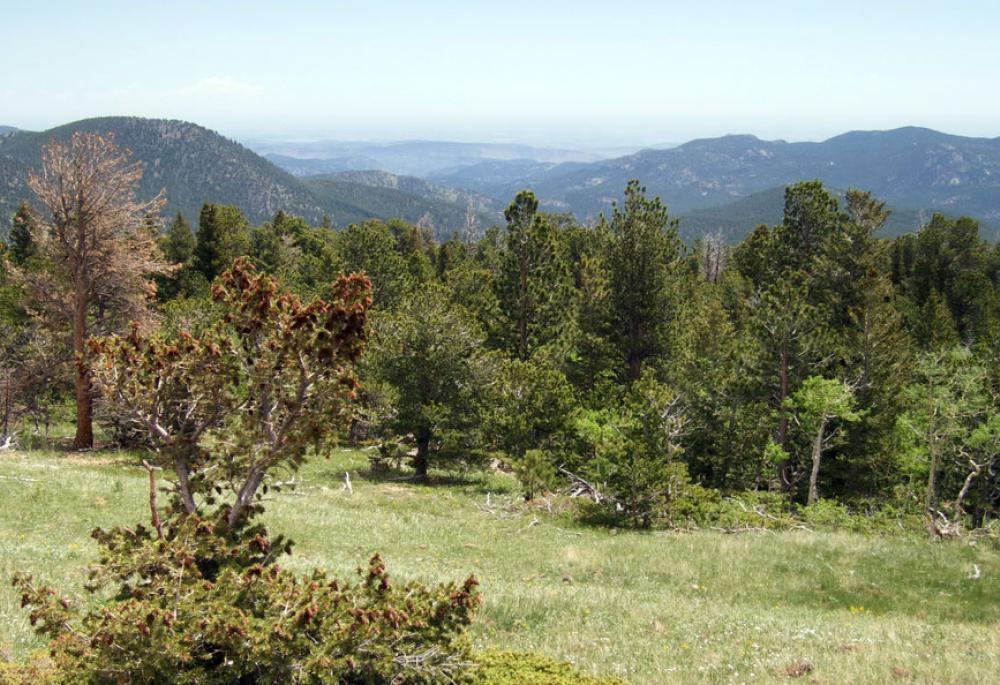 Lyons
Catch an outdoor music festival or tube down the North St. Vrain River in the hip little mountain town of Lyons.
Boulder
Aside from the wide variety of recreational pursuits available, the fun in Boulder centers on the historic Pearl Street Mall and its collection of acclaimed restaurants, independent shops and street performers.
Rocky Mountain National Park
Spend time exploring the high-country playground of Rocky Mountain National Park through camping, viewing wildlife like elk, bighorn sheep and moose, hiking and driving Trail Ridge Road.
See All Byways