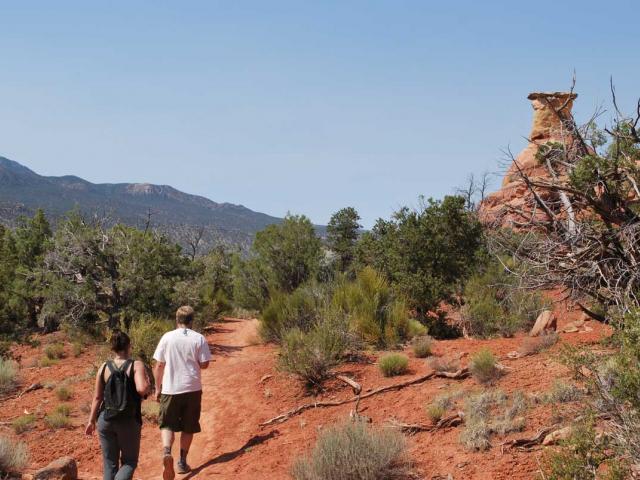 Hidden Gems of Southwest Colorado
Go beyond Mesa Verde National Park, Cortez and Durango to find the farm bistros, guest ranches and lesser-known towns and monuments of Colorado's southwest corner.
Sustainability Activity
Travel Like a Local
There are special places and unique vistas around nearly every Colorado corner. You can help ensure these places exist for generations to come by staying on roads and trails, keeping speeds in check, leaving campsites and picnic spots just as you found them, and following instructional signs while you're out and about in our state.
Insider's Tip
Stay for Breakfast
The ranch's breakfast is packed with fresh organic produce from the area, so be sure to savor the local flavors before heading out for a day of activity.
Insider's Tip
Durango Wine Experience
If you're visiting in May, check out the Durango Wine Experience: Three delicious days of educational seminars, wine dinners and unique tastings featuring hundreds of wineries, artisan spirits and craft beers.
Lodging
Historic Strater Hotel
THE OFFICE SPIRITORIUM, with its lavish and comfortable décor, can't really be called a bar, saloon, tavern, or lounge but a delightful office…
Breakfast
Mahogany Grille
Enjoy handcrafted cuisine while stepping back in time in the ambiance of the Victorian Old West as we serve you an array of eclectic culinary…
Activity
Durango & Silverton Narrow Gauge Railroad and Museum
Experience the adventure of traveling by a historic steam-powered or diesel locomotive on the same tracks miners, cowboys and settlers of the Old…
Insider's Tip
Have Lunch on the Train
Pre-order a boxed lunch and much your sandwich as you ride the rails alongside the Animas River.