San Juan Skyway
Durango
236
Durango
Fall
Spring
Summer
Mountains & Mesas
Allow 7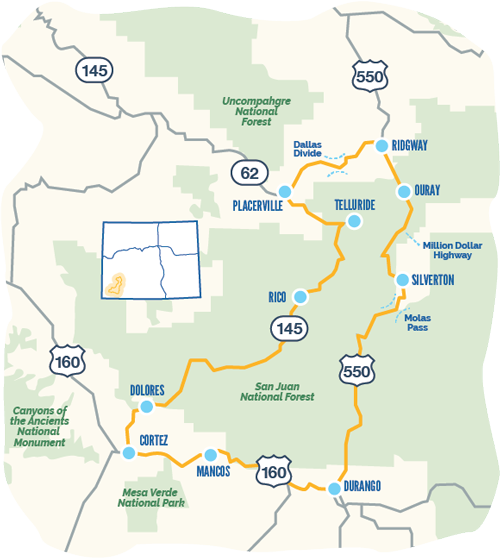 Trip Tips
Though a truly breathtaking route, check road conditions ahead of traveling the Million Dollar Highway — the stretch between Silverton and Ouray — and be cautious of drop-offs lacking guardrails to ensure your safety.
Plan your outdoor adventures around commonly occurring afternoon thunderstorms in summer.
Dress and pack in layers; at higher elevations, cooler weather is prevalent — even in summer.
See some of this byway's highlights — and read below for many more!
In 2012, Travel + Leisure named the San Juan Skyway one of "America's Best Spring Drives" for its million-dollar views. Drive it in fall for shimmering autumn hues.
You'll start and end your tour in Durango. Situated on the southern edge of the San Juans, it was perfectly located for railroad interests more than a century ago. By the 1880s, it became a train hub and a center of commerce.
 The Main Avenue Historic District in Durango's walkable downtown showcases late 19th- and early 20th-century architecture. Walking tours take visitors to saloons, the Strater Hotel (once catering to railroad barons), the former Denver and Rio Grande Railroad Depot and historic homes in the Queen Anne, Greek and Spanish Colonial Revival styles. Pause at Durango's Powerhouse Science Center to learn about rockets, virtual reality and our solar system.
A bustling recreation hub, use Durango as a jumping-off point for hiking and camping in the San Juan National Forest, or for skiing at Purgatory Resort. Sooth your soul with a soak and massage at Durango Hot Springs Resort & Spa before boarding the Durango and Silverton Narrow Gauge Railroad, a National Historic Landmark, for a scenic ride deep into the San Juan Mountains via steam locomotive.
On your way to Silverton, a former silver-mining camp, enjoy stunning alpine views from the Molas Pass rest area. Designated as a National Historic Landmark District, Silverton's downtown architecture reflects early-mining affluence. Tour Old Hundred Mine and Mayflower Mill to understand its rich mining history. A mecca for diehard skiers, Silverton Mountain features expert-only, hike-to and heli-ski terrain. 
The canyon-clinging stretch of the byway between Silverton and your next stop, Ouray, is called the Million Dollar Highway either because it cost so much to build or the amount of gold ore that remained in the roadway's fill. 
Ouray bears the name of a Tabeguache Ute Indian chief who championed peace and friendship with white settlers in the mid-1800s. Promoted as the Switzerland of America, this tiny alpine town boasts gorgeous snow-capped scenery and numerous outdoor pursuits. 
Plan a dip at the healing Ouray Hot Springs Pool, which began operating in 1927. Be sure to explore the town's mining-era buildings preserved within its own National Historic District. The Ouray County Historical Museum is housed in the brownstone Miner's Hospital, which was built in 1887. 
Next head to Ridgway, another historic town with mining ties, glorious views and loads of recreation. Enjoy camping, boating, hiking and fishing at Ridgway State Park, located 2 miles north of town. Then relax with a clothing-optional soak at Orvis Hot Springs or extend your road trip with an overnight stay at the tranquil Chipeta Solar Springs Resort. 
An Official Colorado Main Street Community and a Certified Creative District, artistic Ridgway is teeming with galleries and studios, along with the historic Sherbino Theatre. Expand your knowledge of Colorado railway history with a stop at the Ridgway Railroad Museum.
A scenic drive over Dallas Divide and through Placerville will deliver you to rugged Telluride. This gorgeous mining camp turned year-round vacation destination hasn't sacrificed the past for its future. Its downtown National Historic Landmark District is well preserved, with the New Sheridan Hotel and Sheridan Opera House as standouts. Additionally, the Telluride Historical Museum offers self-guided tours. 
Explore galleries in the Telluride Arts District before enjoying a gourmet meal from one of numerous top-tier restaurants. In fact, the town's dining scene was featured in season 15 of the cooking-competition show "Top Chef." Come winter, Telluride Ski Resort offers uncrowded slopes and exceptional terrain. If you've got a four-wheel-drive vehicle, plan a detour to Tomboy ghost town while you're there.
From Telluride, head to Rico along Highway 145 and delve into its mining-boom relics and lively nightlife scene. The byway continues to loop south and visits Dolores along with Mesa Verde National Park, home to the Ancestral Puebloans' famed cliff dwellings; the Anasazi Heritage Center is a great place to learn even more. In Cortez, stop into the Crow Canyon Archaeological Center for more clues about the area's early inhabitants and then head east of Cortez to  hit up the famous Phil's World mountain-bike trails. Along this stretch, plan stops at Galloping Goose Historical Museum in Dolores, The Farm Bistro in Cortez and the Mancos Creative District in, you guessed it, Mancos. Finish the byway tour by continuing back to Durango, only 32 minutes southeast along Highway 160 from Mancos. Visit mesaverdecountry.com for more about the area.
Events on the calendar: Ridgway Concert Series, Telluride Plein Air Festival, Old Fashioned Fourth of July in Ouray, MLC Harvest Brew Fest in Cortez, Durango's Animas Valley Balloon Rally
Side Trips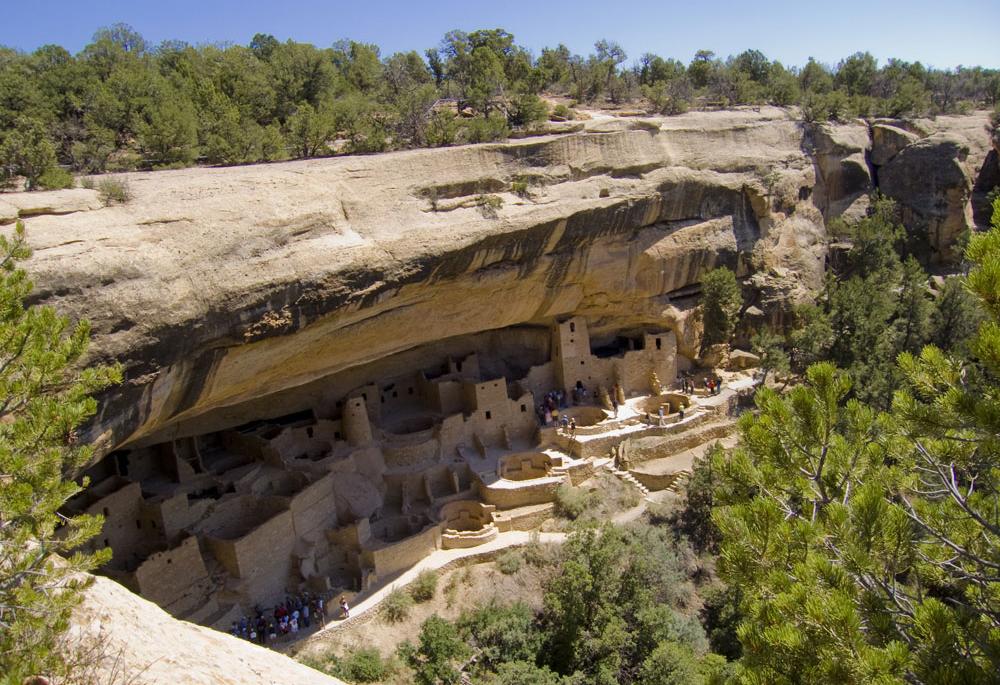 Trail of the Ancients
Many attractions on the San Juan Skyway overlap with Trail of the Ancients byway, but extend your road trip to include visits to Hovenweep and Canyons of the Ancients national monuments.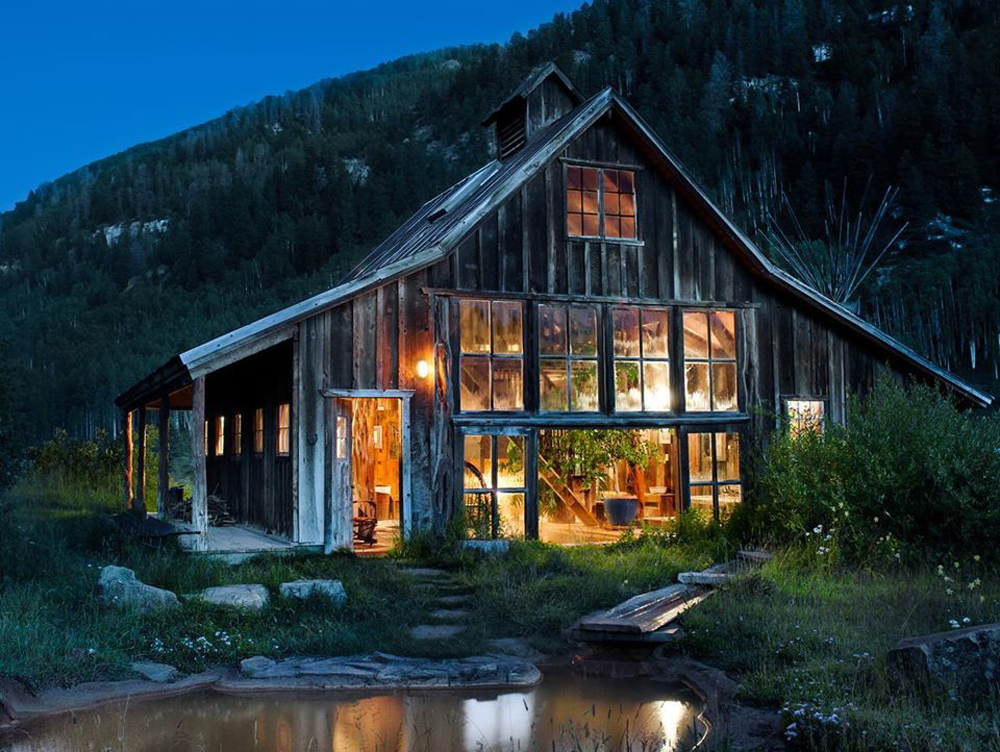 Dunton Hot Springs
Prolong your journey with a luxurious (and sustainable) stay at Dunton Hot Springs, a secluded, one-of-a-kind resort complete with its own private hot springs.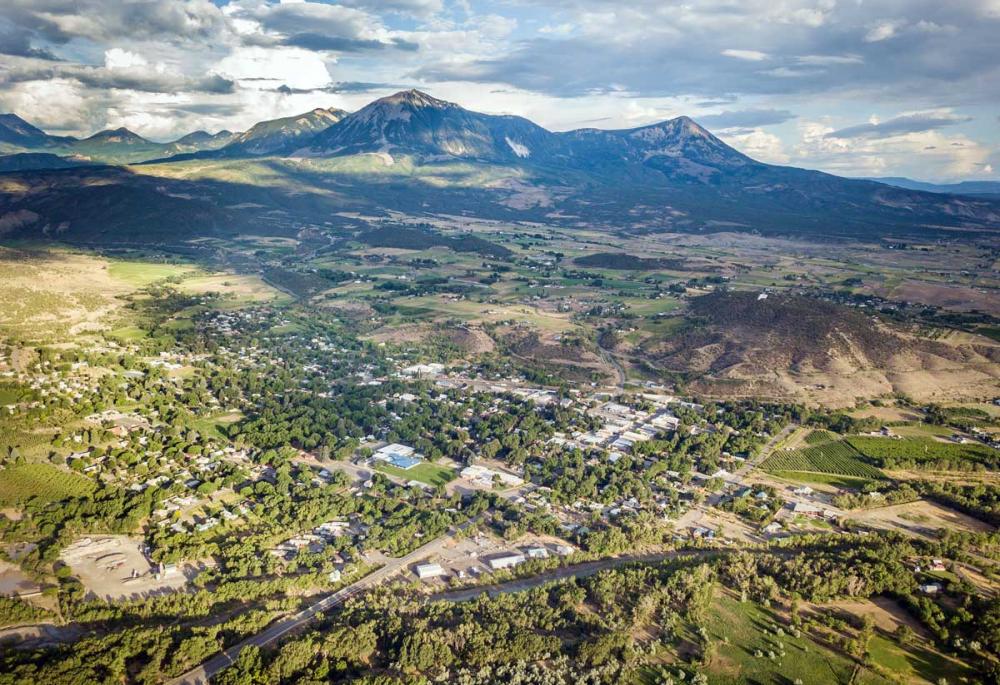 Paonia
Only 1.5 hours from Ridgway, Paonia — an agri-tourism hot spot — also boasts a creative district and Paonia State Park.
See All Byways