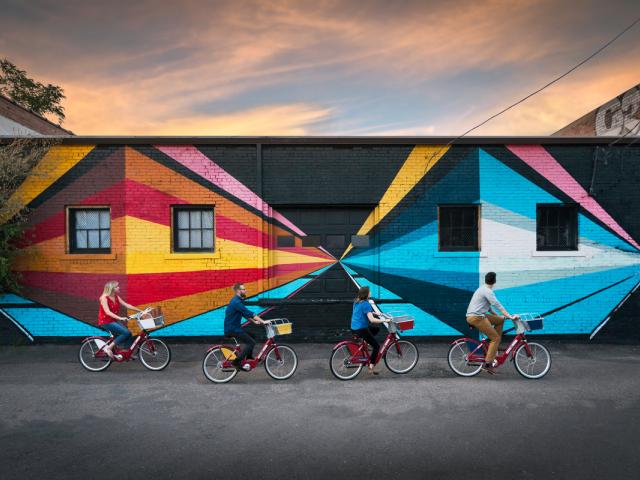 Take a Walk on the Art Side of Life
Get your cameras ready! You're about to take a grand tour of some of the most meaningful and insta-worthy murals in Denver and beyond. Discover the significance of the designs that brighten our city's landscape, and get to know some of the artists behind them.
Sustainability Activity
Make the Arts Accessible
Access Gallery believes that every person with a disability deserves access to the arts and to be a celebrated member of the creative community. Support these artists by purchasing their designs, stopping by the gallery while you're in town, or donating to the cause.  
Itinerary Tip
Sweet Tooth?
Head over to Third & Logan, a coffee and doughnut shop that took Aurora's baking scene by storm. The shop cultivates pastries and drinks that fuse numerous Asian flavors to perfection. We suggest you try their famous mochi muffins.
Activity
Afro Flower Lady by Jiacuy Roche
Jiacuy Roche is a Brazilian native who was adopted by American parents at an early age. Despite being raised in the States, the artist embraced…
Lodging
the ART, a hotel
The ART, a hotel in Denver, CO, is an award-winning boutique property offering guests a unique experience unlike anyone else.
Itinerary Tip
So Many Sights to See!
After being wined and dined by executive chef Duncan Holmes at Beckon, head next door to Our Mutual Friend for a craft brew on a patio that overlooks the brewery's colorful exterior. Afterward, be sure to walk, skip or zip down Larimer Street to explore more of the neighborhood's world-renowned street art. 
Activity
Curious Theatre Company's Mural by Carlos Frésquez
Carlos Frésquez is a celebrated artist whose works have been featured in galleries worldwide - including the Smithsonian American Art Museum. A…
Lodging
The Source Hotel
The Source Hotel's clean, modern aesthetic showcases custom Baltic birch casework, polished concrete floors, furniture by Muuto, and select soft…
Breakfast
Sweet Bloom Coffee Roasters
Sweet Bloom is dedicated to connect, in a very meaningful way, the producer with the end consumer. Sit down for a cup in our tasting room and…
Itinerary Tip
Walk the Line
The 40 West ArtLine is a 4-mile walking and biking art route in Lakewood that takes you through a series of public art experiences. It's 100-percent free, and all you have to do is follow the green line through town. P.S. All of the designs you'll see today are on the Artline.
Breakfast
Nixon's Coffee House (Englewood)
Nixon's Coffee House was inspired by Brad and Caren Nixon's love affair with both coffee and the community.
Itinerary Tip
Museum Stop
Make sure to stop by the Museum of Outdoor Arts' Englewood location to experience their extensive sculpture collection, which blends into the area's landscape and architecture. The organization is a huge proponent of public art and has supported many of the mural projects you see around town.
Breakfast
Corvus Coffee Roasters (DTC)
We're explorers at heart, and we travel the world to find amazing coffees from quality people. Our goals is to share our excitement about these…
Activity
Hawk by AJ Davis and Alexandrea Pangburn
This brown-eyed beauty is the work of commissioned street artists Aleandrea Pangburn and AJ Davis for Fiddler's Green Amphitheatre and the Museum…
Lunch
Los Chingones (DTC)
Los Chingones is chef/owner Troy Guard's Mexican concept. While we don't claim to be "authentic," we do claim to be delicious. Come check out Denver…
Itinerary Tip
Ride Out
Head south toward Parker from Denver Tech Center to continue your mural marathon. It's less than a 20-minute drive.
Activity
Love Others by Mathew Fasone
Just along the Sulphur Gulch Trail lie a series of five-foot-tall hands that spell out "Love Others'' in American Sign Language. The pieces are…
Dinner
Parker Garage
Chef driven culinary inspired cuisine located right in the heart of downtown Parker. Executive Chef, Duy Pham, has been an innovator in Denver's…
Itinerary Tip
Ride Out
Head north toward Parker from Castle Rock (about 20 minutes) to end your art journey.
Activity
Philip S. Miller by Daniel Levinson
This mural depicts a celebrated Castle Rock local and philanthropist, Philip S. Miller. He created a legacy of giving back to the town and its…
Lodging
Ascent on Main
The elegant Ascent on Main (formerly Laszlo Hotel), located in Parker's new West End on Mainstreet in Downtown Parker, is representative of the…