There is something special that happens when people who are part of businesses, organizations or tours assemble into teams and work toward a specific cause or goal. Cheering, collaborating and creating melts down walls of communication, plus there is plenty of fun to be had with a whole array of Colorado team-building options that involve adventure, brain power, giving back and culinary creations (including ice!). See a short video of some of the many engaging options >>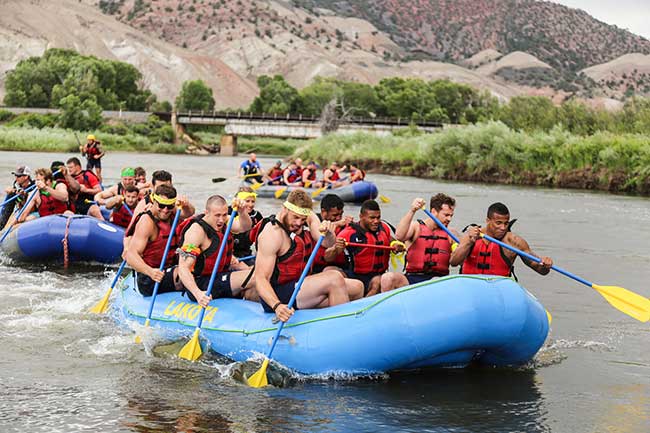 While the word adventure makes some people shudder, there is something in Colorado for all levels from easygoing Cowboy Olympics games and mild outdoor activities to more hard-core skydiving and pedal-to-the-floor driving challenges.
There is nothing like putting on a pair of boots for a Western roundup complete with Cowboy Olympics coordinated by Colorado Teambuilding Events. Suitable for cowpokes of any experience level, unique activities like milking cows, roping steers, competing in archery and hatchet throwing, riding bulls, and panning for gold take place at one of Colorado's beautiful ranches such as Spruce Mountain Ranch, Crooked Willow Farms, Devil's Thumb Ranch Resort & Spa and Deer Creek Valley Ranch. Feel like a dude rancher for a day!
Have a group of risk-takers and adventure-seekers on your hands? Colorado's largest skydiving facility, Mile-Hi Skydiving Center at Vance Brand Airport in Longmont, offers the perfect solution and one of the largest fleets of full-time twin engine jet-prop aircraft. Enjoy some of the best views of the Rocky Mountains when jumping as a group from up to 18,000 feet above sea level.
Glenwood Adventure Company is known for offering a variety of guided tours on a private 5,500-acre ranch next to the Colorado River in the Glenwood Springs area. ATVs, Segways, horseback riding, whitewater rafting, stand up paddle boarding, kayaking, bicycling, fishing and geocaching are among the many activities offered. The company's new custom programs facilitator Jeff Hauser has designed courses for Outward Bound, held adjunct professor positions in leadership development at Colorado State University and is Q12 Certified, a Seven Habits Certified Trainer, and a Myers Briggs Type Indicator Administrator. Recently, Glenwood Adventure Company hosted clients such as Google, Vail Resorts and the English World Cup Rugby squad.
Led by the search and rescue-trained staff at CBST Adventures and taking place at Breckenridge or Keystone Resorts, teams are tasked with rigging a Tyrolean Traverse in order to transport teammates over a water crossing. The activity begins with a simple workshop on knots and low-angle ropes elements and then moves into small focus groups that are trained to design and construct a high-angle rope traverse using carabineers, pulleys, prussiks and various other safety equipment. Upon completion, individuals can volunteer to make the crossing, help teammates harness up and clip, be on the anchor rope on the far side of the river, and fill other roles.
Using brains instead of athletic prowess is just as much fun with a challenge of the senses and hi-tech scavenger hunts that explore Colorado communities and a leadership program that utilizes classical literature as the basis for discussion.  
During the Hi-Tech Downtown Denver Scaventure led by Colorado Teambuilding Events, small teams use GPS beacons and QR codes to complete location challenges, capture candid photos and videos that create some viral fun, and answer trivia. All the trivia, puzzles, clues, photos and challenges are chosen and created for a specific Colorado location, with smart phone scaventures also ready to go for Golden, Lakewood, Breckenridge, Evergreen, Keystone, Copper Mountain, Beaver Creek, Vail, Colorado Springs, Glenwood and Aspen. With a few days notice, the company can customize an Apple and Android store app for any Colorado location the group wants to explore.
Aspen Meadows Resort in Aspen offers meeting space, team-building and leadership development experiences modeled after the ideals of the world-renowned Aspen Institute. The resort's Leadership Fundamentals Program is designed for groups to explore classical literature and exchange and foster ideas. The program can be added as a two-, four- or six-hour workshop to any meeting held at the resort, which offers unique indoor and outdoor space designed specifically for meetings and round-table discussion.
Groups have a unique opportunity to experience Grand Junction through their senses. At one of the many local orchards, groups are divided into teams of two people with one person being blindfolded and led through a string of local attractions and products to identify. In the touch category, think alpaca fur, grapes stomped in a wine barrel, a dinosaur bone and a mountain bike tire. For smell it might be lavender, local beer and hay, and a taste involves savoring and identifying fruit grown in the area, infused olive oils and local Enstrom almond toffee. There also is a sight category that includes identifying photographs of local attractions and a word puzzle. The team with the most points for this activity coordinated by the Grand Junction Visitor & Convention Bureau, wins!
Going on a photo scavenger hunt at a farmers' market (and of course sampling along the way), learning to make goat cheese, taking on a Margarita Madness challenge and carving ice sculptures are flavorful and exhilarating ways for groups to bond.
During Margarita Madness, a brainchild of Denver-based AXS Group, each team can choose to compete in frozen or shaken margarita categories. The top two teams go head-to-head with the added benefit of having the advice of a professional mixologist. However, this is no ordinary mixologist as he utilizes liquid nitrogen! Exploding or smoking margaritas anyone?
The Ultimate Ice Breaker program by CBST Adventures kicks off with a master ice sculptor who carves a giant block of ice into an artistic masterpiece. Next, teams pool their creative resources and carve a miniature ice block of their own to be judged by the group. For a really cool experience, add in an emcee, light show, music and food and beverage from a host mountain hotel with a great patio space such as The Arrabelle at Vail Square, The Westin Riverfront Resort & Spa at Beaver Creek Mountain, Keystone Lodge and Spa, and Beaver Run Resort & Conference Center in Breckenridge.  
There is a certain sense of satisfaction when a team-building activity benefits worthy causes like our country's dedicated soldiers or young children who need bikes.
Operation S.O.S is sure to bring any group closer while supporting U.S. military troops. The object of this AXS Group program is to collect as many items from each category in order to fill military care packages to the brim. Teams earn "money" playing a series of military-inspired games to purchase supplies at the army surplus store. Prizes are awarded to the team that collects the most items from each category on the list and the team that accumulates the most money for buying their care package items. No team loses as all of the boxes are fully-stocked and sent to members of the military on behalf of the organization taking part in the team-building.
Wish for Wheels is a nonprofit based in Denver that gives new bikes and helmets to kindergarten through second grade kids in low-income communities by partnering with companies and organizations that fund, build and donate the bikes. For example, 50 bikes were built over three months with Town of Breckenridge employees and residents getting involved and culminated with the young recipients parading down Main Street on the same day the USA Pro Challenge bike race rolled through town. One of the team builds was the fire department vs. the police department featuring a relay race on adult big wheels that involved building a part of the bike for every lap completed, which happened during the Breck Epic mountain bike stage race and resulted in the completion of 20 bikes.
Need something specific? No problem as Colorado team-building providers can customize these programs to fit corporate goals and brands, tour themes and more. Just get out there and build connections in a host of unique and memorable ways.
Read our previous feature, Experiential Colorado >>
Watch Videos >>