10 Outdoor Adventures to Try in Boulder
If the awe-inspiring backdrop of the Rocky Mountains and the Flatirons didn't give it away, we're telling you now: Boulder is a paradise for outdoor lovers and fresh-air fiends. Located at the gateway of hiking trails, rivers, canyons and farmland, take your pick from a lineup of outdoor adventures, whether you're looking for easy or extreme.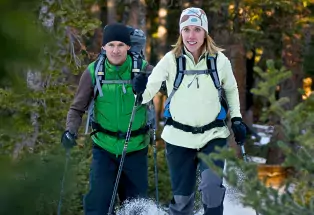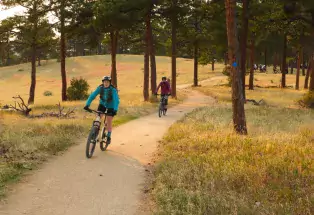 1. Hiking
For a choose-your-own-level excursion requiring no special equipment, you can't go wrong by exploring one of Boulder's miles and miles of developed hiking trails. For a mellow hike with interpretive signs and excellent birding opportunities, follow the Bobolink Trail. Active visitors will love the 6.6-mile Mesa Trail, which meanders through high desert and old-growth forest. Or for extreme types seeking a lung buster, trek the strenuous Mount Sanitas trail, which boasts panoramic views at the summit.
If you'd like a bit of guidance, join Boulder's Open Space & Mountain Parks' naturalist-led hikes, including the occasional stargazing outing. And don't be shy about hiking in winter — it's one of the most beautiful times to get out on the trails. The weather is mild and hiking boots are typically adequate (no need for snowshoes, though traction slip-ons like Yak Tracks are recommended if it's snowy out).
2. Stand-Up Paddleboarding
The cool breeze in your hair, the warm sun on your shoulders — there's no better way to enjoy a summer day than cruising along the glittering waters of Boulder Reservoir on a stand-up paddleboard. Rent a board from Rocky Mountain Paddleboard, conveniently located on the shoreline and see why this fun (and core-building) water sport has so rapidly gained popularity.
3. Hot-Air Ballooning
Get a thrill (and an unbeatable view) of the Rocky Mountains, Boulder Valley and the Flatirons when you take a sunrise hot-air balloon ride, departing from nearby Lafayette. Knowledgeable pilots make the ride informative and entertaining and you'll be amazed at how serene it is to float above it all. 
4. Mountain Biking
Kick up some dirt and catch some air when you rally your mountain bike on the jumps, turns and trails at Valmont Bike Park, a 42-acre cycling terrain park that's always free and open daily from dawn to dusk — often in winter, too. For singletrack trails with sweeping views of rolling hillsides and wide-open skies, ride the Eagle and Sage trails from Boulder Valley Ranch Trailhead. 
5. Snowshoeing/Cross-Country Skiing
During winter months, explore peaceful, snowy forests with only the sounds of crunching snow beneath your snowshoes or the muffled shush of your skis. Explore miles of trails at nearby Betasso Preserve and Walker Ranch, or drive up into the Rocky Mountains at bit more for deeper snow. Eldora Mountain Resort's Nordic Center offers cross-country ski rentals and lessons. And at Brainard Lake Recreation Area near Ward, follow the designated snowshoe trail to the cozy Colorado Mountain Club (CMC) Cabin to warm up by the fire with hot chocolate. 
6. Road Biking
As one of the road-biking capitals of North America, Boulder boasts more than 300 miles of bike lanes and paths, ranging from speedy flats to thigh-searing climbs, as well as 40 bike-sharing stations across the city. Cycling is a year-round passion here, so don't let winter deter you. Meander through downtown on the easy, 5.5-mile Boulder Creek Path, or cruise south of Boulder on the 13-mile Morgul-Bismark, an intermediate loop beginning at the intersection of Highway 93 and Marshall Road.
7. Fly-Fishing
Take in the peace and quiet of remote wilderness and the sounds of rushing rivers when you try your hand at fly-fishing. Get insider tips on the best places to catch pearlescent rainbow trout when you go on a guided fishing trip with Rocky Mountain Anglers. Or, reel in a gorgeous cutthroat trout from the cold waters of Rocky Mountain National Park with Front Range Anglers. Read more about fishing around Boulder.
8. Flower Picking
Enjoy the simple charms of farm living at one of the hundreds of farms in Boulder County by spending a few hours picking your own flowers and produce. During late spring, scout perfect irises for your garden during Dig It Yourself season (May and June) at Long's Gardens. During fall, walk the fields of blazing orange pumpkins at Cottonwood Farms to pick out your ideal jack-o-lantern or soon-to-be pumpkin pie. See the Boulder County Farm Trail for more information. 
9. Downhill Skiing
Feel the thrill of zooming down powdery runs at Eldora, just 21 miles from Boulder — and be back in town for happy hour. Beloved by locals for its low-key vibe, this ski area offers 680 acres of skiable terrain and around 300 inches of snow per year. 
10. Rock Climbing
Climb to new heights (and enjoy incredible views while you do) at Boulder Canyon, a longtime locals' favorite for its highly textured granite surfaces and wide variety of sport climbs. Nearby Eldorado Canyon is a climber's playground with more than 500 technical climbing routes along its spectacular cliffs. Just getting started with climbing? For guided expeditions, let the experts show you the way at Bob Culp Climbing School or Colorado Mountain School. Get more rock-climbing information.