4 EV-Friendly Road Trips on Any Budget
Exploring Colorado by car has never been more eco-friendly. With 13 electric byways across the state equipped with electric-vehicle charging stations, you can feel secure that you'll never run out of power on your sightseeing journey.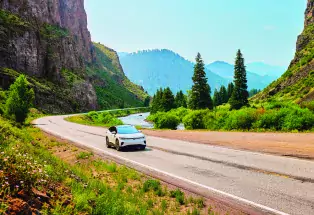 Travel the state on electric byways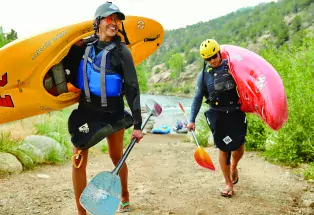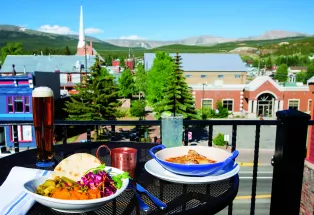 Plug and go with ease as you wind through remote stretches of lush forests, Western ghost towns and cross the Continental Divide. With the guidance of these itineraries, experience four distinctly diverse regions, while charging the whole way along Colorado's scenic and historic byways.
Tip: Get information on the nearest fast-charging station.
1. Silver Thread
Winding through historical districts and remote landscapes, the 117-mile Silver Thread scenic byway provides a peek at parts of Colorado largely untouched since the 1800s. Take in the views of verdant meadows and mountain vistas as you traverse the banks of the Rio Grande River from a Revolution Rail pedal car. The 6-mile track in South Fork allows you to explore the area at a leisurely pace and enjoy the quiet solitude. At Last Chance Mine in Creede, enter the depths of a preserved mine on a narrated tour to see veins of amethyst, silver and sowbelly agate running through its walls. Hit the road again with plans to stretch your legs at North Clear Creek Falls. Spend the next hour exploring Hinsdale County Museum in Lake City, where little ones will love the over-the-top doll house. At dusk, pull over at Huntsman Gulch for stunning 360-degree mountain views, then book it to Curecanti National Recreation Area, an International Dark Sky Park, for a ranger-led astronomy program.
Dining
Rachel's Keep On Keepin On (South Fork), Sherpa Cafe (Gunnison), Patcharee's Kitchen (Gunnison), Climb Elevated Eatery (Lake City)
Lodging
The Spruce Lodge (South Fork), The Wanderlust Hostel (Gunnison), The North Face Lodge (Lake City), G&M Cabins (Lake City), 4UR Ranch (Creede), The Inn at Tomichi Village (Gunnison)
2. Grand Mesa
The world's largest flat-topped mountain beckons with jaw-dropping vistas on Grand Mesa scenic byway's stunning 63 miles. Start atop a mountain bike riding down singletrack at Mesa's Powderhorn Bike Park. If that's not for you, check out the Mesa Lakes area of the Colorado Birding Trail for the thrill of the chase in a different way. Find peace in the forests and meadows as you search the skies for birds in flight and keep your eyes peeled for bighorn sheep, elk and mule deer. Learn of the area's history and cowboy culture at Raber Cow Camp in Orchard City. Walk the interpretive trail viewing the historic cabin and corral of a 20th-century Colorado family. Twenty minutes down the road is Lands End Observatory, where endless views remind you of just how big the mesa really is. Pass through the Grand Mesa National Forest as you make your way to Cedaredge, where you can snap up juicy sun ripened peaches at Uncle Johnny's U-Pick Farm. End the day with a tour of Stoney Mesa Winery, where the Cabernet Franc is a highlight.
Dining
Mesa Bloom Market (Mesa), The Coffee Barn (Cedaredge), Connie's Family Restaurant (Cedaredge), Lost Mesa Grill (Cedaredge)
Lodging
The Cabins of Grand Mesa (Cedaredge), Grand Mesa RV Park (Mesa), Maison De Terre (Cedaredge), Kiser Creek Cabins (Cedaredge), Tiny Homes At Powderhorn Mountain Resort (Mesa), Mesa Lakes Lodge (Mesa)
3. Collegiate Peaks
The highest concentration of 14,000-plus-foot mountains doesn't disappoint for views, but there's so much more than peak chasing on the 57-mile Collegiate Peaks byway. Starting in Vail, get acquainted with the area on a guided ATV tour via Granite's Sage Outdoor Adventures. Feel the thrill of driving off-road as you venture around the mystery of the most recently extinct volcano in Colorado on 6,000 acres of private land and 14,000 acres of public land near the Castle Peak Wilderness Study Area. Afterward, buy some souvenirs or snacks at Jumpin' Good Goat Dairy in Buena Vista, known for their award-winning artisan cheeses. Adventure seekers will get their thrills while rafting the famous waters of the Arkansas River in Browns Canyon National Monument, while those taking it easy will find some much needed restoration at Mount Princeton Hot Springs Resort in Nathrop. Choose from the facility's six pools or find the perfect spot in Chalk Creek, where hot-springs water naturally bubbles out of the ground. End the expedition with a cold glass of sangria and beautiful mesa views at Vino Salida Wine Cellars in Poncha Springs.
Dining
The Rooster's Crow Cafe (Buena Vista), Howl Mercantile & Coffee (Salida), Simple Eatery & Spoon It Up (Buena Vista), Thai Mini Cafe (Poncha Springs), Mary Murphy Steak House (Nathrop), 216 Ferraro's (Salida)
Lodging
Poncha Lodge, Salida Inn & Monarch Suites, Jefferson Farms (Salida), Buffalo Peaks Lodge (Buena Vista), Mount Princeton Hot Springs Resort (Nathrop), Poor Farm (Salida)
4. Top of the Rockies
Meander around Colorado's tallest pinnacles and oldest mining towns on the Top of the Rockies scenic byway's 115 miles of magic. Begin at the Continental Divide National Scenic Trail's Independence Pass — a small section of the 3,100-mile path – for vistas of wildflowers, lush forests and wildlife sightings. Then head over to Independence Ghost Town, for preserved structures, interpretive displays and artifacts that depict life in this 1800s mining town. Make your way to Aspen for a bird's eye view of mountain vistas from the Silver Queen Gondola. Your next stop is the Minturn Bike Park, where there's a route for every skill level. Learn about mining magnates, including the women who innovated new technologies, at the National Mining Hall of Fame and Museum in Leadville. Finish at the 143-year-old Tabor Opera House, which just underwent extensive renovations to restore the red-brick wonder to its old-school glory. Take a guided tour of the 1800s opera house or stay for a live concert, play or film screening.
Dining
Punky's Mobile Trailer (Twin Lakes), El Mexicano Food Truck (Leadville), Mawa's Kitchen (Aspen), Silver Dollar Saloon (Leadville), Kenichi (Aspen), Treeline Kitchen (Leadville)
Lodging
The Bunkhouse (Minturn), The Governor's Mansion (Leadville), The Green Bridge Inn (Red Cliff), The Minturn Inn, The Gant (Aspen), Gravity Haus Vail
Photo Credits: Andrew Maguire, The North Face Lodge, Treeline Kitchen