Colorado's Best Retro Road Trips
Delight the big kid inside you (and entertain the little ones beside you!) with Colorado drive itineraries that feature a mix of nostalgia and modern attractions. From retro diners and amusement parks to made-over motor lodges, you'll find plenty to reminisce about on these laid-back routes.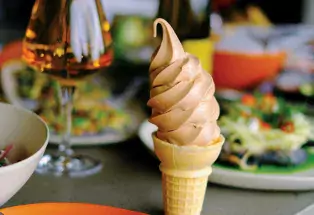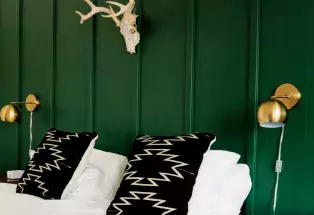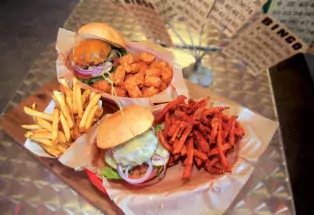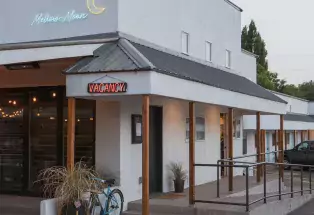 Denver to Golden to Morrison to Pine to Bailey
Get your day off to an outta sight start at Englewood's Breakfast on Broadway Cafe with flaky buttermilk biscuits and gravy. Or, treat your sweet tooth at Denver's neon-lit Moonlight Diner & Bar with cinnamon-y French toast dusted with powdered sugar.
Tummy full, it's time to split: Head to Dinosaur Ridge in Morrison for its 300-plus dino tracks or Colorado Railroad Museum in Golden where you can ride on vintage trains and tour the depot-like museum.
Next, beebop to Pine for saucy pulled-pork sammies from Cruz-In Drive Thru or enjoy lunch with a side of photo op at Bailey's Coney Island Boardwalk, where the hot dogs are served from — get this — a giant hot dog! Chow down, then pick your playtime poison: a hike along Pine's scenic Buffalo Creek trail system or Bigfoot sightings at Bailey's Sasquatch Outpost.
For dinnertime delights, sink your teeth into a juicy beef-brisket burger with all the trimmings at Zoka's Restaurant & Bar (Pine); or head to Cutthroat Cafe (Bailey) for childhood faves like tuna melts, grilled cheeses and root-beer floats.
At Bailey Lodge, let down your beehive in the Premium Bird and Flower Suite with cheery, green walls, floral decor and ample room for relaxation.
Glenwood Springs to Silt to Rifle to Palisade to Grand Junction to Delta
Heed the call of breakfast two ways in Glenwood Springs: A perfectly fried egg sandwich at the 19th Street Diner or a gooey, glazed doughnut at Sweet Coloradough. 
Then it's time for another fork (this time in the road): Will you choose cave tours and thrill rides — like a rollercoaster that hangs off a mountain — at Glenwood Caverns Adventure Park or spotting elk and historical ranch buildings along the Rio Grande Trail? 
Punch it west with a stop for Brickhouse's oh-so-cheesy pizza (Silt or Rifle), then marvel at Rifle Falls State Park's cascading triple waterfall. Or, gun it to Grand Junction to hike the Mica Mine Trail, where you'll see glittering remnants from the area's historic mica and quartz mine.
Hungry enough to eat a horse? Try Grand Junction's Taco Party for crispy tortillas filled with fried tofu, grilled tempeh and chorizo; or hit up The Hog and The Hen, a Main Street staple loved for its classic candy display (not to mention a delicious deli and heaping charcuterie plates).
A flick at Tru Vu Drive In (Delta) winds the night down. Catch some Z's at Spoke and Vine Motel in Palisade, where you'll love the revamped digs overlooking gnarly rock formations, the pup-friendly amenities, on-site bike rentals and proximity to Colorado wine country.
Leadville to Buena Vista to Nathrop to Salida
Kick off your road trip in Leadville, Colorado's highest-elevation city at 10,151 feet. Fuel up with Golden Burro Cafe's vegan breakfast burritos or quiche and bakery treats from City on a Hill. 
Burn rubber (at the speed limit, of course) to Buena Vista, hitting the brakes for a creamery tour of Jumpin' Good Goat Dairy where you'll meet friendly nanny-goats and shop for artisanal cheese (like wine-soaked cheddar and crumbly feta). In nearby Nathrop, explore rugged mining-town remnants at St. Elmo ghost town.
On your way to lunch, make a pitstop for "first" dessert in Buena Vista at Stedman's Sodas, Sweets & Treats, which carries 200-plus flavors of glass-bottled sodas and rich fudge. Or, head to K's Dairy Delite (also Buena Vista) or 50 Burger (Salida) — both offer a worthy assortment of mouthwatering malts and milkshakes along with eyepopping burger combos. 
Catch a show at Comanche Drive In Theatre (Buena Vista) or head to Salida to be wowed by the Arkansas River's downtown rushing rapids before slapping flippers on Fun Street Family Arcade's vintage pinball machines. Then it's time for another unreal meal at Amicas (try the Classico pizza) or Moonlight Pizza & Brewpub with build-your-own pizza and beer to go. 
Rest your pompadour in style at Amigo Motor Lodge (Salida), where minimalist-modern design meets vintage bones in rooms decorated with shingled accent walls and Southwestern flourishes.
Pagosa Springs to South Fork to Del Norte
In Pagosa Springs, savor green-chili-drenched huevos rancheros at Cafe Colorado or house-braised corned-beef hash at Two Chicks & a Hippie. Then — with pin curls primped — take a mind-blowing hot-air balloon ride with Rocky Mountain Balloon Adventures or chill out in one of three hot-springs destinations: The Springs Resort, Healing Waters Resort & Spa and Overlook Hot Springs Spa.
In Pagosa, bop over to The Malt Shoppe for a smothered-in-goodness chili dog. Or, try Candie's Firehouse in South Fork for another American classic — the Philly cheesesteak. It's time for your next adventure: an Upper Rio Grande River trip with Mountain Man Rafting (South Fork) or a farm tour with friendly goats at Laz Ewe 2 Bar Goat Dairy (Del Norte).
Dinnertime calls, and Boogies Restaurant answers with comfort foods like hot turkey sandwiches served alongside mashed potatoes and fruit pie à la mode.
Now, floor it to your overnight digs! Call dibs on a room at Del Norte's Mellow Moon Lodge for far-out accommodations, including an on-site bike shop, pooch-friendly amenities and a beer-friendly fire pit. Or, reverse this road trip and rest your head at The Nightingale Motel, which boasts its own Neon Mallard bar with swanky flamingo wallpaper and dessert cocktails.
Durango to Mesa Verde to Cortez
Begin your southwest road tour in Durango with a chicken-friend steak breakfast at Oscar's Cafe or Durango Diner's banana-walnut hotcakes doused in maple syrup. 
Motor over to Durango Hot Springs Resort & Spa for some calorie-burning laps in the mineral-water pool, followed by a steaming soak. Or, fly high on a zipline excursion at Soaring Tree Top Adventures before grabbing lunch for the road: An array of meats and cheeses from PJ's Gourmet Market or a moon-sized cinnamon roll from Durango Bagel will do the trick nicely. 
Book it to the main attraction: Mesa Verde National Park near Cortez, where 600-plus Ancestral Puebloan cliff dwellings will dazzle your inner archaeologist and panoramic canyon views will send you into sensory overload. Recharge with a frozen mocha from the Silver Bean, an adorable cafe in an Airstream or make a beeline for dinner at Cortez's Loungin' Lizard (you'll love their tender pork-belly tacos and Colorado craft beer).
End your day in colorful comfort at Retro Inn at Mesa Verde where you'll spot the King himself (they have an Elvis statue on site) or stay at Sundance RV Park if you're traveling in retro style via Airstream.
Pueblo to Colorado Springs to Limon 
Kick off your trip in Pueblo with Mill Stop Cafe's chile-pepper-spiced Mexican Omelet, or keep things sorta light at Love Mug Coffee Shop with Beatles-themed crepes like the Sgt. Pepper (avocado, pesto, garlic sauce and veg) or the Revolution (caramelized apples, sweet cream, powdered sugar and almonds). Then, release your inner kiddo at the Pueblo Weisbrod Aircraft Museum, where you'll see a Boeing B-29 Superfortress, Korean War aircraft and even a 1948 Rolls Royce. Before moving on, clamber aboard the wooden animals at City Park's historical carousel. (It's been spinning since 1942!)
For lunch, munch on Bingo Burger's beloved Pueblo chile-infused burger (Pueblo or Colorado Springs) or Elvis Fries topped with sausage gravy at Gunther Toody's decked-out 50s-style diner in Colorado Springs. 
Afterward, roll strikes at The Broadmoor's retro bowling lanes (Colorado Springs); or rev your engine to Limon Heritage Museum & Railroad Park Complex for a glimpse of American railway history (and vintage military memorabilia, too!). Don't wander too far for dinner: The nachos and quesadillas at Limon's South Side Food & Drink make a dandy main dish. 
End your rollicking road trip with sweet dreams at Safari Inn (Limon), where you'll sleep in a cozy room in sight of the glittering pool.