5 Colorado Hikes & Hot Springs
If you're looking to restore your soul in the splendor of Colorado's great outdoors, pair a mountain trail with mineral-rich waters for the ultimate self-care experience.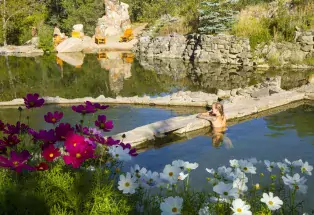 Clear your head and feel your stress fade away as you reconnect with nature on a scenic hike, followed by a soothing dip in a natural hot spring pool to pamper your mind and body. The best part — you don't have to be a world-class mountain climber to pair a little adventure with your retreat, pick your level of activity from the list below. (And also check out all Colorado Hot Springs: A Quick Guide.)
1. Hanging Lake Trail & Glenwood Hot Springs
Location: Glenwood Springs area
Hike: Starting at the bottom of Glenwood Canyon, this short but moderately rated hike ascends 1,000 feet up through Deadhorse Creek Canyon. The journey will be worth it, as hikers are rewarded with views of Bridal Veil Falls pouring over into Hanging Lake's blue-green waters. Take time to relax and enjoy the lush, peaceful landscape before returning the way you came. 2 miles round trip. Pro tip: Because of its natural beauty, Hanging Lake is a desirable destination to visit. Reservations are required to experience this scenic gem.
Hot Springs: Start your journey to relaxation in the Glenwood Hot Springs' therapy pool, where Yampa Spring water is kept at 104 degrees and its 15 different minerals are purported to heal aching joints. Then hop the large pool — which is as long as two city blocks and a chilly (by comparison) 90 to 93 degrees. Work out the rest of the kinks at the facility's Spa of the Rockies, where the Kneipp Leg Release anti-inflammatory massage will focus on the muscles worked hardest during your hike.
2. Mad Creek/Hot Springs Trail & Strawberry Park Hot Springs
Location: Steamboat Springs area
Hike: This sunny trail outside Steamboat Springs starts and ends right next to the Strawberry Park Hot Springs — an encouraging reminder of the reward that awaits after your workout. The aspen-laden path runs through meadows that are home to nearly 100 wildflower varieties, past Mad Creek Canyon landscapes and a postcard-worthy old U.S. Forest Service cabin. 4.5 miles round trip.
Hot Springs: Set amid a swath of trees 4 steep miles from town, the rustic Strawberry Park Hot Springs' pools are encased by artfully crafted stone walls, while man-made waterfalls trickle sonorously into the water. A small private pool is dedicated for watsu, a type of gentle, warm-water massage that will make the strain of your hike a pleasant memory. Be advised, this property is clothing-optional between sundown and opening. See a video of Strawberry Park Hot Springs.
3. Ouray Perimeter Trail & Orvis, Wiesbaden or Ouray Hot Springs
Location: Ouray area
Hike: As the name would suggest, this moderately rated trail encompasses the quaint mountain town of Ouray. Starting across the street from the Ouray Visitor Center, it climbs approximately 1,600 feet while passing by four waterfalls and five bridges as it ascends through stunning scenery. Approximately timed at four to five hours in length, there are several opportunities to exit the trail back into town if you find yourself winding down. 5 miles round trip. 
Hot Springs: Choose from three hot-springs options in nearby Ouray. Orvis Hot Springs' seven pools range from 98 degrees to a very steamy 112 degrees, and the main, gravel-bottom "pond" is known for its vistas of Mount Sneffels. The Wiesbaden Hot Springs Spa and Lodging offers a couple of soaking pool options, including one inside a natural vapor cave. Meanwhile, the Ouray Hot Springs Pool is tailored a bit more toward families, with slides and shallow areas, but there are also good spots for restful soaks and a picnic-perfect green space.
Location: Durango area
Hike: Elk sightings are common along this steep trail outside Durango, which climbs above the striated Hermosa Cliffs on several switchbacks before dipping in and out of a series of vibrant meadows ringed by aspen groves. 6 miles round trip.
Hot Springs: Durango Hot Springs Resort and Spa is located 5 miles from Durango. Two geothermal pools range from 101 to 105 degrees, and a refreshing Olympic-size pool offers a welcome cool off at  around 85 degrees. There are also two saunas, a poolside lawn that attracts sunbathers and a spa with delicious treatments like the honey facial.
Location: Aspen area
Hike: Embark on this strenuous hike through the Maroon Bells-Snowmass Wilderness for a rewarding finish. Following the Conundrum Creek for 8.5 miles through the valley, making several creek crossings as it passes through forests and meadows, this out-and-back trail ends at a natural hot spring with gorgeous views.17 miles round trip.
Hot Springs: Those who complete this difficult hike are granted access to an undeveloped but popular hot spring pool with breathtaking views within the wilderness area. The raw beauty of the mountainous setting, the 102-degree water and the quiet seclusion of the area make it one of Colorado's most unique adventures. This not-so-secret pool offers a secluded experience as it can only be reached via the Conundrum Creek to Conundrum Hot Spring trail, which is not recommended to be attempted as a day hike. Overnight camping is recommended and requires a reservation.
Want More?
Find 11 waterfall hikes or great places for a Colorado wildflower hike.