5 Top Places to Rock Climb in Colorado
With all of Colorado's stunning peaks, rock formations and amazing mountain views, it's not hard for rock climbers to find a little slice of climbing paradise nearly everywhere they go.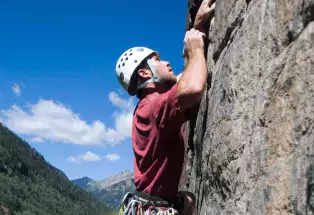 Here are a few rock-climbing favorites:
1. Garden of the Gods
Garden of the Gods is a local favorite and for good reason — it's close to Colorado Springs, the state's second largest city. It's also amazing to look at, with paved hiking trails that meander through a natural rock garden of sunset-colored red sandstone. While there are a dozens of routes to conquer, not all of the rocks in the park are designated for climbing. Be sure to check in with the visitor center before venturing into the park. The rangers there will give you a quick course on important climbing etiquette.
2. Rocky Mountain National Park
Choose your passion: In Rocky Mountain National Park, you can rock climb, ice climb or boulder. With more than 265,000 acres of space dedicated to the granite heights of the Rockies, this national park is a climber's dream between Estes Park and Grand Lake. If you're a novice, you'll find guided tours available to help ensure you have the right equipment and routes to match your ability. If you're an expert, there are no limits to the heights at which you'll find yourself. If you're up for a challenge, set up a bivouac and take a few days to climb some of the dizzyingly high faces. Bivouacs do require a park permit, so check in with the park headquarters before setting up camp.
3. Black Canyon of the Gunnison National Park
In one of Colorado's deepest, darkest canyons, cliff walls dramatically rise to 2,722 feet above the rushing Gunnison River near Montrose. Black Canyon of the Gunnison is not for beginning climbers, but if you're looking to raise your credentials, this is the place — climbs here are adrenaline-coursing acts of self-reliance. There are more than 145 documented routes, and yet many believe there are more that still await a first ascent. Beginning your climb from the canyon floor places you in a wilderness area, so be sure to practice environmentally conscious climbing and follow all established rules. Checking in with the ranger station first is a must and only takes a few minutes.
4. Rifle Mountain Park
For some of the best limestone sport climbing in the state, this mountain park in Rifle is a must. The secret is out about Rifle Mountain Park, and it's become another popular local favorite. Here, you can chalk-up with hardcore Coloradans as they take to their favorite routes. Overhangs are the norm, and some jut out in exaggerated fashion, daring climbers to challenge their heights. If crowds aren't your thing, don't worry: A wealth of routes and wall options makes it easy to find a spot to call your own. For multiple-day outings, Rifle Mountain Park offers several drive-in camping spots.
5. Castlewood Canyon State Park
The west rim of Castlewood Canyon State Park in Franktown is the perfect place for beginners to hone their skills and gain confidence. This state park offers climbs of 20 to 60 feet, some with top rope lines or crack climbing. The paved, half-mile Climbers Trail leads visitors to the best routes in the park. Since this is a day-use only park, camping isn't allowed. But the routes are short and quick enough that you can get a few in well before sunset. If you do want to spend a few days climbing in the area, the city of Castle Rock is only 10 miles away and offers multiple lodging options.
Want More?
Learn to rock climb in Colorado
Check out our backcountry safety tips