5 Ways to Score Dining Deals in Boulder
If you love good food, you'll love Boulder. There's amazing, fresh bites around every corner.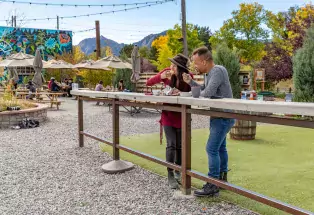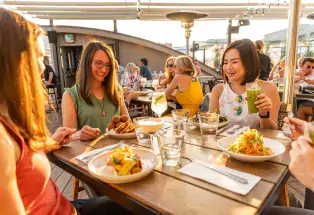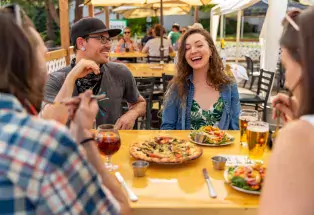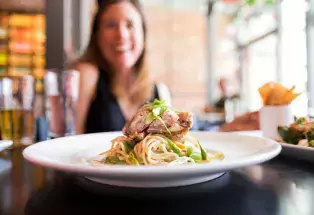 But we know that lately, it seems like eating out on vacation can really take a toll on your bank account. Here are several ways to save big on amazing food while you're in town.
1. Get the Eat and Be Happy Pass
Boulder's free digital dining passport helps you uncover great deals — free margaritas or complimentary French fries, anyone? — at the best places in town. Better yet, you can earn free prizes and prize entries just by dining around town. All kinds of restaurants (more than 50 of them) are included on the pass, so you can enjoy farm-fresh fare and date-night dining to brunch-y bites and laid-back eats. You can sign up for your own Eat and Be Happy Pass at eathappyboulder.com. The pass runs through November 30, 2022.
2. Can't-Miss Happy Hours
Here's why happy hour is perfect in Boulder: You can work up an appetite on the town's hiking or biking trails and then feel zero guilt about an early dinner of well-priced snacks and drinks. Start at the patio of Jill's at the St. Julien Hotel & Spa, where the legendary handmade truffle aioli tots are on the menu, served with a side of Flatirons views. Or head to Blofish Sushi, where wine and sake is just $5.50 and their much-buzzed-about sashimi is $4. In the Hill neighborhood, close to the University of Colorado, you'll want to pop into Café Aion for their delicious, crispy fried cauliflower with saffron yogurt or truffle fries, served best with their famous sangria — all at a discount during happy hour. See more happy hours here.
3. First Bite Boulder
First Bite is Boulder County's annual restaurant week, a 10-day dining event in which established favorite eateries and up-and-comers all offer prix-fixe meals at varying price points, showcasing culinary creativity and the harvest season's freshest ingredients. In 2023, First Bite is happening September-October TBD, with more than 30 participating restaurants. Peruse the menus and deals on the First Bite website.
4. Get the Scoop on Always-Cheap Eats
Fresh-out-of-the-oven Argentinian empanadas, a heaping bowl of saucy Chinese noodles, a breakfast burrito designed by a "Top Chef" champion…these are just a few of the budget-friendly bites rounded up on this guide to eating on a dime in Boulder.
5. Sample Boulder's Food Halls
Boulder is home to three food halls with chef-driven dining at to-go prices. All of them have dazzling communal and outdoor spaces (all three with spectacular Flatirons views) to sit and enjoy your food, with craft cocktails and beers on tap to complete your food experience. Read more about Rosetta Hall, Avanti F&B and Rayback Collective.
More Articles About Boulder >>