Adventure Sports in Colorado
Colorado's millions of acres of rugged outdoors treat extreme sports lovers — those who seek an elevated heart rate — to just what they're seeking. Everything you need for a high-adrenaline adventure is waiting: amazing natural terrain, high-altitude adventure venues and companies and outfitters eager to provide a rush. Here are a few ideas to get you started.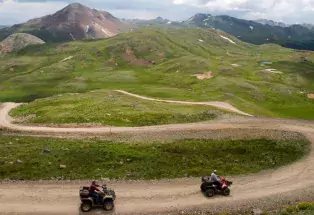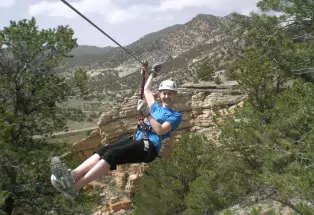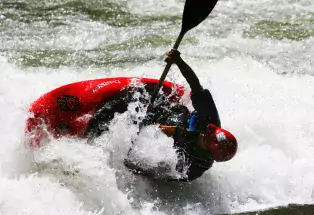 At 18,000 feet above sea level, the sun burns bright, the clouds are at your feet, majestic mountains rise to meet you (from a safe distance) to the west and vast, golden plains span out to the east. All this might be tough to absorb when you're jumping out of an airplane over Colorado's Front Range, but it's likely to be an unforgettable experience. Where: Mile-Hi Skydiving Center
If you're looking to rev up in the outdoors, you have no need for pavement. For off-roading, it doesn't get any better than South Fork's four-wheel trails. With mountains at every turn, the area boasts some of the best backcountry trails in the nation. Just remember to stay on state-sanctioned routes. Where: Twin Pine Motor Sports Inc. And read about 7 Popular ATV & Jeep Trails >>
Zipline Near Salida
Six separate ziplines whisk riders over the high desert near Salida, where you'll enjoy wildlife sightings, Arkansas River views, dramatic cliffs and the beauty of the area's dramatic Collegiate Peaks.
The final zipline of the aerial tour, nicknamed Gunbarrel, shoots you almost straight down 465 feet to the bottom of a canyon — a breathtaking ride for even the most seasoned adventurer. Where: Captain Zipline Adventure Tours; watch our video of Captain Zipline's adventures >>
Telluride is situated in a box canyon, making it a perfect spot for paragliding. An updraft of air created by the canyon's walls keeps paragliders in the air longer. With several adventure companies offering lessons for first-timers, you'll be catching wind in no time. Often the site for paragliding competitions, Telluride's spectacular canyon walls and charming downtown look even better from a bird's eye view. Where: Paraglide Telluride
Kayak Clear Creek Whitewater Park in Golden
Located in Golden, this whitewater course gives kayakers a place to test their skills. The 800-foot-long course is specially designed to challenge both beginner and experienced kayakers with a series of drops and pools, surfs and eddies. The park is usually populated by kayakers of all levels, so there are plenty of whitewater lovers to offer tips to novice paddlers. Where: Clear Creek Whitewater Park
If you're looking to get your adrenaline flowing, Royal Gorge Bridge & Park's Royal Rush Skycoaster more than gets the job done. The park's tower swings three riders at a time out over the gorge, where the Arkansas River rushes 1,200 feet below. Where: Royal Gorge Bridge & Park
Colorado just so happens to have some of the best roads for a great American motorcycle tour. The San Juan Skyway is particularly exciting, as it travels over hair-raising mountain passes with striking 13,000-foot peaks in every direction. There are plenty of pullouts on the route to stop and admire the views.
Colorado is a mountainous state with no place for jet skiing you say? Pfft. Plenty of lakes and reservoirs will oblige, including Grand County's massive, clear and nearly 300-foot-deep Grand Lake. In all, Grand County has more than 150 miles of shoreline, meaning there are endless water-based recreational opportunities.
The foothills near Boulder offer some of the best-known rock climbing spots in the world, and Eldorado Canyon State Park is one of the most legendary. It features more than 500 climbing routes ranging from simple single-pitch climbs to several difficult multipitch routes.
Want More?
Ziplining photo courtesy of Captain Zip Line Adventure Tours.