Colorado Scenic Byway: Pawnee Pioneer Trails
Northeast Colorado's Pawnee Pioneer Trails scenic and historic byway leads you through a fascinating prairie expanse. With the expansion of America into the West, explorers and settlers could hardly believe their eyes when looking upon the Great Plains.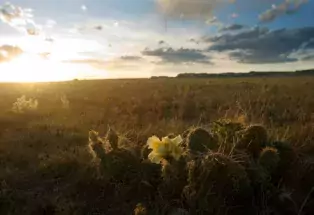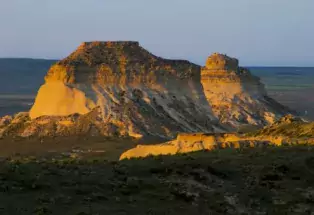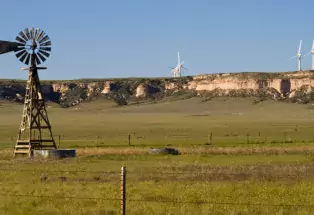 What they saw were buffalo, antelope, deer and even bears, roaming the grasslands for as far as the eye could see.
Begin your road trip in the town of Ault, just north of Greeley, and head east into the Pawnee National Grassland along CO 14. This is a dry and hardy stretch of the plains, which is the result of a rain shadow, an area where rain ceases to fall because passing moisture has been wrung out of the clouds by the Rockies to the west. But "dry" doesn't mean "desolate." In springtime, unique wildflowers bloom across the grassland.
The route leaves Hwy. 14 and wanders to Pawnee Buttes, two fortress-like mesas that rise seemingly at random from the level land.
At 250 feet tall, their appearance on the horizon may seem startling. A hiking trail will lead you to the geologic wonders, and photographers will delight in the area's beautiful shadows at dawn and dusk.
From Pawnee Buttes, the route returns to Hwy. 14 and east to Sterling along the South Platte River. Sterling is the largest town in this corner of the state, and the old Overland Trail — a spur of the Oregon Trail that brought miners to the Rockies seeking fortune — passes through. Head southwest along I-76 to the charming agricultural town of Fort Morgan, where swing great Glenn Miller went to high school.
To complete the tour, head north back toward the national grassland on CO 52, and either retrace your steps to Ault, or drive directly on Hwy. 14.
Total distance: 128 miles
Suggested time: 3 hours
Colorado is home to 26 scenic and Historic byways, 13 of which are also federally designated America's Byways. Read about all 26 in our Quick Guide to Colorado's Scenic & Historic Byways; check out our Colorado byways microsite with videos, trip tips and more; or view our virtual Colorado Byways Guide.