Colorado State Park Profile: Vega State Park
Vega State Park, one of 41 Colorado State Parks, is a playground on Colorado's Western Slope. In the mountains above the historic town of Collbran lies Vega State Park — a year-round activity-packed gem nestled on the northwestern edge of Grand Mesa National Forest.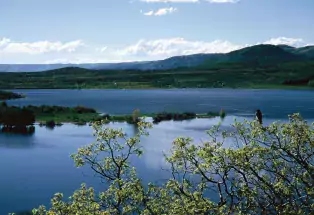 The park's foremost feature is its high-mountain lake, peacefully situated at 8,000 feet, where lush montane meadows ("vega" is Spanish for meadow) and aspen forests blanket the surrounding hillsides.
Vega is popular destination in western Colorado — and not just with people. Visitors join a lively community of marmots, deer, elk, foxes and migratory birds that roam (and swim) every inch of the park.
The reservoir was created in 1957, but it wasn't the first large body of water to inhabit this area. During the Paleozoic era, what is now state parkland was a swampy inland sea that was home to large sea turtles and crocodiles (don't worry, only remnants of these sea creatures can be found today). More than 200 million years later, this area now serves as an epicenter for every type of park-goer.
Boating, picnicking, fishing, cross-country skiing, snowmobiling and wildlife viewing are the most popular activities here, but make sure to read the full list of recreational opportunities on the park's website to make the most of your visit. Of note is the Outdoor Educational Program located in the visitor center. Impressive displays and programs educate visitors of all ages on the park's ecology, astrology and long history.
While traveling through western Colorado, Vega State Park is an appealing alternative to traditional lodging. All 109 on-site campsites have convenient amenities (including RV hook-ups), and the spacious heated cabins are very affordable — not to mention the benefit of their close proximity to family-friendly sledding hills.
Vega is the perfect launching pad to explore Grand Mesa National Forest, home to the world's largest flat-top mesa. Snowmobiling, cross-country skiing, snowshoeing, off-roading and hiking trails lead to the grandeur of Grand Mesa's sweeping mountain views and vast wilderness through the OHV lot on the southwest corner of the park. 
Magic Moments in Vega State Park
Whether it's the changing aspen trees in fall or bursting, vivid wildflowers in the spring, Vega flourishes during all of Colorado's seasons. Beginner hiking trails lead through purple, blue, orange, yellow and red wildflowers that rightly put "colorful" in the phrase "Colorful Colorado."
Extend Your Trip
Downtown Grand Junction, From Fine Wine to Fossils: A Western Slope Itinerary, Powderhorn Ski Resort
Nearby Towns
Collbran, Palisade, Cedaredge, Mesa, Grand Junction
Want More?
National Park Profile: Colorado National Monument, Grand Mesa Scenic and Historic Byway
Photo: Courtesy of Colorado Parks & Wildlife.