Colorado Weather
With 300 days of annual sunshine, mild temperatures and record snowfalls, there's never a bad time to come to Colorado. Here's some helpful Colorado weather information to help you when planning your next Colorado adventure.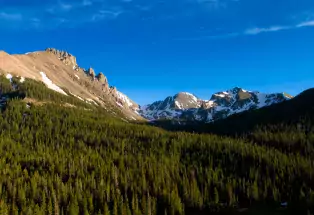 Each year Colorado receives:
300 days of sunshine
More than 300 inches of snow at the mountain resorts
An average of 16.5 inches of precipitation (8 at lower elevations and 23 at higher elevations)
33 percent average humidity
First snow usually arrives in September (though it usually snows somewhere in the state every month, except maybe August)
Colorado Weather Resources
Road Conditions: Dial 511 in Colorado.. 
Colorado Department of Transportation Travel Center (road conditions/closures, winter driving tips, rest areas, etc.)
Average High/Low SUMMER Temperatures
Aspen:
April 49/20
May 61/29
June 72/34
July 79/40
August 77/39
September 69/32
Burlington:
April 61/33
May 71/43
June 82/54
July 88/59
August 85/57
September 76/48
Denver:
April 61/34
May 70/43
June 81/52
July 88/58
August 85/56
September 76/47
Durango:
April 61/26
May 71/33
June 83/41
July 87/49
August 84/47
September 76/39
Steamboat Springs:
April 51/23
May 62/31
June 72/38
July 77/45
August 75/43
September 68/35
Average High/Low WINTER Temperatures
Aspen:
October 58/23
November 42/13
December 33/4
January 31/0
February 35/2
March 40/12
Burlington:
October 66/36
November 51/24
December 41/15
January 40/13
February 44/17
March 51/23
Denver:
October 66/36
November 52/25
December 44/14
January 43/16
February 46/20
March 52/25
Durango:
October 65/29
November 51/20
December 41/10
January 38/6
February 44/13
March 52/20
Steamboat Springs:
October 57/26
November 42/16
December 32/7 
January 31/5
February 35/7
March 41/14